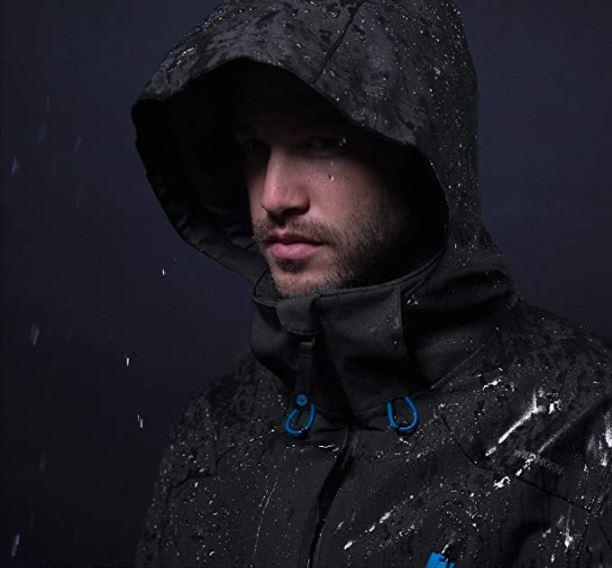 Are you taking your family skiing in the near future? If you're like me, you're probably a bit on the adventurous side! However, all adventurers need the best clothing and equipment to brave the elements.
Following my own experiences with downhill skiing, I decided to do a little bit of research into what makes the best downhill ski jackets available for purchase. In this guide, I'll be taking you through my findings.
Buyers Guide
It's tempting to think that any old jacket will do well for downhill skiing. However, you're going to be moving very fast into some pretty intense weather conditions, and amid some seriously low temperatures! Therefore, you're going to need a specialist jacket that's built for winter sports.
Here are the main features and facilities you should always keep an eye out for when shopping for the best downhill ski jackets on the market.
Insulation Level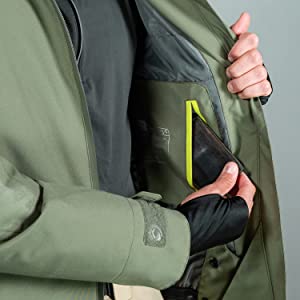 One thing that's fairly obviously common across all ski jackets is insulation. You're going to need to look for something nice and warm, while still lightweight enough for you to gather speed.
Therefore, be sure to look for synthetic insulation, which generally gives you the best of both worlds. You'll also need a jacket with plenty of breathability, and this is easy to shop for. I'll cover this below.
Breathability
When you're skiing downhill, you're going to need a jacket that allows you to sweat freely. A little gross, but even in the deep freeze, a big, insulated jacket is still going to get a little warm. Therefore, you should look for breathability ratings, which are generally measurable in grams.
The more grams of breathability a jacket offers, the more vapor is going to permeate from your jacket. Therefore, aim for a jacket with a 5000 rating rather than a 2000 rating if this really matters to you.
Fitting
Of course, you should make sure that your ski jacket fits perfectly. It'll be easy enough for you to check measurements online as well as in store.
However, do also look for the best downhill ski jackets which offers a fixed skirt, which keep you penned in against snow drifting into your jacket. A well-fitting hood, too, will keep snow and frost from getting down into your jacket!
Pockets and Storage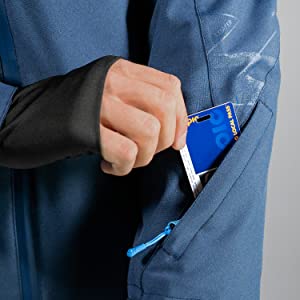 The very best downhill ski jackets should also have plenty of storage. The more pockets the better, generally. However, you will find some which arrive with specific google storage, as well as pockets for you to safely keep your phone or MP3 player with you.
Waterproofing
This is a bit of a no-brainer, but, of course, you're going to need your jacket to be waterproof. This is generally easy to shop for as most ski jackets will offer resistance measurements in millimeters (mm).
However, be sure to distinguish between water resistance and waterproofing. Water resistant doesn't mean it's going to stop water seeping in. Generally, you should be looking for a ski jacket with at least 3000mm resistance for full waterproofing.
11 Best Downhill Ski Jackets for Men, Women and Kids
I've put together a list of the 11 best downhill ski jackets for men, women, and children available online right now. In line with my own experiences, these picks will help you to beat the deep freeze no matter where you ski.
Let's take a look at my top picks, along with why I think they're worth the price of admission!
Product 1: Wantdo Men's Mountain Waterproof Ski Jacket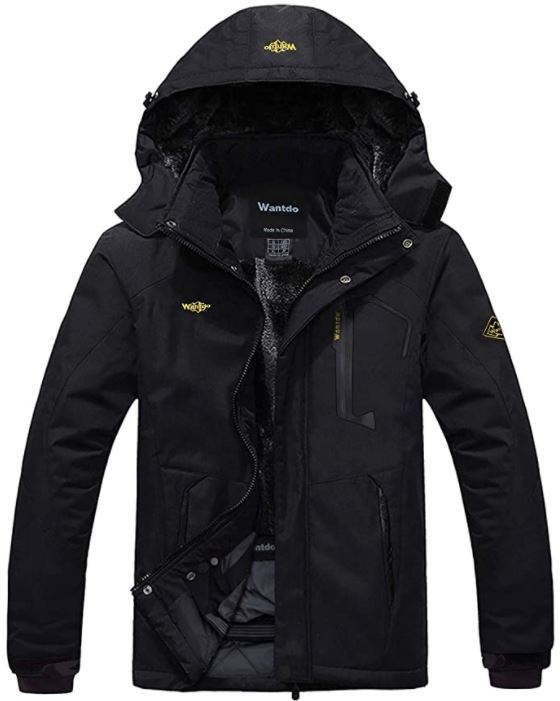 Wantdo is a great name in ski jackets in general. This men's waterproof jacket model can work under over 10000mm pressure head. Keeps your body always dry and comfortable. It also boasts a huge range of color choices and has more than a few pockets for you to keep your essentials with you.
Key Specs: 3 zippered pockets, 2 internal pockets, windproof hook and loop cuffs, 240g polyester
✅ Pros:
Great for skiing, snowboarding and more
Lots of storage
Great color range
Truly waterproof
➖ Cons:
Comes in a standard size – might be hard to find your fit
💡 I really like this men's jacket as it does everything you expect a downhill coat to offer. It's also really affordable and is one of the most stylish options on this list. A great all-rounder.
Product 2: Wildhorn Dover Premium Men's Ski Jacket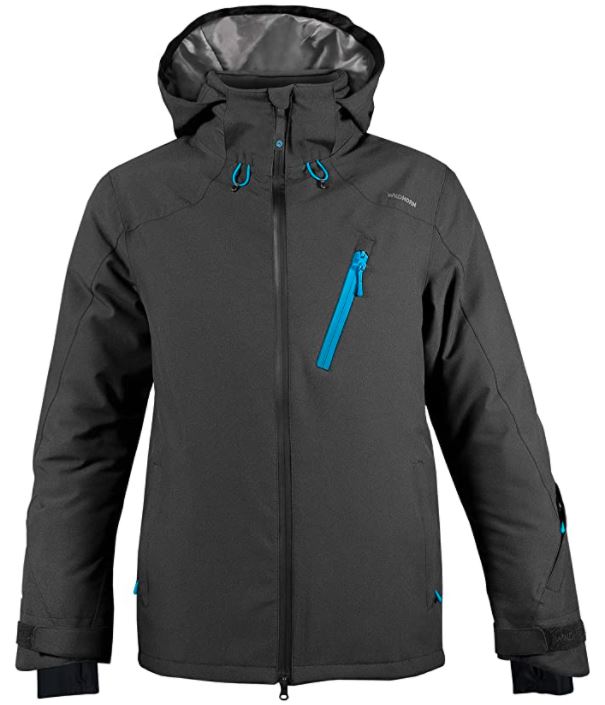 This US-designed men's ski jacket is likely to be a great pick for anyone who's looking for serious protection against the elements. The main selling point of this simple-looking coat lies in the fact that it's built for fantastic ease of movement. Ultimately, you're going to need a ski jacket that you can move around in as well as which will keep you warm.
Key Specs: 12000 waterproof rating, two-way hood, sleeve pass pocket, powder skirt
✅ Pros:
Sleek and simple design
Just enough storage
Great for freedom of movement
Fantastic sleeve pocket access
➖ Cons:
Not the most exciting looking jacket in the list
💡 This brilliant ski jacket will offer you just what you need if you're looking for a streamlined coat for downhill pursuits. It's easy to access your pockets, and the powder skirt will lock out the drift.
Product 3: Camel Crown Mountain Snow Waterproof Ski Jacket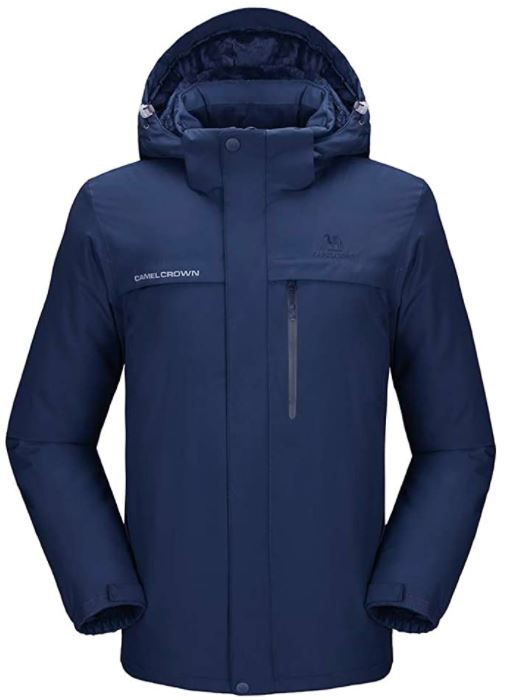 Well insulated, and with true waterproofing all the way up to 10000mm, this is a great jacket for beating high winds, too. You can easily adjust this jacket to better fit your cuffs and wrists. It's designed with movement in mind, and it shows. It's also amazingly breathable.
Key Specs: 10000mm waterproofing, anti-scratch proof, 5 pockets, 3000 breathability
✅ Pros:
Super breathable, great for on the go
Ergonomically designed
Lots of easy to reach pockets
Stylish look and lots of colors
➖ Cons:
Good all-rounder – none to speak of
💡 This is one of the best downhill ski jackets you can buy – in my opinion. It's clearly designed with winter sports in mind and will lock out water while keeping you fresh and breezy at the same time.
Product 4: Jinshi Men's Mountain Waterproof Fleece Jacket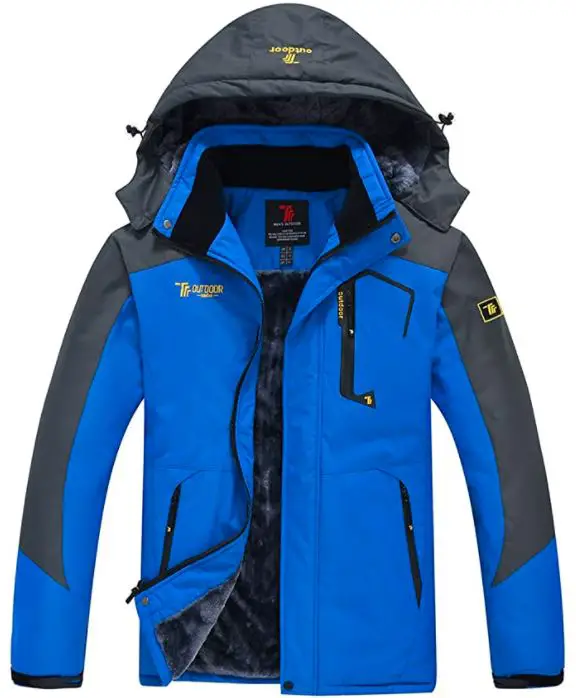 One of the most affordable jackets in this list, this zipper-closing jacket looks bright and breezy, but actually has a lot to offer for its price. It has an insulated shell as well as water resistance. It even has adjustable hood and cuffs available for ease of comfort and movement.
Key Specs: 100% polyester, 4 pockets, stretch skirt, fleece inner
✅ Pros:
Fleece inner is very warm indeed
Plenty of pockets for most skiers
Easy to adjust
Very well priced
➖ Cons:
Not the best for keeping your hands warm
💡 It's always worth looking at the cheaper brands sometimes! This jacket might not be as fancy as some of the other picks in my list, but the fleece inner sets it apart as one of the warmest.
Product 5: Moerdeng Men's Waterproof Ski Jacket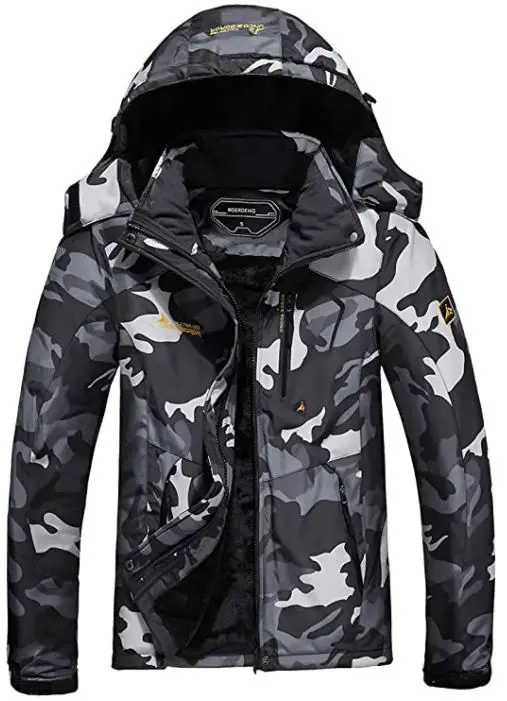 Available in a range of styles, this purpose-designed ski jacket promises plenty of heat resistance and a soft shell. It's got lots of adjustability in the cuffs and is also likely to help you in the face of strong winds. It's impressively waterproof to a rating of 20000mm and isn't one of the heaviest jackets around.
Key Specs: 20000mm waterproofing, fluff lining, 1300g weight, multi-purpose
✅ Pros:
Fantastic waterproof rating – one of the best
Stylish choices available
Nice and warm
Good for various winter sports
➖ Cons:
💡 This is another great choice for a men's downhill ski jacket. It's built with more than enough waterproofing, and I especially like the flexible cuffs – it's good to keep ease of movement in mind.
Product 6: Moerdeng Women's Waterproof Ski Jacket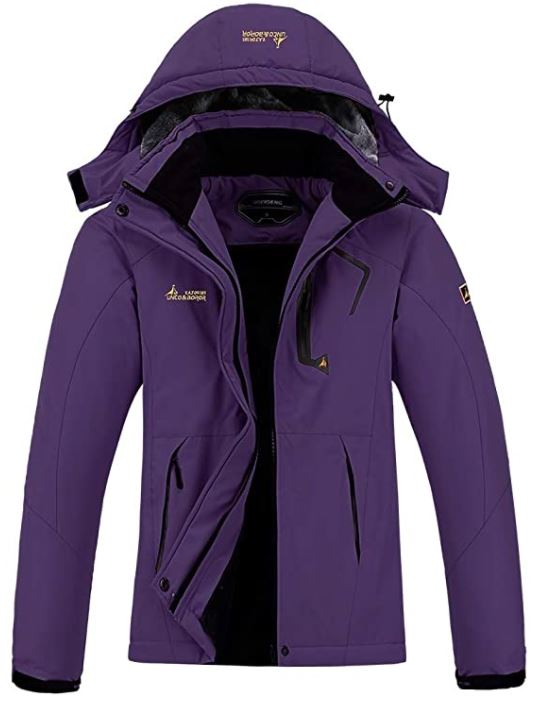 This flexible, windproof jacket comes in a range of styles, and is surprisingly affordable. As with the men's jacket above, it boasts 20000m waterproofing as well as a fuzzy lining to help keep you warm. It boasts needle cotton, which many will find to be a plus point.
Key Specs: 20000m waterproofing, 2400 needle cotton, fuzzy lining, built for various purposes
✅ Pros:
Unique fluffy lining
Superb waterproofing
Adjustable cuffs and fitting
Built for movement
➖ Cons:
💡 This women's jacket is definitely on par with the men's variant, with a stunning level of waterproofing alongside an interesting, effective approach towards insulation.
Product 7: OutdoorMaster Women's 3-in-1 Ski Jacket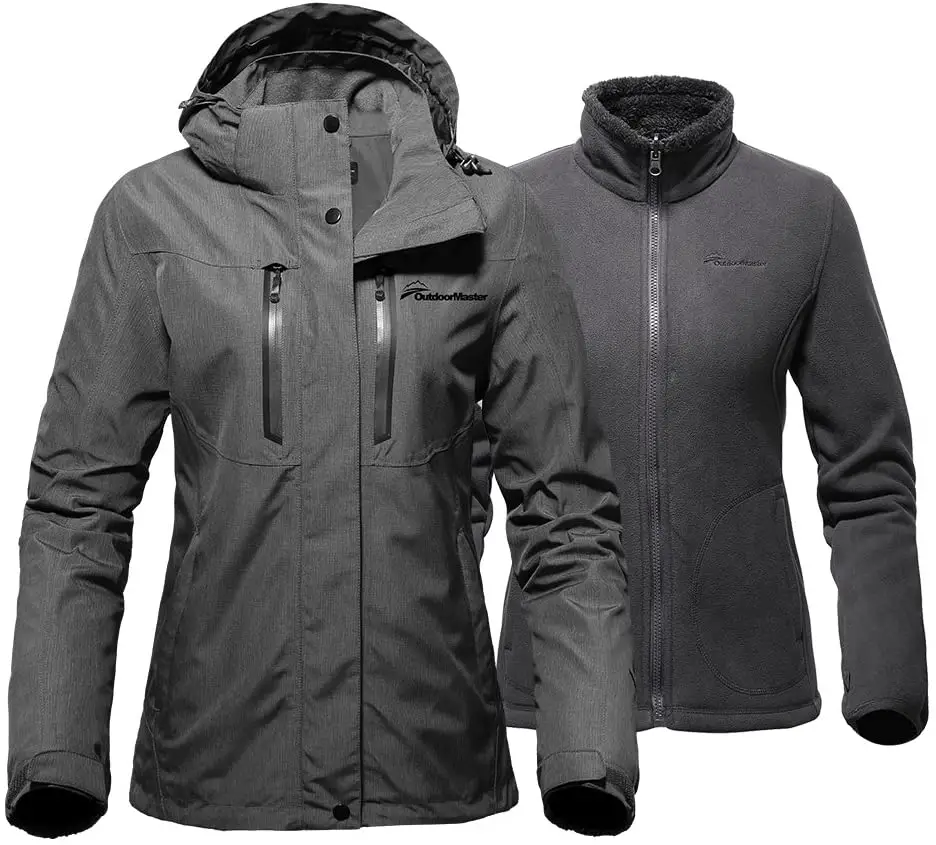 One of the most stylish jackets on my list, this jacket comes with a special waterproof shell as well as fleece lining. You can actually split the hood and shell apart, which is where the 3-in-1 nature of the jacket comes into play. It's clear this jacket was built for outdoor sports.
Key Specs: Three jackets in one, Teflon protection, 100% polyester, multiple secure pockets
✅ Pros:
Lightweight and easy to wear
Multi-purpose and splittable
Stylish designs
Very affordable
➖ Cons:
Waterproofing and breathability levels aren't clear
💡 I like this jacket as a pick for its versatility alone. If you're likely to be doing more than downhill skiing in the deep freeze, this is a flexible jacket well worth holding out for.
Product 8: Wantdo Women's Waterproof Ski Jacket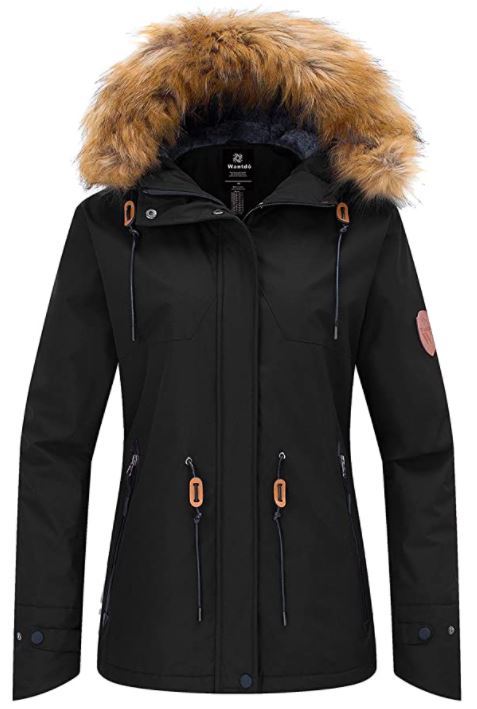 Heading back to Wantdo, this superb ski jacket is a women's variant with tight zipper closing, 10000mm waterproofing and an impressive price tag. It's got a seriously impressive array of pockets, too, as well as internal and external wind protection design.
Key Specs: 10000mm waterproof, 2400 breathability, secure pockets, standard sizing
✅ Pros:
Waterproof enough for most pursuits
Multi-purpose
Lots of pockets for easy access
Very adjustable
➖ Cons:
May not be the most breathable
💡 This is a great-looking jacket which provides a good amount of water and wind resistance. There may be more breathable jackets available, but you can at least be sure that your heat is retained!
Product 9: Wantdo Women's 3-in-1 Waterproof Ski Jacket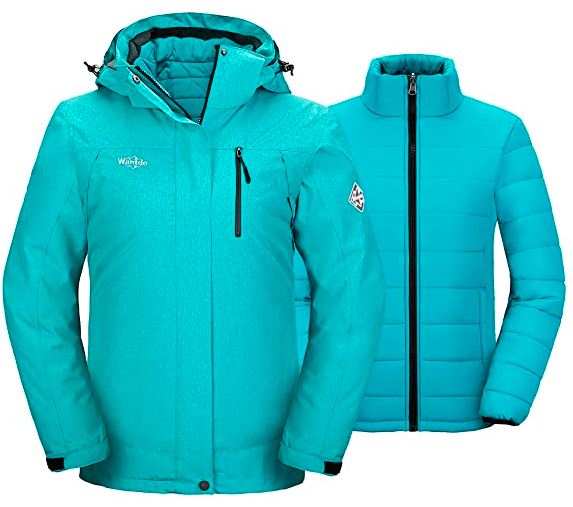 This bright and breezy downhill ski jacket is very well-priced and is one of few jackets on my list which will split apart for different purposes. It's tear resistant and easy to wash, with 5000mm weather and pressure resistance. Most impressively, it has six special pockets!
Key Specs: 6 pockets internal and external, windproof build, Teflon, 5000mm pressure
✅ Pros:
Possibly the best downhill ski jacket for pockets
Nice and simple look
Great price tag
Kind to skin and tear resistant
➖ Cons:
💡 I like this jacket for the sheer fact that it covers all the bases – it's really well priced, and while there may be better performing jackets out there, this at least gets you acquainted with the basics!
Product 10: Camel Crown Women's Mountain Snow Waterproof Ski Jacket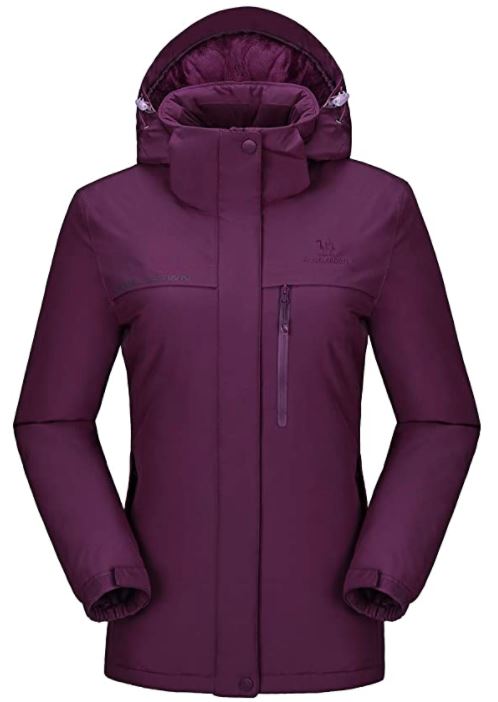 Heading back to the Camel Crown line of ski jackets, this women's variant is likely to appeal to those looking for a breathable, waterproof jacket that's easy to move in. 3000 breathability is pretty impressive for the price, and it's really lightweight for the insulation level.
Key Specs: 10000mm waterproofing, 3000 breathability, windbreaker shell, 5 pockets
✅ Pros:
Really breathable, great for movement
Enough waterproofing for most
Soft and warm
Amazingly good value
➖ Cons:
A great all-rounder like the men's pick
💡 I can't find much to say bad about this jacket, making it one of the best picks. It's clearly designed for intensive skiing and winter sports, meaning it's ideal for beginners and seasoned skiers alike.
Product 11: Phibee Kids Waterproof Breathable Snowboard Ski Jacket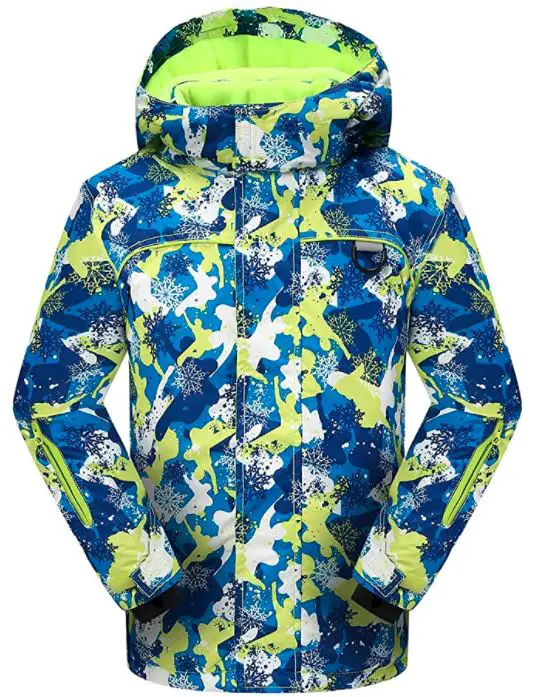 Don't forget the kids! This fantastic little downhill ski jacket solution is bright, cheerful, and great for any kids who want to join in with the winter sports fun. Offering 5000mm waterproofing and staggered sizing for growing kids, this is a lightweight jacket that's also built to keep young skiers warm.
Key Specs: 5000mm waterproofing, windproofing, five pockets, removable hood
✅ Pros:
Colorful and bright for growing kids and young skiers
Removal hood is a nice touch
Easy for kids to wear without fuss
Boy and girl variants available
➖ Cons:
💡 Whether or not your kids are seasoned skiers or not just yet, this versatile, waterproof, and warm jacket is a premium pick for keeping them warm and dry.
Conclusion
You're certainly going to need more than a simple jacket before you start downhill skiing! I hope you've found my list useful – make sure to take a look through what's available, and carefully measure the options that matter the most to you! There are no reasons why you should have to break the bank for the best downhill ski jackets.
SOURCE USED