Best walking sandals for men and women with high arches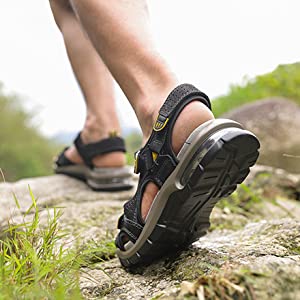 Nothing quite matches the surge of liberation that rushes through you as you step out into the fresh country air in search of adventure. Some hike to improve their fitness levels, others do so to reconnect with nature.
Regardless of the motive, both hiking and trekking have become extremely popular pastimes in recent years. That said, if you don't prepare for them properly it may have uncomfortable circumstances.
Incorrect clothing and you could end up too hot, too cold or too wet – all equally unpleasant scenarios. Poor planning can lead to you becoming lost in an unknown region, facing untamed hillsides, vast open meadows or thunderous river flows whilst relying on nothing but your wits and sense of direction – unless you are smart enough to bring a GPS device with you.
And then there is the footwear.
We've all made the mistake of underestimating the distance of a walk and deciding that a casual pair of trainers will be more than capable of facing the task at hand only to return home with anything from soggy socks to a sprained ankle. Not to mention the countless blisters that surely tarnished the final hours of your trip.
These issues become accentuated when faced by an individual with high arches. In essence, the arch of a foot should help with shock absorbance when walking or running, distributing the pressure as evenly as possible to improve balance and reduce discomfort.
The issue faced by individuals with high arches is that due to the shape of the sole of their foot, more pressure will be placed on the heel and balls of your feet. This can lead to discomfort in the short run and eventually long-lasting injury if never truly addressed.

The extensive scientific research that is invested into the futuristic design and intricate construction of footwear by modern shoe manufacturers allows these woes to be avoided by buying the correct footwear to suit your needs.
What are Hiking Sandals?
When it comes to hiking and trekking in particular there is typically an assumption that hiking boots, or at least a sturdy pair of trainers, are a necessity. The only trouble with boots is the fact that they are typically suit cooler conditions, given their insulation. This causes an issue when your path leads through regions with hot, humid conditions, which are sure to leave any boot-wearing hiker prone to the dreaded issue of blisters – the bane of any keen walker.
There is a recent sensation that combines the comfort and support of a hiking boot with the cooling aeration of a pair of summer footwear are hiking sandals. As the name blatantly suggests, they are a hybrid design that accommodates for the needs of those walking in warmer conditions. Extremely comfortable, incredibly durable and perfectly ventilated. Hiking sandals are a branch of footwear perfectly suited to a specific niche.
What to look for in a pair of Hiking Sandals
Obviously, all of the pairs listed below are well suited to people with high arched feet. However, there are still discrepancies in preferences between customers. Some value functionality above fashion, others believe style should take precedence.
Considering that many of these items have a reasonably high price point it is important to really consider what it is that you are seeking in the sandals that you are looking to purchase. Here is a selection of some of the features you should consider when choosing between one pair of hiking sandals and another.
Materials – From the sole to the straps, the materials used in the construction of these shoes can vary greatly. Considering their purpose, it goes without saying that these sandals are designed with sturdiness in mind. Soles typically have a comfortable amount of give and considerable grip to prevent slipping on wet or unstable ground.
Design – Styles vary greatly between brands and individual designs. Some are manufactured with functionality in mind and resemble a typical hiking boot stripped down to its bare essentials. Others bear the look of a fashionable pair of sandals, with the functionality aspect merely being an additional feature. This feature of hiking sandals is purely down to the taste of each individual.
Sustainability – Something that has become a core aspect of many people's lives are the benefits that particular products have on the environment. Whether its through recycled materials or ethically sourced aspects, many brands prioritise the need for their products to be considered environmentally friendly. However, some may have a greater sense of responsibility to create sustainable products that others.
Extra features – With each company trying to outshine the competition, the manner in which they attempt to do so comes in numerous shapes and forms. Waterproof sandals are almost a dead cert, however features like skid proof outsoles or additional adjustability in the strapping may make one pair stand out amongst the competition.
Without further ado, here is my list of the best hiking sandals for men and women:
Best Hiking Sandals For High Arches Women
Teva Womens W Hurricane 4 Sport Sandal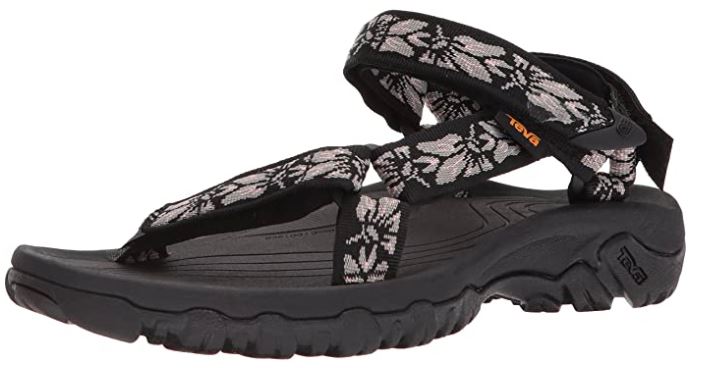 As the name suggests, this sandal designed by active footwear brand Teva is designed specifically for sporty individuals. The W Hurricane 4 Sport Sandal is tough but nimble, suitable for long hikes or any other aerobic activity. Completely water proof and open-toed, they are also a great option for use in water, from pebbled beaches to canoeing down a system of wild rapids.
Pros and Cons:
✅ Pros:
The nylon shank stabilises your footing on uneven terrain.
The outsole is not only rugged but also has excellent traction to prevent slipping.
Soft insoles make them extremely comfortable to wear.
➖ Cons:
 Slightly more expensive than some others on this list.
💡 The W Hurricane 4 Sport Sandal is an excellent all-rounder. This makes it suitable for a wide range of outdoor activities, including hiking, trekking, trail running and kayaking. The basic strap design allows for excellent drainage of water and give the wearer's feet a sense of freedom.
MEGNYA Women's Comfortable Summer Walking Sandals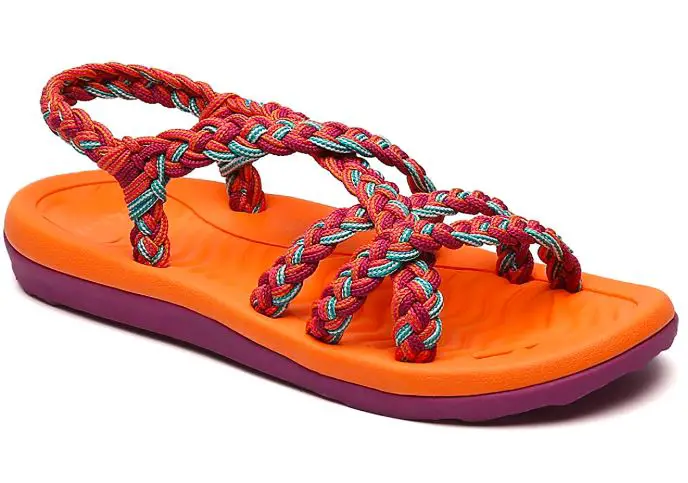 MEGNYA is a brand that creates excellent walking sandals that are not only affordable but also extremely stylish. The braided design of this sandal's straps is hand woven and easily adjustable for a comfortable fit. Designed as a multipurpose piece of warm weather footwear, these sandals are just as useful for taking on holiday as they are hiking on warmer temperatures. Essentials like non-slip outer soles and superior arch support make sure thatr this sandal can compete with the best.
Pros and Cons:
✅ Pros:
Water resistant design makes the sandals usable underwater as well.
Stylish braided design means that they are also perfect for everyday use.
Superior arch support with the EVA cushioned midsole.
➖ Cons:
Less suitable for longer treks due to their summer-friendly design.
💡 The trendy modern design of these sandals makes them perfect for everyday use as well as in more active walks of life. Just as suitable for wearing around the house as they are hiking up slopes in hot weather, the MENGYA Braided Walking Sandals are as versatile as they are fashionable. A brilliant piece of active footwear design.
Teva Women's Tirra Sandal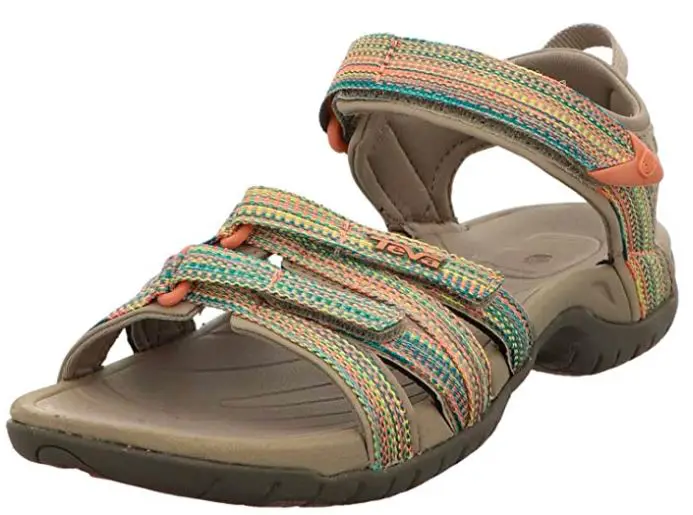 Another entry by Teva, a brand whose origins lie in the USA's Grand Canyon, the Tirra Sandal's quick dry straps are made using 100% recycled plastic, backing up the company's vision of building sustainable footwear. A shock pad in the heel absorbs shock extremely effectively, which combines with the traction design to assure comfort on even the most uneven of surfaces.
Pros and Cons:
✅ Pros:
Eco-friendly option thanks to the recycled strapping.
Extremely comfortable thanks to the shock-absorbing design features.
Anti-microbial technology helps prevent odours.
➖ Cons:
The recycled plastic in the straps offers less elasticity than other models.
💡 A great option for those looking to lessen their carbon footprint thanks to the recycled plastic in the straps – which is said to have led to the recycling of over 9 million plastic bottles to this day – as well as the reduced wastage in the packaging. Beyond the admirably eco-friendly stance of Teva, this is a brilliant walking sandal that can be used for an array of different outdoor activities.
KEEN Women's Rose Sandal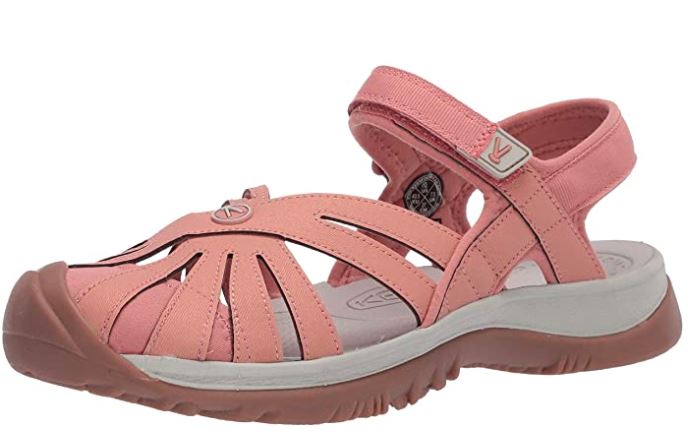 KEEN is a footwear manufacturer that specializes in creating shoes that master the elements, whether it be a sturdy trekking boot or a comfortable pair of casual sandals. The Rose Sandal is no different. Designed with support and comfort in mind, these sandals are designed with a toe bumper for extra protection.
Pros and Cons:
✅ Pros:
Toe bumper provides additional protection on uneven terrain.
Secure ankle strap for added stability when walking for long periods off road.
Built in Eco Anti-Odor helps prevent the build-up of unpleasant smells.
➖ Cons:
The ankle strap is not adjustable, meaning a specific fit may be required.
💡 Available in a number of different colours, the KEEN Rose Sandal is constructed to face the toughest terrains and longest distances. Capable of managing longer hikes and even multi-day treks, the toe guard adds a certain reassurance of injury prevention to the wearer. This is one of the hardier models on this list and recommended for those requiring a sandal that can endure the most extreme terrains.
DREAM PAIRS Women's Athletic Sandals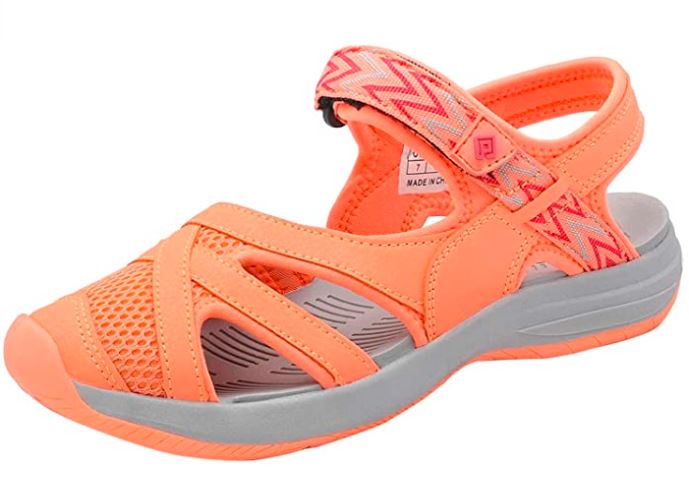 This closed-toed sandal from DREAM PAIRS is an affordable, versatile piece of footwear designed specifically for the most active of individuals. With numerous different colours to choose from, the DREAM PAIRS Women's Athletic Sandal is lightweight, comfortable and flexible despite its durability.
The closed-toe design and quick dry materials ensure that it can face the wettest of conditions.
Pros and Cons:
✅ Pros:
Extremely good value for money.
The closed-toe design and quick dry materials make it an excellent wet-weather sandal.
Available in multiple different styles and colours.
➖ Cons:
More suited to a wider foot than a slim one.
💡 These sandals are an excellent all-weather option, keeping your feet dry in the wet and cool in the heat. Variety in the form of the different colours and designs gives the buyer a greater range of choice when buying a pair and the adjustable straps make them very comfortable for each and every wearer.
Best Hiking Sandals For High Arches Men
CAMEL CROWN Mens Hiking Sandals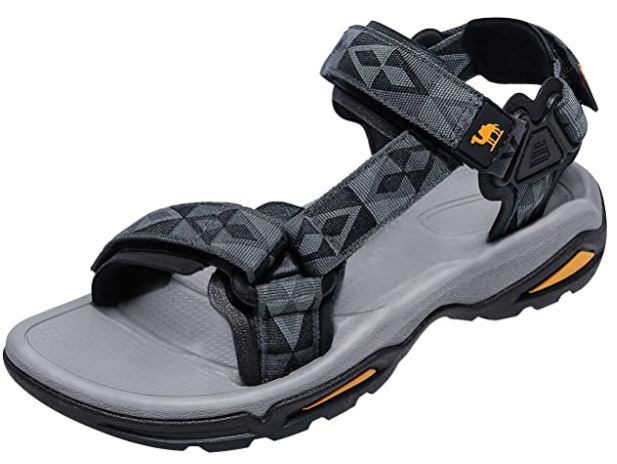 The ergonomic design of these hiking sandals help improve posture and provide extra support for men with high arches. Master of their craft, US company Camel has been making excellent specialised hiking gear since 2005 and these sandals are no exception.
Surprisingly soft given their strong build, the CAMEL CROWN Mens Hiking Sandals are designed to support a high arch and drain all water and dirt from the out sole methodically through the built-in drainage system.
Pros and Cons:
✅ Pros:
Three adjustable straps make these shoes easy to suit any foot shape.
Innovative drainage system dries the sandal's outsoles faster.
Ergonomic design supports posture regardless of foot shape.
➖ Cons:
Not as open as some designs, meaning slightly less ventilation.
💡 A solid all-round option at a very reasonable price. These Mens Hiking Sandals are designed by a brand that lives and breathes hiking but are also suitable for other activities such as running or canoeing thanks to the waterproof design.
Dockers Men's Newpage Sporty Outdoor Sandal Shoe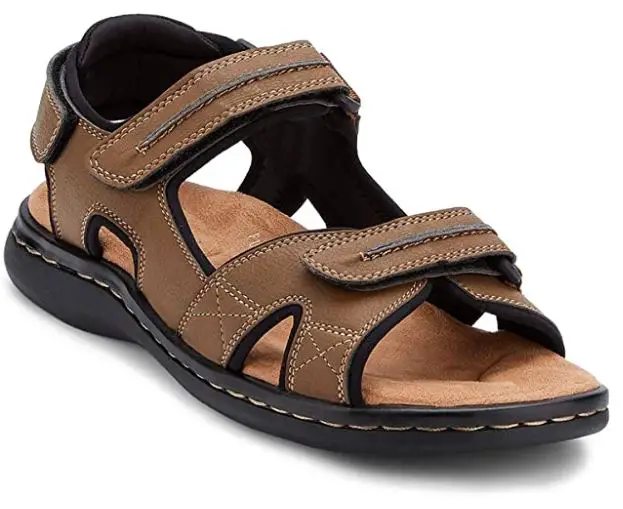 These shoes from Dockers are handmade with a sleek design and Velcro straps that give the wearer an extra sense of comfort and security. Perhaps not as suitable for more extreme weather conditions as some others on this list, they are made with a memory foam insole that makes it one of the more comfortable active sandals on the market.
Pros and Cons:
✅ Pros:
Memory foam insole offers next level comfort to the wearer.
Man made for a classier, more comfortable feel.
Durable rubber outsoles are long lasting and have superior grip.
➖ Cons:
Not as suitable for extreme weather conditions as some other models.
💡 A more casual, comfortable option than most other hiking sandals, these Newpage Sandals are perhaps more suited to smaller hikes and walks. Despite the relatively low price point give an impression of luxury thanks to the soft, supportive memory foam sole.
KEEN Men's Newport H2 Sandal
This sandal from outdoor specialists KEEN have a bungee lacing system for a close, comfortable fit and a pull-on loop that perfectly compliment the high arch support of the inner sole. These closed-toe outdoor sandals are a brilliant hiking option that will keep you secure and comfy even on longer and more active walks.
Pros and Cons:
✅ Pros:
Bungee lacing system helps for a snug fit, avoiding rubbing.
Suitable for machine washing.
Comfortable inner soles with excellent arch support.
➖ Cons:
Closed-toe design means less ventilation.
💡 A great pair of sandals that are easy to slip on and off thanks to the bungee design. The fact that they are machine washable is a massive bonus, making them fresh for each of your ventures into the great outdoors.
Teva Men's Katavi Outdoor Sandal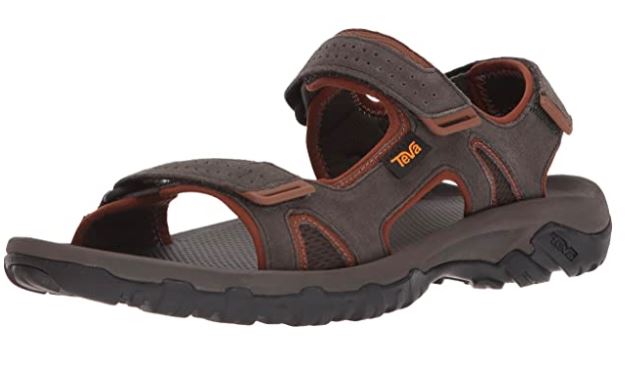 Teva's Katavi Outdoor Sandal is an open-toe piece of footwear that combines robust materials and innovative design for remarkable comfort levels and great endurance. These shoes support high arched soles even over long distance walks, with triple hook and loop straps giving the impression for a personal fit regardless of foot shape.
Pros and Cons:
✅ Pros:
Durabrasion Rubber outsole ensures a longer lasting defense against wear and tear.
Extremely comfortable thanks to the triple strap design and soft inner soles.
Open toes mean brilliant ventilation levels in hotter weather.
➖ Cons:
Slightly higher price point than others on this list.
💡 Comfortable, robust and resistant to abrasion. The quality of these walking sandals ensure that they are well worth the slightly higher price. Thanks to the solid design and superior materials these hiking sandals are sure to last the wearer for many a hiking trip.
Dockers Men's Searose Fisherman Sandal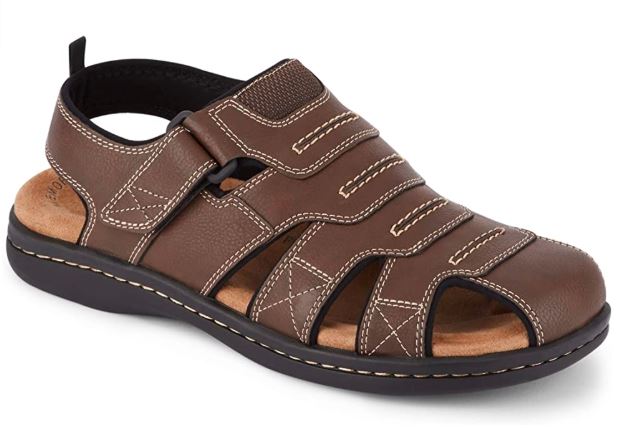 As with most footwear from Dockers, the focus of the Searose Fisherman Sandal is comfort. Thanks to the memory foam insole and the cushion foot-bed, these active sandals can be worn both when active or simply around the house. Designed with a generous fit, they mold to the shape of the wearer's foot for a delightfully spacious feel.
Pros and Cons:
✅ Pros:
Extremely comfortable thanks to the memory foam insole and cushion foot-bed combo.
Flexible construction means comfort in any scenario.
Available in extended sizes.
➖ Cons:
Not suitable for longer hikes or treks.
💡 As with their Newpage Sandals, Dockers have primarily focused on the idea of creating an extremely comfortable shoe as opposed to a trekking-friendly piece of active wear. That said, they are very much suited to shorter hikes or walks and are sure to offer the wearer unsurpassed comfort levels when walking.
Conclusion
It is difficult to single out a particular pair of hiking sandals as a superior model as each is tailored to a specific audience. Whilst all are designed to be used in an active context and are well suited to people with a high arch, there are some that are sure to be more suitable to longer walks, just as there are those that will keep you more comfortable in a more casual context.
However, whether it's a combination of style and durability that you're seeking or a shoe that is at once weatherproof and comfortable, there is sure to be a pair that will meet your needs. As with any purchase of hiking gear, its vital that you research before buying to ensure that you get a pair that best suits you.
In one way or another, all of the pairs above are sure to be a great companion for anyone looking to head out the door and hit the open road in search of adventure.