Best Ski Boots for Beginners Review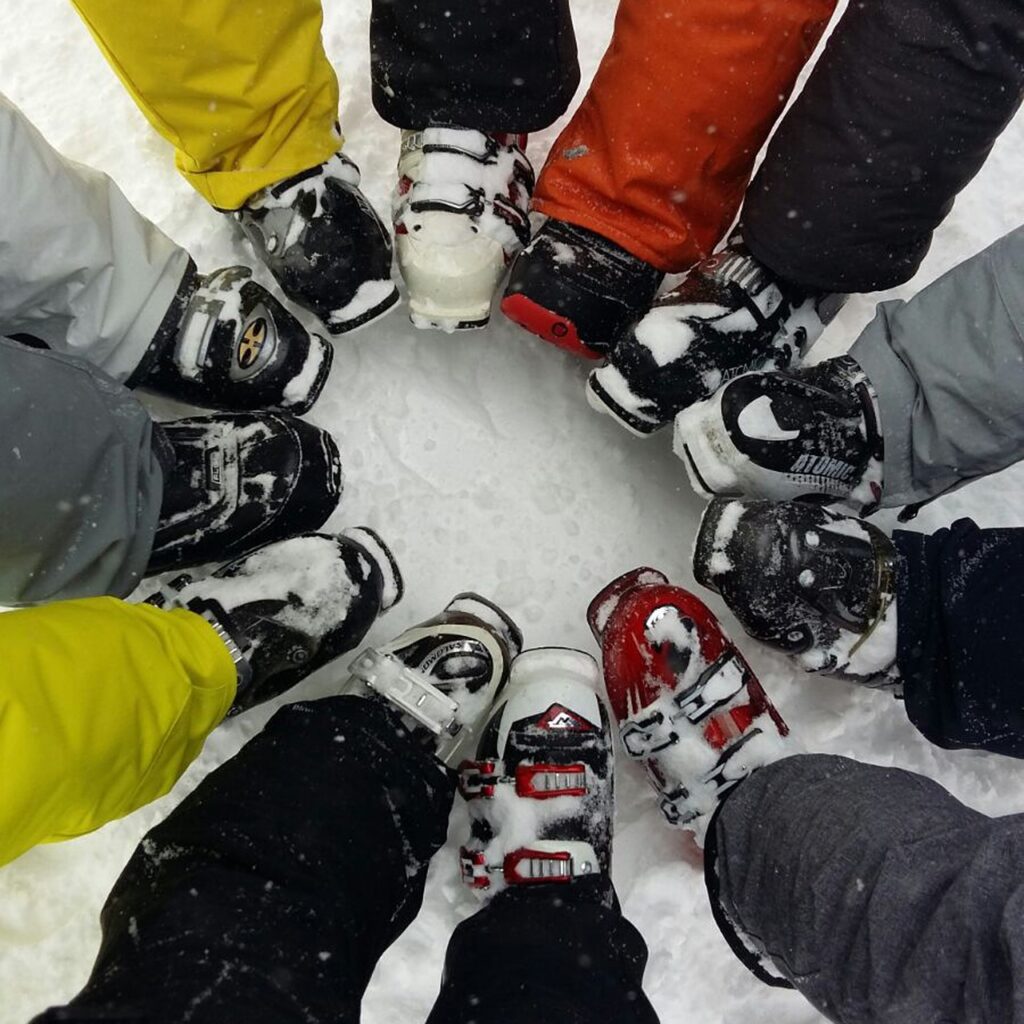 Skiing is something that can take plenty of time to get used to. If you're a complete beginner, you'll likely find that getting boots on your feet can be a bit of a struggle in and of itself! However, there are no reasons why you should have to muddle around with awkward boots if you want to hit the slopes sooner rather than later.
Naturally, we all have to start somewhere. I might be an experienced skier, but I know full well that finding the best boots – the best fit, the comfiest cushioning and the most maneuverability – is likely to take time and effort.
That's why I've made a point of writing the following buying guide to help you find the best boots for your skiing experience. If you're just getting started on the slopes, it's a good idea to find kit and accessories which are going to support you from trip to trip!
Buyers Guide
So – what exactly should you be looking for in the best ski boots for beginners? Yes – it's tempting to judge a book by its cover, and to also consider boots which offer incredible comfort first and foremost – however, it's safe to say that there's a little more you're going to need to compare and contrast over time.
Here are just a few points you'll likely need to consider when shopping for ski boots for the first time:
Mondo Point
What on earth does 'mondo point' actually mean? It's referring to the size of boot you buy. This is one of the crucial factors you're going to need to keep in mind if you ever want to buy ski boots again in future. There are plenty of ways for you to convert standard shoe sizes to mondo points, however, this doesn't always mean you're going to get the best possible fit for your needs.
Many skiers will advise that you try and get fitted for boots first before you go ahead and buy. Of course, it also makes sense to have your feet measured, and to head into a skiwear outlet or similar who will be able to help convert your sizing into the mondo format.
Flex
Flex is another term that you're going to need to get used to pretty quickly! The flex of your ski boots, as you might imagine, actually refers to how rigid or flexible they can be. These ratings are easy to spot when buying ski boots online, and as a beginner, it's something you're going to need to keep in mind.
The rating that's right for you may change depending on your experience as well as your profile. For example, the higher the rating, generally, the more suitable a pair of boots will be for beginner skiers. The same applies to heavier skiers, or those who are particularly tall.
Generally, you'll find that flex ratings fall on aa scale somewhere between 40 and 150, meaning it's entirely numeric. However, there may be some variations on the upper end of this scale.
Generally, I'd advise going for a midrange option if you're just getting started, or if you're unlikely to be the heaviest skier on the piste.
Once again, fitting may help in this regard. However, there are no reasons why you can't find the perfect flex fit online.
Last
The last of your ski boot actually refers to how wide it is. While you'd normally measure your feet in terms of length, you can use the last of your foot to account for width for added comfort and support.
Again, as with flex, this is measured on a numerical scale. This time around, you're going to be looking at 100 as the midpoint. This means that anything more than 100 is likely to be more comfortable and looser on the whole. Anything below this will be more precise, but narrower and tighter.
Ski Boot Types
Naturally, there are also different types of ski boot out there to benefit different types of skiing! As you can imagine, the differences and ranges can get pretty extensive.
As a beginner, you should ideally look for resort boots, or those called 'alpine'.
Alpine boots are normally some of the most common you'll find available in ski shops, meaning that they tend to be pretty 'entry-level' for the most part. That's no bad thing.
Touring boots, meanwhile, tend to be better if you have a little more experience, and if you want to ski through the backcountry. These are comfortable to walk in.
Above all, make sure you read up on what other beginner skiers have to say about their boot choices when you shop online. Verified reviews can be amazingly helpful – be sure to listen to what people have to say!
The Best Ski Boots for Beginners: My Picks
These boots are amazingly comfy – meaning that if you're really worried about getting cramp or feeling pinned into your boots as you move around, the Evo 70s may well support you. They boasts custom liners to adjust to your individual fit, and supposedly help to transfer your energy to the skis themselves.
Key Specs: 104mm last, sensor matrix shell, custom liners
✅ Pros:
Very comfortable to move around in – extremely relaxed
Great, striking look – ideal for the skier that wants to show off!
Available in a huge range of sizes and fits
Reasonably priced for the technology
➖ Cons:
Good all-rounder – no particular drawbacks
💡 I love these boots as they are clearly built with beginners in mind. There are few other alpine boots available which are quite so comfy, either! Likely to be a great pick for any skiers worried about pinching on the move.
These rugged-looking boots are ideal for the adventurous skier, even if they are just getting started! This is a 2020 build of boot from Rossignol, making them some of the newest beginner boot ranges on the market right now.
They are easy to fit, are super-responsive, and offer pioneering insulation and breathability. Therefore, you're looking at all-around comfort as a beginner.
Key Specs: 104mm last, WinTherm insulation, sensor matrix shell
✅ Pros:
Comfortable, wide fit – ideal for beginners
Striking, rugged look
Breathable design and manufacture
Plenty of insulation to protect against the cold
➖ Cons:
One of the newer beginner boot ranges available – not many individual reviews yet
💡 I like Rossignol's fantastic range of boots purely for the fact that they blend design and beginner comfort together so well. This is a wide-fitting boot which will adapt comfortably to you – and it'll protect you against the cold, while allowing your feet to breathe at the same time.

These superbly-priced boots are going to appeal to beginners not only in their value, but in their cutting, acid yellow look, as well as their creative ski/hike mechanisms. This means that – unlike many beginner boots – you can actually flick a lever and switch between ski and walking modes for added support and comfort.
Key Specs: 90 flex, all-mountain design, medium last
✅ Pros:
Very affordable – appealing to new skiers on a budget
Switch between hiking and skiing with ease
Medium width boot for everyday comfort
Stiff flex for added support
➖ Cons:
Flex is not adjustable despite mode switch
💡 This Dalbello ski boot option is ideal for anyone who may find it hard to walk or hike normally in boots built for skiing alone. Therefore, I feel these boots are well-positioned to help beginner skiers get used to what's demanded of their feet on the move!
While they may retail at a slightly higher price than some of the other picks on my list, these Salomon boots more than make up for it in sheer value alone. For one thing, they have advanced walk and ski switching modes available, as well as a unique 'endofit tongue' to help ease you in and out. Ideal for hikers as well as beginner skiers.
Key Specs: 106 last, stiff flex, surelock mechanism
✅ Pros:
Ideal for switching between skiing and hiking – easy on the feet
Nice and easy to ease in and out of thanks to unique tongue opening
Wide last for added comfort
Great for controlling at low and high speeds alike
➖ Cons:
Quite expensive on the whole
💡 In my opinion, these boots are more than worth the money. Flexible yet durable, these boots boast one of the easiest hike/ski switches you'll come across for beginners. Certainly worth a look if you are serious about investing in premium ski wear for the better.
This women's ski boot helps you actively drive power through your boot into your ski, and with a 102 last, it's likely to be one of the most comfortable fits for beginners looking for added control in the snow. Specifically designed with women's feet in mind, this boot also lets you adjust the flex up and down.
Key Specs: 102mm last, adjustable flex, insulated interior
✅ Pros:
Nice and warm thanks to reflective insulation
Built with women in mind
Very easy to adjust flex as per your needs and tastes
Easy to transmit as much power and control as you demand
➖ Cons:
Can get a little expensive – but definitely worth it
💡 There are few ski boots for beginners which are built with precision for both men and women in separate mind. This is not a catch-all boot – it's a precision ski shoe for women who want to mix up their flex occasionally, but who still want that fantastic comfort all the same.
This additional women's-only boot is superbly priced and allows for easy insert and removal from trip to trip. As with the above pick, these boots allow for smart energy transfer to give you more control on the piste. However, with a wider last, this is going to be a boot likely to appeal to a wide array of skiers.
Key Specs: 104mm last, custom liners, sensor matrix shell
✅ Pros:
Wider last than many boots for beginners
Very well-priced
Soft plastic and comfortable entry
Easy to customize from trip to trip
➖ Cons:
Maybe not as precise as others – no flex adjustment
💡 If your budget is a little tighter than you expect, I feel this Rossignol boot will still give you plenty of comfort and control for your money. It's likely to support many people looking for a quick and easy way on and off the slopes.

This Dalbello boot is one of the newest in the manufacturer's women's line, and not only does it look impressive, it's built with beginner comfort in mind – specifically! It's got a soft flex, and what's more, with 105 last, it's likely to be a nice, easy fit for most people.
Key Specs: 65 flex, 105mm last, four buckles, ideal for downhill skiing
✅ Pros:
Very reasonably priced
Developed with women's feet and calves in mind
Soft flex and wide last for extra comfort
Easy for beginners to get used to
➖ Cons:
The look may not appeal to everyone
💡 This Dalbello option is one of the best beginner boots available for a variety of reasons. I like it particularly because it's so well-positioned for complete beginners to skiing – it's well-priced, easy to get into and out of, and they will also likely work well for more experienced users, too.

Let's close this guide with a leading pair of ski boots which are clearly designed with beginners in mind. Offering a flex of 100 and a last available in 100 and 106 as per your own needs, this is a premium ski boot system which also benefits from a sense amplifier, and fiberglass in the build. That's extra control and extra durability on the move.
Key Specs: 100 to 106 last, 100 flex, fiberglass core
✅ Pros:
Premium build and durability
Comfortably morphs to your feet
Lightweight yet sensitive
Available in a wide array of sizes and fits
➖ Cons:
Expensive compared to other picks on my list
💡 This is certainly one of the more impressive beginner ski boots on the market, and while it comes at a relatively high price, it's well worth it. I like these boots for the impressive, premium engineering – ideal for beginners who need comfort and stability.
Conclusion
If you're struggling to find the best ski boots on the market for beginners, worry no more. Be sure to take a look through my picks above, as well as my buying guide. This way, you can be sure you'll be able to hit the piste with comfort, insulation and control guaranteed.
SOURCES