Are you keen to watch the night sky while camping? If you're out in the wilderness, you'll be able to see all kinds of constellations. That's why I've lined up this guide to the 6 best stargazing tents available now for you to choose from. Let's dive right in.
How to Choose the Best Stargazing Tent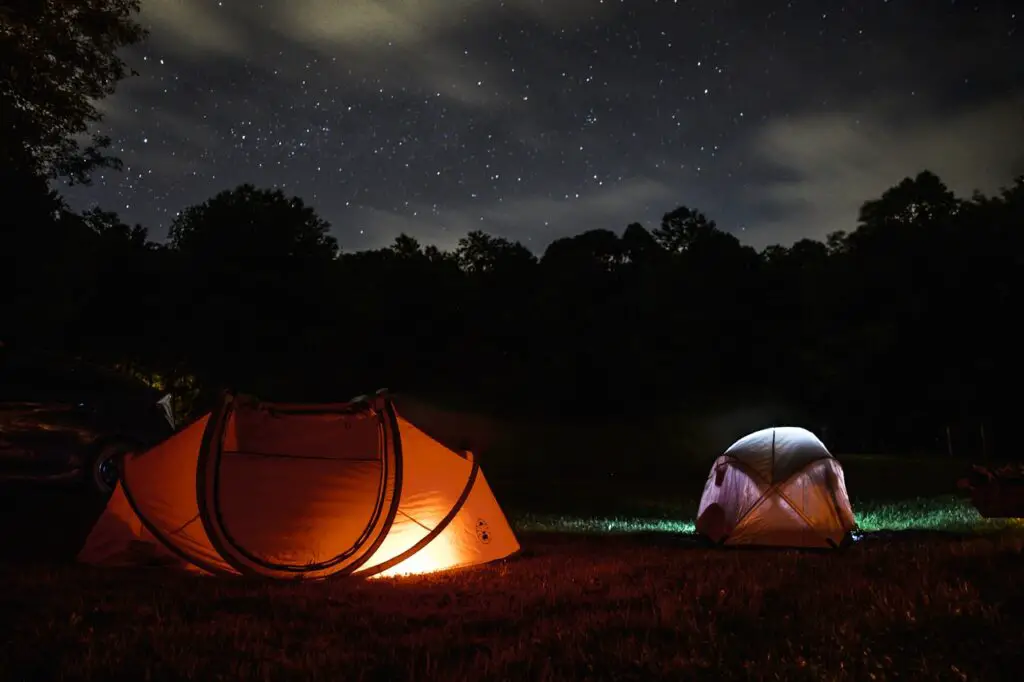 To choose the best tent for stargazing, you're going to need a clear window in the ceiling. By this, you'll often need to consider mesh. Protective mesh is great for helping you to see into the night sky, as it won't shield you from the brightest of stars.
However, as you can imagine, it's not the only thing you'll need to look for. As with all good tents, you are going to need good insulation, weather protection, and even protection against bugs and mosquitoes.
After all, if you really want to look up into the stars, the last thing you're going to want is to let any nasty biters in through your viewing window. Therefore, while there are plenty of great stargazing tents out there, you're going to need one that gives you all-around protection, not just a fantastic view of the sky above.
Don't worry, however, as I'm going to take you through the six best choices in stargazing tents around. I'll also take you through everything you need to know about shopping for and choosing the perfect stargazing tent, too.
Which Stargazing Tent is Best?
From my list below, the Kelty Night Owl is the best stargazing tent available right now. I'll go into more detail why shortly. However, it's worth keeping in mind that the best stargazing tents for you might not be the best overall for other people! We all have different needs as far as space and convenience are concerned.
That's why I have mainly focused on aspects such as viewing windows and waterproofing. This means that you can rely on your tent to act as a portable observatory, of sorts, for use in all weathers.
The best stargazing tents around are those which give you maximum comfort as well as maximum sky vision. However, it's not always easy to get a balance between the two, so make a point of looking for the best features and facilities I suggest to you in this list. Trust me – I've tried a few of my own in my time!
Are Roof Top Tents any Good for Sky Watching?
Yes, many roof tents can be great for sky watching. Roof tents are really convenient if you have a small vehicle and if you don't want to put too much hassle into setting up your campsite beyond your car or van. The fact that roof top tents will get you closer to the stars, of course, is a major plus. However, not all roof top tents are built for stargazing, which means things really will vary in this regard.
In this guide and review I've largely found standard skygazing tents for you to consider. However, there is nothing to say that a leading rooftop tent won't offer you the same access to the stars – take a look around online, read verified reviews, and see how you get on!
Buyers Guide
Before I take you through my top 6 stargazing tents, let's consider what you're likely to need. There are a few components and features to these types of tent which are well worth comparing, and as not all of them are likely to be obvious, I think it's a good idea to consider each in turn.
Clear Viewing Windows
This is, of course, the biggest asset to a stargazing tent – you're going to need a clear viewing window, or as many as possible. The more the better, in some cases.
However, what you may find with some tents is that – while there may be a window up top that you can easily gaze through, there are still some obstructions in the way. For example, you may find that there are some which have poles in the way, or even fabric layers which block your field of vision completely.
Ease of Use
As with most tents, you're going to want your temporary stargazing station to be easy to set up. After all, you never really know when you're going to come across that perfect patch of sky! If you're on the road hunting for stargazing spots or know exactly where to see some of your favorite constellations, then it makes sense to buy a tent that's easy to get up in a matter of minutes.
This is a really good reason to invest in a rooftop tent. You could easily attach these to your vehicle while taking a drive around looking for skygazing spots.
Or, you could invest in a pop up tent which offers a viewing window or two. The choice is yours – both avenues are perfectly feasible!
Weatherproofing
Again, this is a must for all tents, but when it comes to stargazing, you're going to need protection against the rain and all kinds of natural elements.
If you're going to be looking up at the stars, it's likely that you are going to be up in the cold of night. That means some form of thermal insulation is going to be a must.
What's more, you should invest in a tent that has some sort of rainfly. This means that you can take rain protection on and off without you having to spoil the view.
Of course, there are plenty of great stargazing tents out there which are built to an amazing waterproof standard, too. I've rounded up some of these in my buying guide below for you to consider.
The 6 Best Stargazing Tents
What are the 6 best stargazing tents available for you to buy right now? Applying my own knowledge and experience, as well as the above factors, I've rounded up a series of great tents which are perfect for stargazers on the move. These are not only great tents in general but will also give you the view you're looking for when it comes to taking in the wonderful skies above.
Here's my top six, and why I chose each of the products.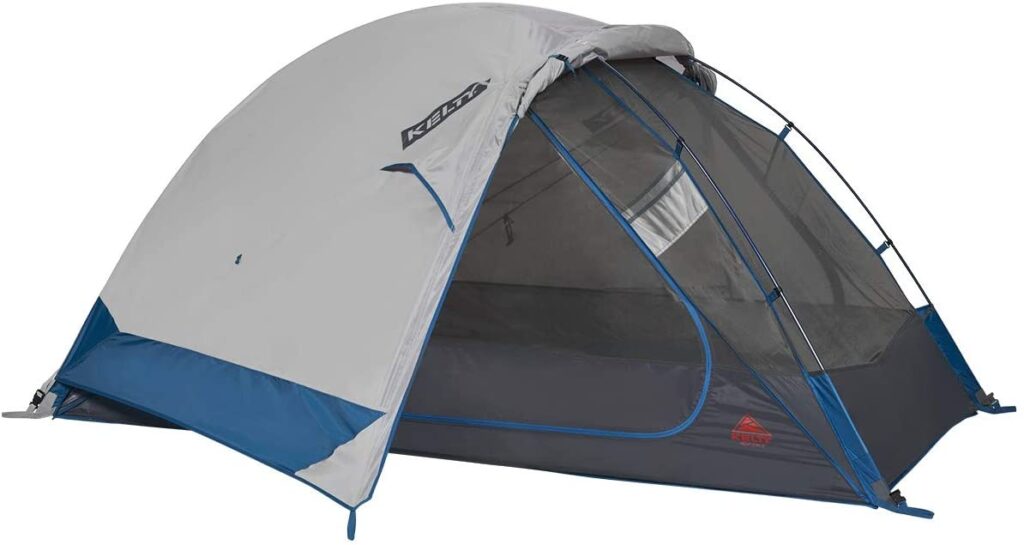 This affordable, spacious tent is great for up to three people, is impressively lightweight and – of course – gives you a fantastic view of the night sky whenever you want to take in the stars. You'll benefit from mesh walls, as well as pockets in the walls and ceiling to help illuminate.
What really sets this tent apart from the rest is the fact that it has a specialist stargazing fly. This means you can easily roll the fly up and down to get a great view of the sky beyond. It's a tent that is actually built for stargazers, which is why nothing else comes close!
Key Specs: Sleeps three, 1800mm water resistant, stargazing fly
✅ Pros:
Specifically built for stargazing
Really easy to move fly up and down
Nice and roomy for couples
Brilliantly waterproof
➖ Cons:
Some may find air quality inside a little stuffy
I think this is the best stargazing tent on the market. It arrives from a great manufacturer, and the super-simple stargazing fly really seals the deal.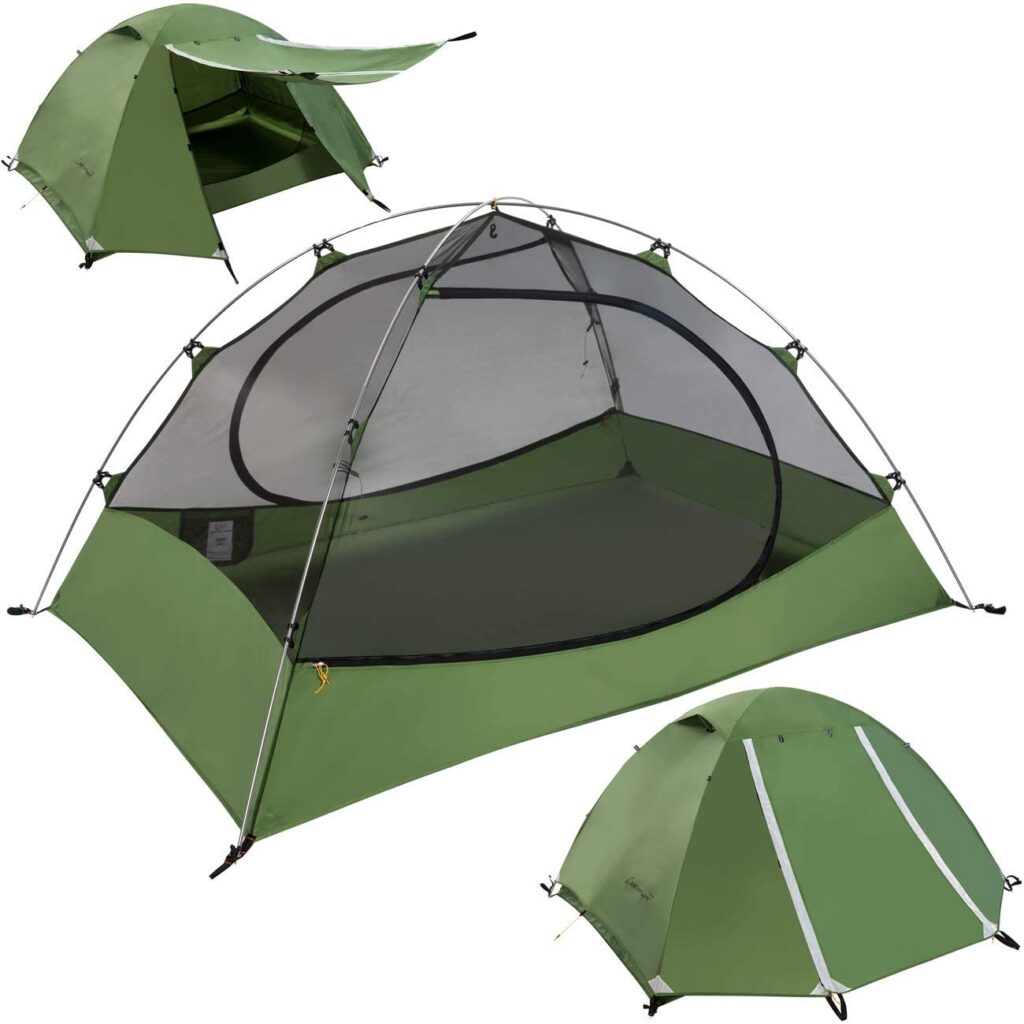 This superb, super-light tent is, much like the top pick, ideal for stargazing. You can completely peel back the roof to reveal mesh which brings you out into the elements – without getting the worst of the weather or the cold. This is the biggest of the line, with smaller tents available for smaller parties. It's impressively roomy and is great for use in most seasons.
Key Specs: Sleeps four, 210T polyester weatherproofing, 7.4lbs in weight
✅ Pros:
Very easy to carry, unpack and pack up again
Take down the roof without exposing yourself to weather
Roomy for couples
One of the best all-weather systems
➖ Cons:
Some may find more durable options elsewhere
This is a well-priced tent which I think really sells itself based on the fact that it's so lightweight and easy to carry, and the fact that you can simply peel that ceiling cover back to reveal the sky. It's a top choice if you have a slightly larger party, but it's also really comfy for couples.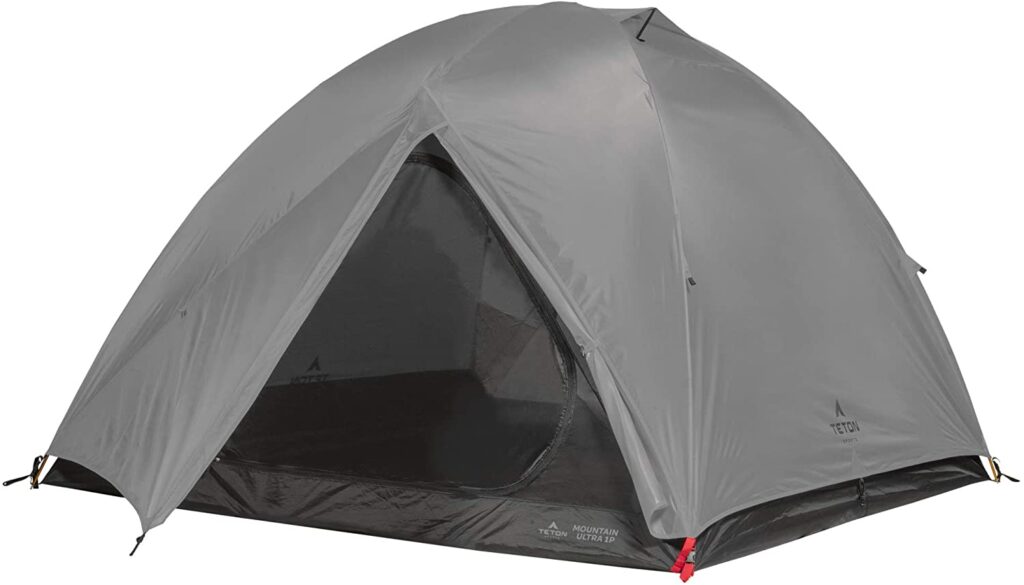 If the fantastic name of this tent doesn't sell you, the specs will. This is a great little dome tent with a firm following and should be comfy for up to four people. As always, however, it's likely to be even comfier and roomier for single campers or couples.
It's the full dome mesh, however, which is going to really appeal to stargazers, as you can simply peel the solid away to reveal a 360 degree viewing window. It's also impressively simple to set up and pack away again.
Key Specs: Sleeps four, full dome viewing window, 360 degree venting
✅ Pros:
All-around viewing dome
One of the easiest stargazing tents to get up and running
Impressive ventilation
Great for keeping the rain out
➖ Cons:
Some users may not find it the most durable
I think this is a top stargazing tent purely for the fact that it gives you a whole dome of mesh to work with. The sky is your oyster! However, ventilation AND rain protection is hard to come by, and that's what makes this an all the more impressive package.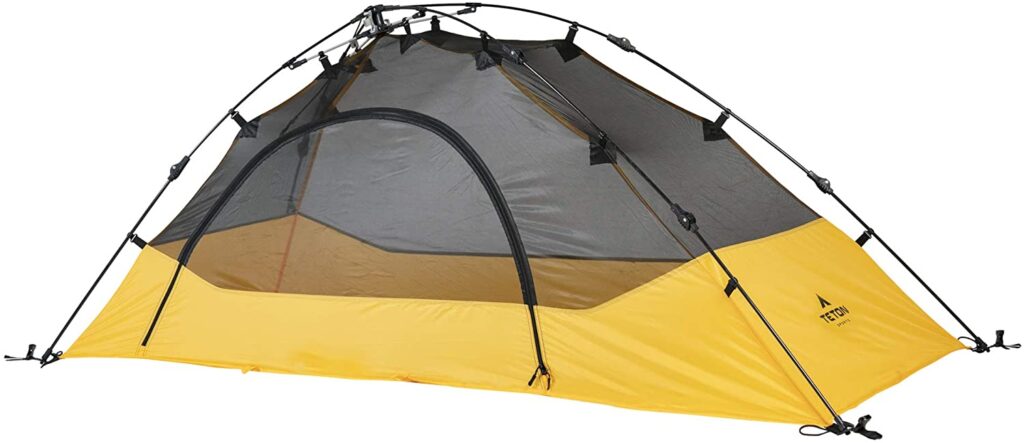 This tent may not necessarily be built for stargazing as such, but it offers more than a few of the assets you're looking for. It offers extremely quick setup and a wide mesh window for you to gaze out of. What's more, it has a rainfly that clips on and off with ease, and you're also looking at one of the most affordable tents of its kind right now.
Key Specs: Sleeps one, pop up setup, waterproof rainfly
✅ Pros:
Great for single travelers and stargazers
One of the easiest tents to set up
Very well priced
Offers a complete view of the sky
➖ Cons:
Not the largest tent around
While obviously not built for parties of stargazers, this quick pop up tent is great for single backpackers looking to take in the stars. I really like the fact that it's a no-fuss system, great for when you're constellation hunting on the go.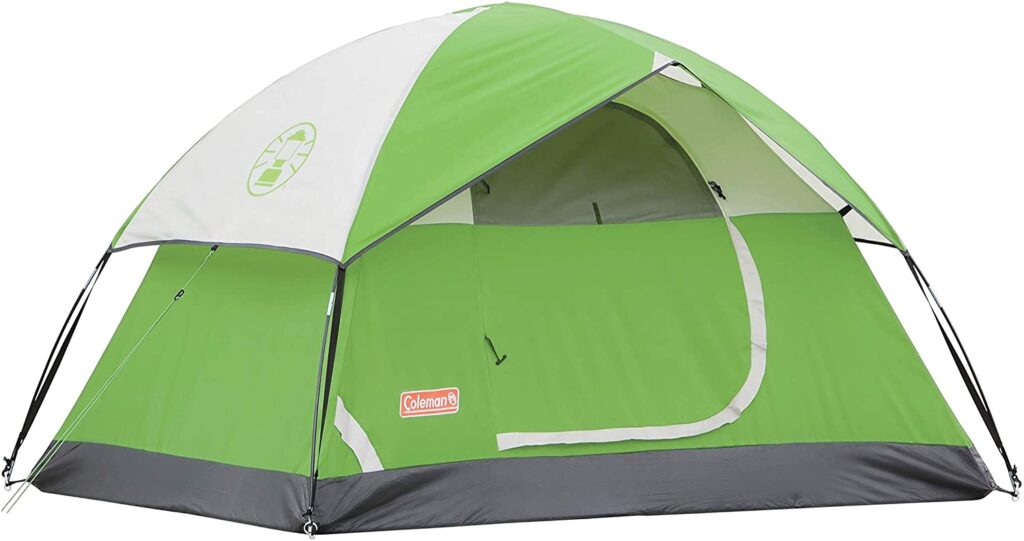 One of the biggest tents in this list, the Coleman Sundome offers plenty of stargazing assets. For one, it has a comfortable interior with plenty of space, as well as a flexible rainfly which you can remove and reattach when you're not looking up at the starts. It's well ventilated and has plenty of storage, too.
Key Specs: Sleeps six, flexible rainfly, 6 foot standing height
✅ Pros:
Lots of room to stand
Easy to setup in ten minutes
Impressively weatherproof
Great for larger groups
➖ Cons:
Not necessarily built specifically for stargazing
This big, roomy tent is likely to be a great choice if there's more than a few of you hunting for stars. I think it's worth the money purely for the sheer comfort and weather protection.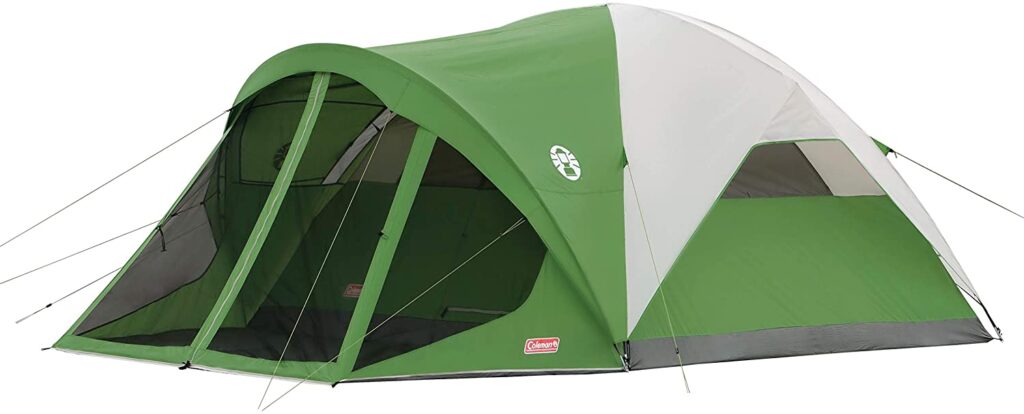 Coleman outdoes themselves again with this gargantuan tent! Its screen room offers you protection from the elements while providing you with a clear view of the stars. It's even available in an eight person model, meaning that if there's more of you keen to explore the constellations, that could well be the best tent to invest in.
Key Specs: Sleeps six, screen porch, bug, and weather protection
✅ Pros:
Protects well against weather, water, and mosquitoes
Lots of space and height
Great individual screen room
One of the best-looking tents
➖ Cons:
Will require more setup than most on this list
This stargazing tent is perfect if you have a few friends or a small family group wanting to check out the skies in comfort. I love the addition of a screen room porch, though some people may prefer a tent that rolls back the ceiling for a direct view!
Conclusion
Have you found the perfect stargazing tents for your needs in this list?
If not, don't worry – there are plenty more out there to pick from! Make sure to find a tent that not only gives you a great view, but which also protects you from the weather, the cold, and all the nasty critters likely to bite you in the night.
SOURCES USED