There is only way to truly immerse yourself in nature, and that is to camp within it. Part of the experience, like it or not, will also include braving the unpredictable weather and other elements thrown up by the great outdoors. Or in the case of the British summer, the all too predictable weather elements!  
Having a decent tent is paramount towards maintaining your enjoyment of your camping adventure. There are few things more liable to spoil your trip than waking up in a puddle at the bottom of a leaky tent, or lugging a heavy tent halfway up a mountain to find out the cheap poles have bent beyond suitability, thus reducing your tent to a more of a makeshift teepee.
With so many different tents on the market it and such wide-ranging prices, it can be difficult to know what to purchase. Don't dismay, here at snowball expeditions we have compiled some advice to assist you with your tent buying as well as providing you with a list of the top 5 best tents for rain and wind that we have come across.
How to choose the best tent to protect you from rain and wind.
Durability: The materials that the tent is made from are key in influencing your decision here. The most common fabrics used in tents are polyester, polythene, canvas, UV-tex and Nylon. Some fabrics protect from rain better such as polyester, others like canvas absorb water but are more breathable than synthetic materials. 
Mobility: This really depends on how you intend on transporting your tent, and on the materials from which the tent is made. Nylon tents are usually lighter than polyester tents, and so are better suited to being carried further distances on foot for example. Canvas is heavy and is better suited for family tents, drive in campsites or thrown atop a camel for a desert expedition. 
Waterproof/Rainfly: Tents made of synthetic materials are usually waterproof or come with a rainfly. A rainfly is a protective waterproof sheet that is fitted over the inner tent structure. Canvas tents are not waterproof and, while very suited for use in arid climates, would definitely require rainfly protection in the presumed presence of precipitation. 
Ease of assembly: Depending on how long you want/have to spend constructing your temporary abode or how adept you are at following instructions; the difficulty of assembly should factor into your thinking. After a long hike or fast onset of weather, nobody would welcome a tricky tent to put up for instance. There is a downside to easily assembled structures though as they often come at the expense of other features, such as dividing walls and more elaborate designs more suited to the long stay camper. 
Price:  When it comes to tents you really do get what you pay for in most cases, so you should budget accordingly depending on how seriously you intend to use it. Camping on a Suffolk campsite in June would require a less expensive piece of equipment, compared to that needed for a winter excursion into the Canadian Rockies.
Here is our Top 5 list of tents.
Now we will show you a few of our picks for some of the best tents for wind and rain. We will go through each one in turn and put forward some pros and cons for each, to better assist you in making an informed decision about which tent is most suited to your camping needs.
We have chosen a broad list of tents that are of various shapes and sizes, in order for this list to cater to a variety of situations and camping party sizes. They are listed in no particular order.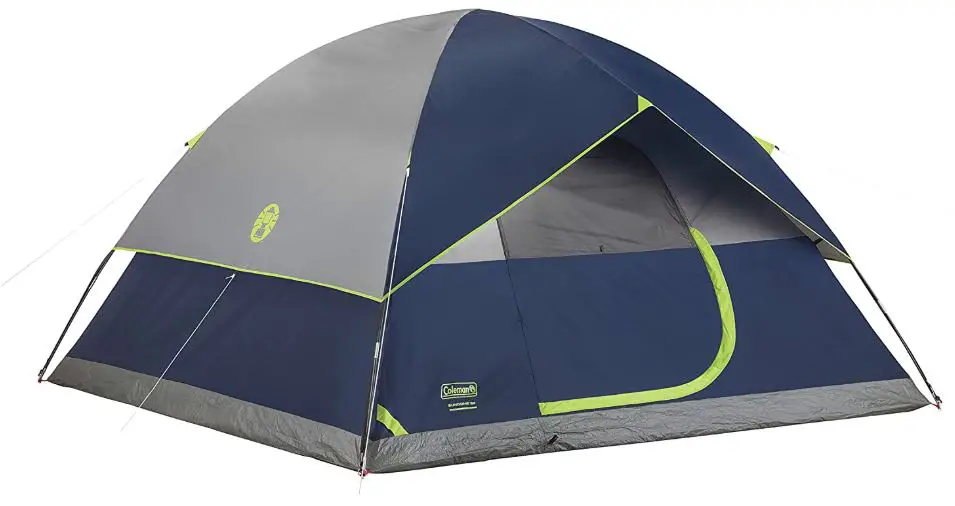 First up on the list of the top 5 best tents for wind and rain is the Coleman Sundown. This is a good starter tent for the budding camper and is excellent value for what it gives you. It is fairly light and so is easily moved. The fairly fast set up time is a great feature so you can assemble it in no time and get on with enjoying your surroundings. 
Specs: 
MATERIAL: Polyester taffeta 75 denier flysheet 
WEATHERPROOF: Welded corners, inverted seams and an included rainfly keep the rain out. Can withstand 35+ mph winds. 
SETUP TIME:  10 minutes  
WEIGHT: 8lbs 
SIZE: 7 x 5 ft. with 4 ft. center height 
💡 Suitable for: Festivals, hiking, warm weather camping. 
✅ Pros: 
Great value
Strong wind resistance
Keeps dry
Easy to assemble
Fairly light
Water and wind resistant. 
➖ Cons: 
Tent pegs feel cheaply made
Not a cold weather tent
Opinion: For me you get a lot of bang for your buck with this tent. Obviously, there are better tents available but for a lot more money than you have to shell out for the Coleman. But this tent covers all the necessities for a decent price tag. Heck for the price, I wouldn't even be too miffed if it blew away.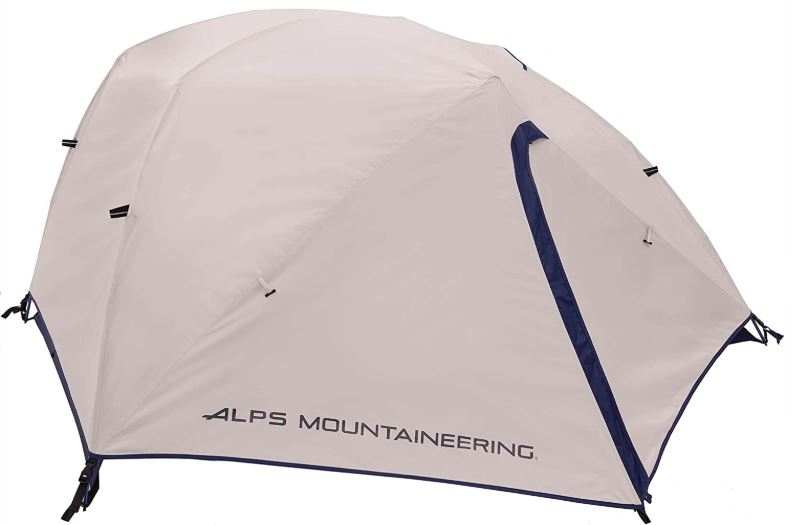 This tent is small but packs a big punch. The weight makes it feasible for hiking and festivals, and by removing the fly to reveal the mesh roof you can covert this tent into the perfect nest for a romantic evening under the stars. 
Specs:  
MATERIAL: Polyester  
WEATHERPROOF: Rainfly resists water and UV damage. 
SETUP TIME:  5 minutes. 
WEIGHT 5 lbs. 15 oz. 
SIZE:  4'4 x 7'4, center height of 42 inches 
💡 Suitable for: Festivals, warm weather camping, stargazing. 
✅ Pros: 
Good quality materials
Easy and quick to assemble
Lots of places to stash your gear
Good size for 2 people
Stylish and good value
Water resistant   
➖ Cons: 
Not suited for extended camping sessions
a little heavy for its size 
Opinion: I really liked the ease in which this tent can be set up, which would be welcome after a long hike into the wilderness. I am also a fan of the many neat pockets and areas that you can use to organize and store a lot of items in order to maximize space. The mesh roof feature is a nice touch and is good for views and ventilation.
Now for a big boy. The CORE 9 Person Instant Cabin Tent makes it to this list of the top 5 best tents for wind and rain not just from sheer size, but also by design. This tent can be speedily set up and can even be divided into 2 rooms if you need to divide occupants. The tent is also well ventilated and includes a rain fly to keep that rain at bay.  
Specs: 
MATERIAL: Polyester 
WEATHERPROOF: Heat sealed seams prevent water intake, includes rainfly. 
SETUP TIME:  1 minute 
WEIGHT: 30.5 lbs 
SIZE:  9 X 14 feet, 78 inch center height.  
💡 Suitable for: Family camping, use on designated campsites, windy weather, long camping holidays. 
✅ Pros: 
Spacious
very fast and easy to assemble
resistant to rain
durable
good value for the price. 
➖ Cons: 
Heavy
Not suitable for wilderness camping. 
Opinion: This is a great tent for a family camping trip that everyone can have some space in. It is very well ventilated, which is just as well if you have packed it to capacity. The set-up time is incredible, taking less than a minute once everything is unpacked.
Also check out our: Core Equipment Core 4 Person Instant Dome Tent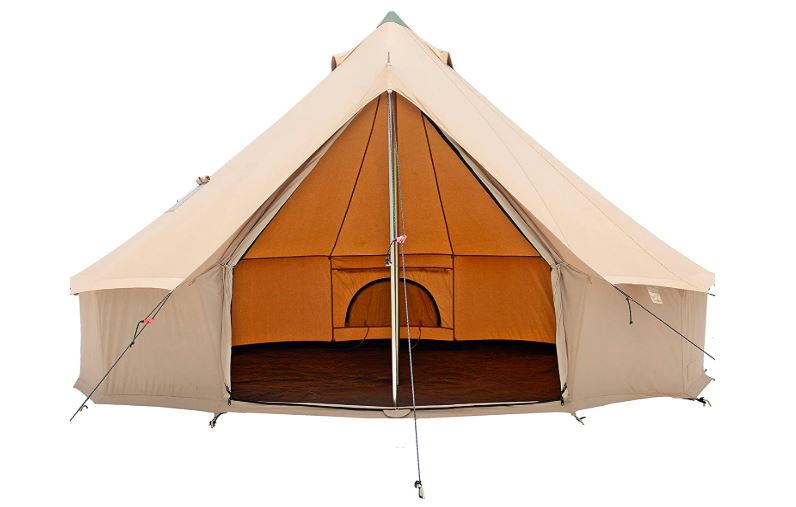 Feel like a modern day Lawrence of Arabia with this next yurt style tent made by White Duck. It is the most expensive on this list at around $500 depending on the size. It is super well built however and warrants the price by being incredibly spacious and luxurious. It can even accommodate a stove! It is available in 3 sizes that can fit 3,6 or 8 people. 
Specs: 
MATERIAL: Cotton 
WEATHERPROOF: The army duck canvasing is water repellant, can handle 40mph+ winds. 
SETUP TIME:  20 minutes. 
WEIGHT: Varies according to model. 
SIZE:  Varies according to model. 
💡 Suitable for:  Glamping, extended trips, all season camping. 
✅ Pros: 
Stylish
Luxurious
Can take a stove
Very spacious
Good weather protection 
➖ Cons: 
Heavy
Longer than average assembly time
Opinion: This tent is top end and makes for a wonderful camping experience. It really feels like a home and we incorporated a small wood burning stove that made the chilly evening a delight. It is well worth the extra money for this well made tent if you like to camp in style in all seasons.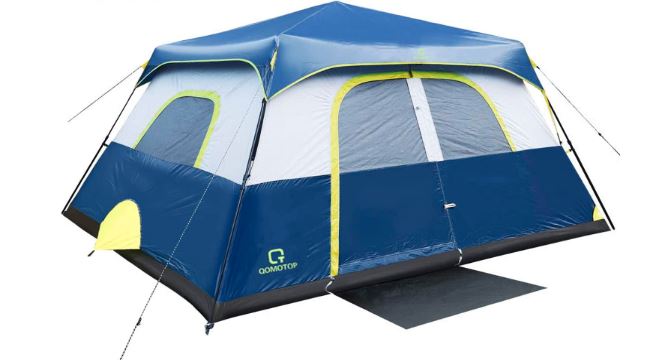 We finished off this list of the top 5 best tents for wind and rain with the QOMOTOP Instant Tent. This is another large tent that can hold up to 8 people. It also boasts superior waterproofing due to being full seamed taped from the floor to the top of the rainfly.  
Specs:  
MATERIAL: Polyester  
WEATHERPROOF:  Fully seam taped with rain resistant polyurethane coated fabric. Rainfly included. 
SETUP TIME:  1 minute 
WEIGHT: 28lbs 
SIZE:  13 x 9 feet, 78inch central height 
💡 Suitable for: Family vacations and wilderness camping. 

✅ Pros:
Spacious
Sturdy and durable
Good price
Excellent waterproofing
Quick and easy to assemble
➖ Cons: 
Rainfly doesn't completely cover the tent
A little heavy 
Opinion:  We loved the ease in which this tent could be constructed, especially after a 6 hour drive. This tent is really good value for money considering the build quality and materials used to make it.
We hope our list of the top 5 tents for rain and wind has given you some clear insight into some of the tents available for rough weather camping. As you can read, we have covered a variety of tents suitable for different styles of camping. It is important to think about exactly where/how you intend to camp and who you will be with when making your decision and don't forget to double check the suitability guides for each tent above. Happy camping campers!
Related Reviews: