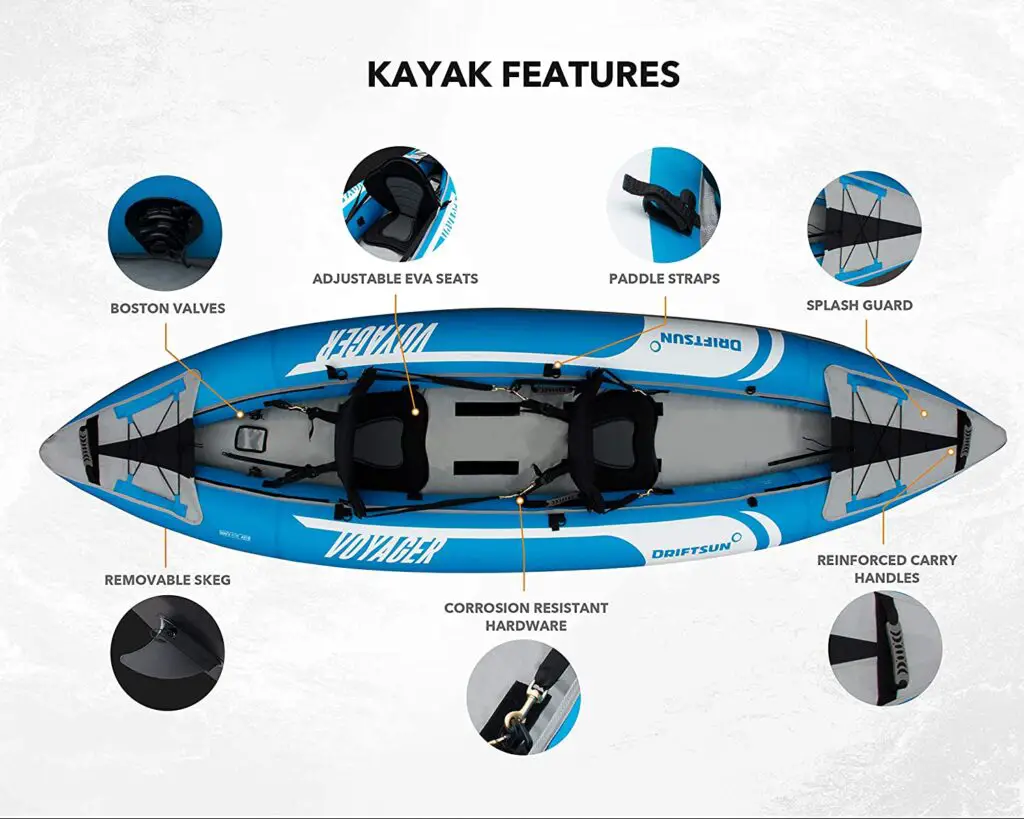 Are you looking for a lighter kayak for two people that will offer you ease of movement as well as plenty of protection on the water? Driftsun's Voyager 2 is a bright and breezy kayak model that's likely to appeal to anyone who wants that bit more support when tackling tougher trails in the water.
But what is it about the Voyager 2 that makes it such a winner with the kayaking public, especially considering its premium price tag?
First of all, it's visually impressive – clearly designed to offer support in and out of the vessel! Deflated, it is easy to store and also conveniently sized to transport.
Once inflated, it offers good capacity for two adults to enjoy sport or recreation in a variety of water conditions. Calm or choppy, predictable currents or more testing situations, this is a stable craft. Lightweight at only 27 pounds, it is easy to lift.
It's the ideal holiday companion, or even a professional kayak you might want to use for competition purposes. You choose!
Specifications
Manufacturer: Driftsun
Construction: Heavy duty PVC
Weight: 27lbs
Supports: Up to 400lbs
Length: 10 feet (inflated)
Seats: 2
Oars: 2
Other features: Hand pump, tarpaulin floor, Boston valves, coated nylon, drainage plug, deep fin, padded seating, tracking fan
About The Driftsun Voyager 2
The Driftsun Voyager 2 is designed to be one of the most lightweight two-person kayaks on the market, and few come close to its impressive stature. That doesn't mean you lose too much in terms of robustness and stability, either – there's a nice balance in the water here, and the aluminum paddles supplied should help you and your partner keep control even in choppy waters.
What some may notice right away is that this kayak can retail at around $800 – that's a little more expensive than many competitors on the market. However, do remember that you are receiving an exceptionally lightweight vessel with lots of maneuverability. You're not getting ripped off here – this kayak will last you years of paddling to come.
I like the fact that the Voyager 2 is pretty straightforward. It doesn't have any complex touches or require any additional training beyond the basics to use. It is designed to be a one-size-fits-all operation, which means that even if you are right at the start of your kayaking career, you can ease your way into the water with a Voyager 2.
Let's also talk about the general look. While it's only three years old at the time of writing, the Voyager 2 offers a timeless style and a simple build that's likely to appeal to people needing functionality and stability. No – it's not going to win any awards for perhaps being the 'coolest' kayak on the water, but it's still eye-catching enough. In a few years' time, I dare say we'll still look at the Voyager 2 and enjoy its timeless simplicity.
Forget the looks, however, what's really in it for you and your hard-earned money? Let's take a look at the boat's best features as well as a handful of potential drawbacks.
What are the best features of this kayak?
Well where do we start? First and foremost, its compact size makes it extremely easy to store and transport. The folded dimensions will usually fit into a car boot easily! To offload the packed kayak, it is lightweight so easy to carry. One person can usually carry this to the water's edge with ease.
Unpacking and unfolding the kayak is straightforward, simple and quick! All you need to do is inflate it. People often inflate their kayaks with their motor vehicles – some use their car batteries to help inflate the craft while their engine is running.
This kayak comes supplied with its own pump, too. Supporting publicity states that inflation with this pump takes less than 5 minutes! So, once you have decided where to inflate your craft, all you need to do is decide who is going to sit on which seat and check the skeg. Next, lower it onto the water and get on board – the fun starts straight away!
Setting up this craft really is a swift operation. This craft is suitable for experienced kayakers who may have tried vessels in different conditions, too. Renowned for stability, the high sides and 'rocker profile' with pointed nose, make for immediate stability and reliable handling.
This kayak is sturdy and will serve equally well in more exciting moments! It's also extremely comfortable – a massive plus. The high back seats add to the sense of security and make the ride less tiring. They are well shaped and designed to offer support as well as comfort. This makes the Voyager 2 ideal for hectic, physically demanding rapid rides or longer distance exploration.
The Driftsun Voyager 2 has a good pedigree. It's used just as much for fitness and exploration as it is for general leisure activities. It is a stable kayak ideal for training, and for an experienced kayaker to help teach a novice how to improve their skills.
The Voyager 2 is a great vessel to grow into thanks to the fact that it is immediately comfortable, and that it is robust enough to weather even the most demanding of conditions. It's the perfect starting point for any prospective kayaker, providing you have the money to spend.
Are there any drawbacks with this kayak?
Off the bat – again – this is one of the more expensive kayaks out there. However, both myself and many, many reviewers confidently say this price tag is more than worth it for the sheer convenience you get in return.
This model is flexible enough to carry two adults and their gear. A useful tip is to be mindful of its weight capacity. As you can see it is a lightweight craft and though it can comfortably handle a weight of 400 pounds – it is advisable to take care to not exceed that.
The rear drainage plug is great for controlling water content and is ideal as an exit for water when you clean the kayak. It is certainly not a drawback, but do be mindful to not inadvertently block the drainage hole! Some kayakers prefer vessels that have alternative routes for draining.
For optimum performance, it is advised to adhere to the recommended numbers for inflation pressure. However, seasoned kayakers and users of inflatable vessels will already know this! This kayak is no more or less sensitive than any other, but as a premium model, it's just as well to handle it with care. That goes for your own safety, too!
Should I buy Driftsun Voyager 2 ?
Don't just take my word for it on the Voyager 2. This model has had some very good customer reviews. It is recorded as achieving 4.5 out of a possible 5 stars on average.
First made available in 2018, the design, shape and color scheme still combine to make a modern, sporty-looking craft – and it does compare favorably with newer models. That's already a big plus point, as so many other kayaks have fallen by the wayside and out of favour in the years in between!
It has the benefit of being well tried and tested whereas newer models have had less exposure. Voyager 2 is a landmark Driftsun model in that it's impressively uncomplicated. The build quality is noticeable right from the get-go. Fittings are well thought out and well placed, too – it's a really intuitive package – for example, the addition of a tarpaulin cover helps prevent punctures. These little details show how much thought has gone into designing this model.
One of its best selling points is that it is light enough to carry by one person. Quick to inflate and deflate, it is simple to set up and light enough to launch by a person alone. Alternatively, it gives you great flexibility. If you would like to bring someone along with you, this durable model will happily support a second person plus their additional accessories!
As a compact, easily transportable inflatable model, it really is a go-anywhere craft. If you want to take this craft further afield, perhaps packing for a holiday, it won't pose a problem. Once neatly folded, it takes up a relatively small space compared to some others. It will happily travel alongside suitcases or camping gear. After driving several hours and unloading your vehicle, you can be on the water exploring within a few minutes!
If you have young children interested in joining you, no problem! They can learn how to kayak while growing into adulthood without the need for you to buy a bigger craft. It's not always easy to find a kayak ideal for kids and their teachers – meaning robust water wanderers like the Voyager 2 are absolutely worth your money.
If you don't have the money right now to spend on the Voyager 2, absolutely save up – it's worth every single penny.