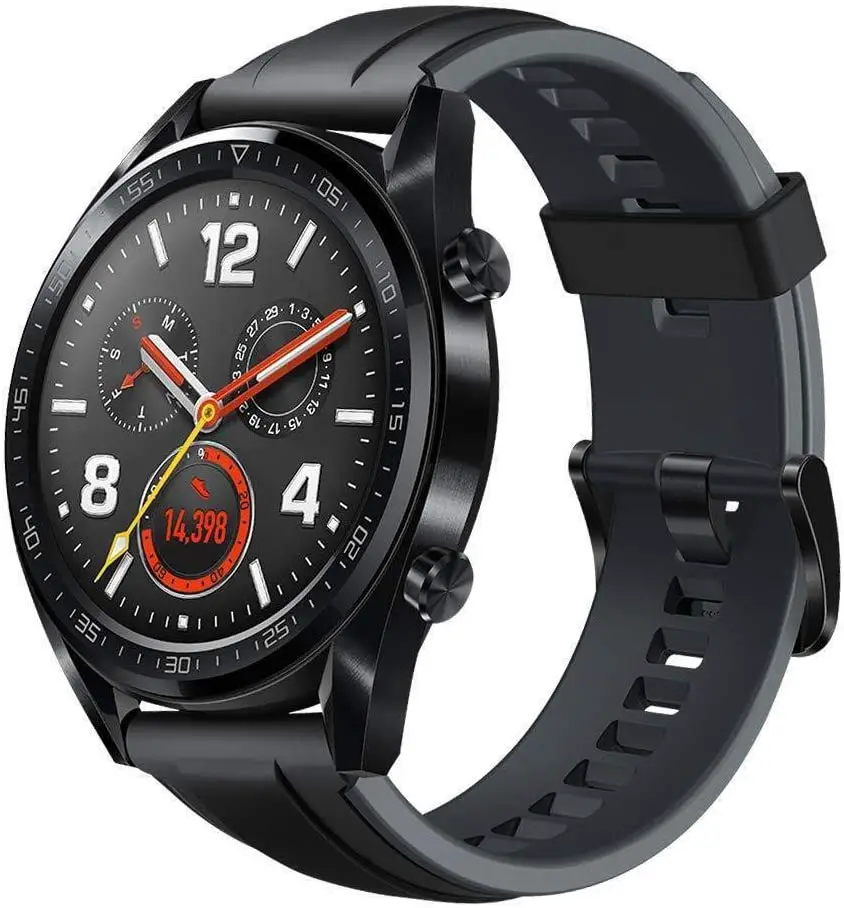 Smartwatches come in all shapes and sizes these days, and alongside the likes of Apple and Samsung, Huawei has now entered the game. The GT is their landmark smartwatch, offering GPS capabilities to help you keep track of all that you do from day to day.
This smartwatch was definitely created to be a fitness and workout tool while maintaining the daily usages of a regular watch. Beyond that, thanks to the Bluetooth and smartphone connections, the Huawei Watch GT can be used as an extension to nearly your Huawei smartphone and others such as Android and iOS devices.
More About The Huawei Watch GT
I really do find this particular GPS watch pretty intriguing. Huawei quickly became a notable contender in the smartphone industry and now appears to be gaining equal momentum in the smartwatch industry. 
However, for a product classified as a smartwatch, the reasonably low price can seem a little odd. So, how does the Huawei Watch GT compare to its more expensive competitors, and does it deserve the title of being a smartwatch / GPS watch?
Specifications and Essential Facts
Manufacturer: Huawei
Dimensions: 1.83 inches x 1.83 inches x 0.42 inches
Weight: 1.62oz
Added Features: GPS, Bluetooth, shock resistance, water resistance, heart rate monitor, touchscreen technology
What are the Best Features / Main Selling Points of the Huawei Watch GT?
Huawei has joined the trend of smartwatches being mainly for fitness and health by creating a smartwatch that is made for exercise and daily movement. 
The watch comes with a heart monitor and step counter as well as a GPS, perfect for runs and power walks. 
Somewhat like the Samsung Galaxy Active 2, the Huawei Watch GT comes in a classic watch shape with a traditional face. That is, of course, until you use the touchscreen, at which point it resembles more than a smartphone, complete with phone messages, email, calendars and reminders, and other useful apps. 
The Huawei Watch GT stands out from its competitors with its battery life. According to Huawei, the battery can last up to 30 days. Of course, that is with minimal usage but, even with the use of the apps such as the GPS and Bluetooth, this watch's battery can go on for about two weeks.
This smartwatch has proven itself to be serious competition for the leading Samsung and Apple smartwatches, thanks to its efficiency, similar features, and an incredible price.
Just like its competitors, the Huawei Watch GT is proficient in its health profiling abilities, with a 24/7 heart monitor to help you keep track of your most vital organ. It's a major plus!
Huawei has obviously opted for the most discreet, classic watch style, and its people love it. While some people use their watches as statement pieces, some prefer to have a discreet item on their wrists, one that can go with anything and everything they wear! In that sense, Huawei has definitely come out ahead.
What are the Benefits of Using the Huawei Watch GT?
Thus far, we have not seen a smartwatch battery do as well in this industry as we have seen from Huawei. The Huawei Watch GT can easily last for up to 2 weeks with decent usage and up to a month with minimal use.
The shock resistance is impressive on this smartwatch and will likely come in handy more than once! Water resistance is also a nice touch, though I probably wouldn't recommend taking it diving.
This watch is, as was previously mentioned, first and foremost a smartwatch with fitness in mind. That's why it's ideal for multiple types of workouts and sports, including swimming, running, yoga, cycling, hiking, dancing, etc. The GPS accuracy is on-point, and seriously worth the price tag for this feature alone.
Beyond the watch's look, the design features are straightforward to use and may be easier to teach to someone who is not entirely at ease with modern technology. There are still a few functional buttons on the side and an easy-to-understand screen.
You don't have to constantly check your phone or worry about it going off while you're in the gym, thanks to the synchronization with your smartphone on the Huawei Watch GT. Moreover, the Huawei Watch GT is compatible with more than just Huawei smartphones. In fact, it works perfectly well with both Android and iOS devices.
Does the Huawei Watch GT Have Any Drawbacks?
Although the Huawei Watch GT has definitely earned its place on the top smartwatches and GPS watches on the market, it still has its fair share of drawbacks that need to be considered before buying one.
As a watch and fitness partner, the Huawei Watch GT is excellent. However, as a social smart device, it definitely leaves something to be desired. While you can see notifications on your smartwatch, you cannot make phone calls, send text messages, control your music, etc.
While some may delight in the simplicity of the style of this smartwatch, some with be left with a bit of a disappointing feeling. The watch is certainly classical and straightforward to look at, but that isn't always good. For a smartwatch, some people would naturally prefer something that is a little more exciting to look at.
It works mainly as a Bluetooth device, mirroring some of what is happening on your phone without you actually being able to use any of it without your smartphone in hand. If that's what you're looking for – then have at it!
Of course, when we're considering GPS watches, that tends to be one of the biggest selling points. Connectivity and tracking here is great – but there is still a part of me that wonders why it is so affordable. It's not as flashy as Apple's latest, perhaps – but beyond that, it's perfectly serviceable. If you already have an Android phone or tablet, then you're good to go with all kinds of data tracking, too.
Conclusion – Should I Buy The Huawei Watch GT?
The Huawei Watch GT definitely has its benefits and has rightfully earned its place among its competitors. While it lacks a certain degree of independence when it comes to social uses, for daily activity and everything watch-related, the Huawei Watch GT absolutely does its job. 
If you are looking at a relatively low-cost, reliable piece of equipment to track your daily physical activities and heart rate, then the Huawei Watch GT could be the one for you. Beyond what its simpler competitive fitness watches do, this product can be classified as a smartwatch as you can use it as an extension, but not a replacement, of your phone.
For many, that will come in handy very often – however, compared to other, more expensive smartwatches on the market, the Huawei Watch GT still has a way to go to beat the best.
It's a good alternative to, say, fitness-only watches such as the FitBit Versa – but if you're looking for a watch with a bit more bite, you'll probably want to increase your budget. As an entry level smartwatch or GPS watch, I still recommend it – take a look at the vital stats and see how you get on with this.