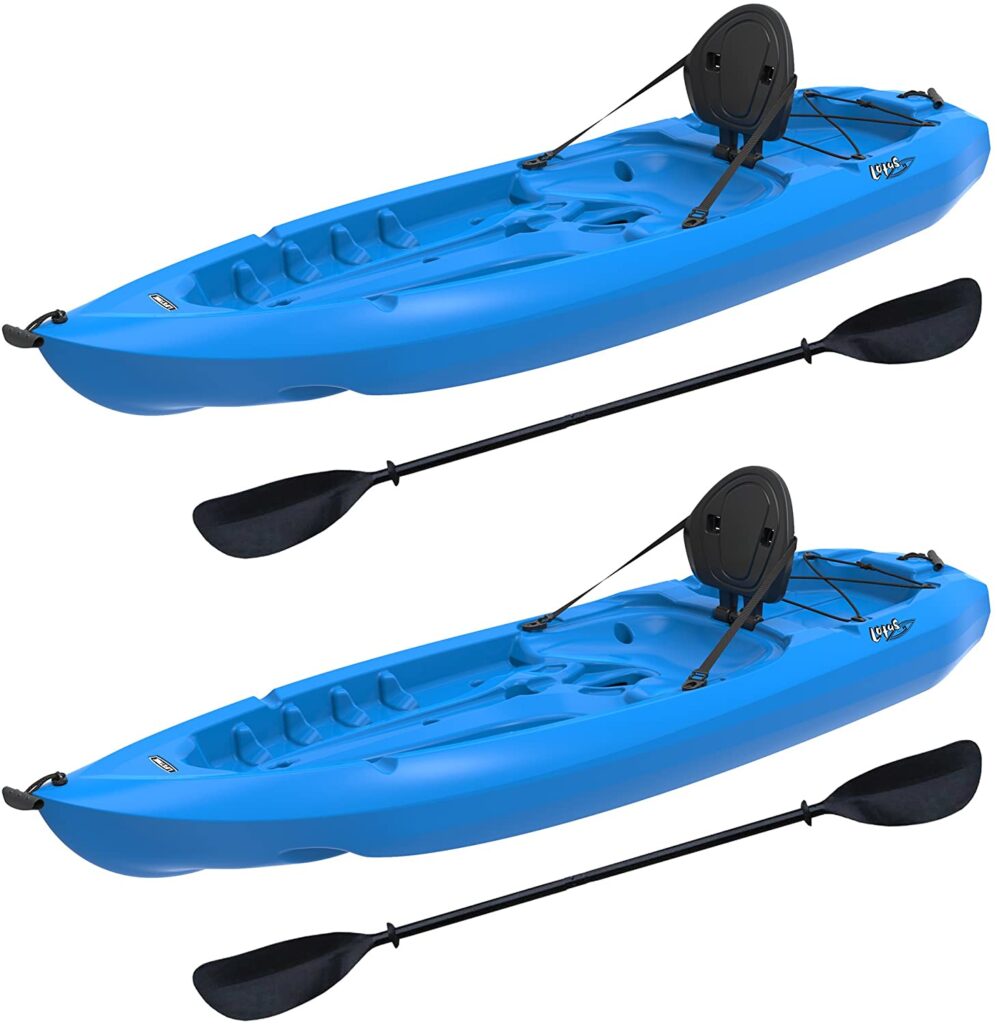 Kayaking is a sport that appeals to solo adventurers, couples, families and teams alike. There are plenty of great vessels out there which give you a huge amount of freedom as a single sailor, and this Lifetime model of kayak aims to be a solo tripper tour de force. It's picked up plenty of high praise online, and for that reason, I thought I'd give it a closer look.
If you are considering the purchase of a kayak for yourself or as a gift, this is a great model! It's only a single seater, so it's best either suited to someone confident alone, or maybe kayaking in a group (in different boats, of course).
It comes in a beautiful vivid shade of blue with black adornments, so it looks classy, striking and sporty.
Not only is it lightweight and easy to manage, it is also robust. It is made of good quality materials and designed for comfort even during long trips on the water. Let's take a look at the specifications and see if it meets your requirements.
Specifications
Manufacturer: Lifetime
Construction: High density polythene
Weight: 38lbs
Supports: Up to 250lbs
Length: 8 feet
Seats: 1
Paddles: 1 (double-sided)
Other features: Bungee tie-down, UV protection, carrying handles, adjustable backrest, self draining scupper holes, quick-release seatbelt
More about the Lifetime Lotus Sit On Top Kayak
Lifetime's Lotus kayaks tend to be very popular, with many of the models likely to vanish from sale thanks to people snapping them up – and there's a reason for that.
While this may not be the best choice of kayak if you want to take on a trip with multiple people – unless you're all in different vessels – it does work well as a light, easy boat to just take out into the water. It has a high support potential and also comes with its own double-paddle, meaning there's one less piece of kit to worry about setting up alongside.
It's a good length for a solo kayak, though there are naturally longer models out there which may be better suited to more advanced paddlers. As a piece of starter kit, however, much of what you need should be right here for the taking.
What are the best features of this kayak?
First of all, the build quality is great. The materials are of a good quality and the kayak is stunning to look at! The mid blue sets it apart from many others on the market. It's a bit of an eye-catcher, but as we all know, looks aren't everything.
It is designed for experienced adults or those learning under supervision. It has great maneuverability. The stability in this vessel is notably excellent, making it a good training option. Described in publicity as being 'ultra stable', its performance is such that you can feel confident in it at any level of your kayaking journey. That said, you're obviously going to take into account weather and location when you use it – but you can pretty much rely on it to back you up.
You can see from the specifications above that this kayak is self draining. That's a great feature when you are alone – also, there is the facility to secure loose items conveniently close to hand. Again, for those venturing out alone, this means that you need not worry about losing something over the side! The bungee cord lacing is efficient and easy to use.
This kayak can be carried by one person and the designers have thought carefully about placing three handles onboard. Fore and aft positions mean if someone else is helping lift or maneuver, you each have a handle. The third centrally placed handle is ideal for placing the kayak on the water or lifting it out. Tying up alongside is also a handy option. At only 38 pounds in weight, it is not the lightest on the market, but definitely not the heaviest. It can definitely be transported by one person alone and it's a cinch if someone is helping!
In terms of transportation and handling, this model is made of high density (HDPE) polythene. It is scuff resistant and has good protection from UV sunlight, so the color should not fade. The strength of this material also means that it should not peel or crack either. The five year warranty, offered at point of purchase, gives you that added reassurance.
A double-sided paddle is supplied with this model and is the best option. Some solo kayak enthusiasts do try to manage with a single blade but this requires more movement, more energy and more time! A double-sided blade is usually far more efficient and easier to use.
This kayak has a comfortable and adjustable seat. Some competitor models do not have this flexibility – personalizing your seating position means you can feel more comfortable and safer, too. The comfortable seat belt is fashioned with a quick release mechanism. This is an additional and important safety feature.
If you are seated in the optimum position you will have better control of the paddle. In addition, you will probably have a better view of where you're heading. With this in mind, the molded paddle cradle can be used to good effect. If you need a few moments hands-free, the cradle allows you to conveniently secure the paddle. Securing your paddle whilst you tie up the kayak alongside another boat or lakeside can save embarrassment and money!
All in all, this is an extremely comfortable seated kayak with a good sized cockpit. There is ample leg room and weight capacity, a good size for most adults. You can check out the dimensions listed above before you buy to make sure it's a good fit for your needs. There are variable foot rest positions to suit different people or situations, too. This is an extremely useful feature as it means the kayak can be used by different people from trip to trip.
Just as when we drive a car, it's likely that we shall adjust the seating position. When more than one person drives the same car, it's rare that the seat position is ideal for everyone. That logic applies to this kayak – there's no need to keep the seat in the same setting if multiple people will be using it!
Are there any drawbacks?
The Lifetime Lotus seems to have more positive points going for it than negative, however, it's worth considering the other side of the coin so you can get the most out of your money.
The Lotus weighs 38 pounds – plus paddle, it is not the lightest of its kind on the market. However, it should be noted that other lightweight models may not be so robust – there is definitely some give and take.
Built in heavy duty polythene means that it is stronger than many competitors, achieved by using a heavier fabric. Two people can easily lift this kayak, but if you're going it alone, it might be a bit of a struggle.
If you are setting this vessel up solo on the water, it might be worth considering a trolley that you can wheel your kayak along with. Save yourself some strain!
Should I buy this kayak?
This is a great solo kayak for anyone who wants to start exploring the waters on their own. It's very sturdy and is built to last – though that does make it a bit on the heavier side, so make sure you consider whether or not you're strong enough to lift it on your own!
The leg room and weight capacity on this kayak also make it a midrange winner, though if you're buying for someone else, these are measurements you absolutely need to keep in mind. There are longer, more resilient kayaks out there, meaning it's well worth keeping an eye out on other options if you're not sure.
The Lotus is a great investment that serves well as a training vessel. It's also a great kayak if you're a seasoned paddler and want something simpler than most to take to the water with. I really like the fact that the Lotus comes with draining holes/ports – meaning that if you are on your own out there and find water coming aboard, you can easily dry out and get back to safety.
For safety and stability, there are few better kayaks and vessels like this on the market for the price. It may be a bit on the bulky side for those people going solo, but you do get a stack of reliability and years of use in the bargain. Think carefully about this trade-off and what's likely to be most important to you.
Otherwise, the Lifetime Lotus is a popular model that should grow with you – from novice to pro. Act fast, however, as it's often hard to get hold of thanks to keen paddlers!