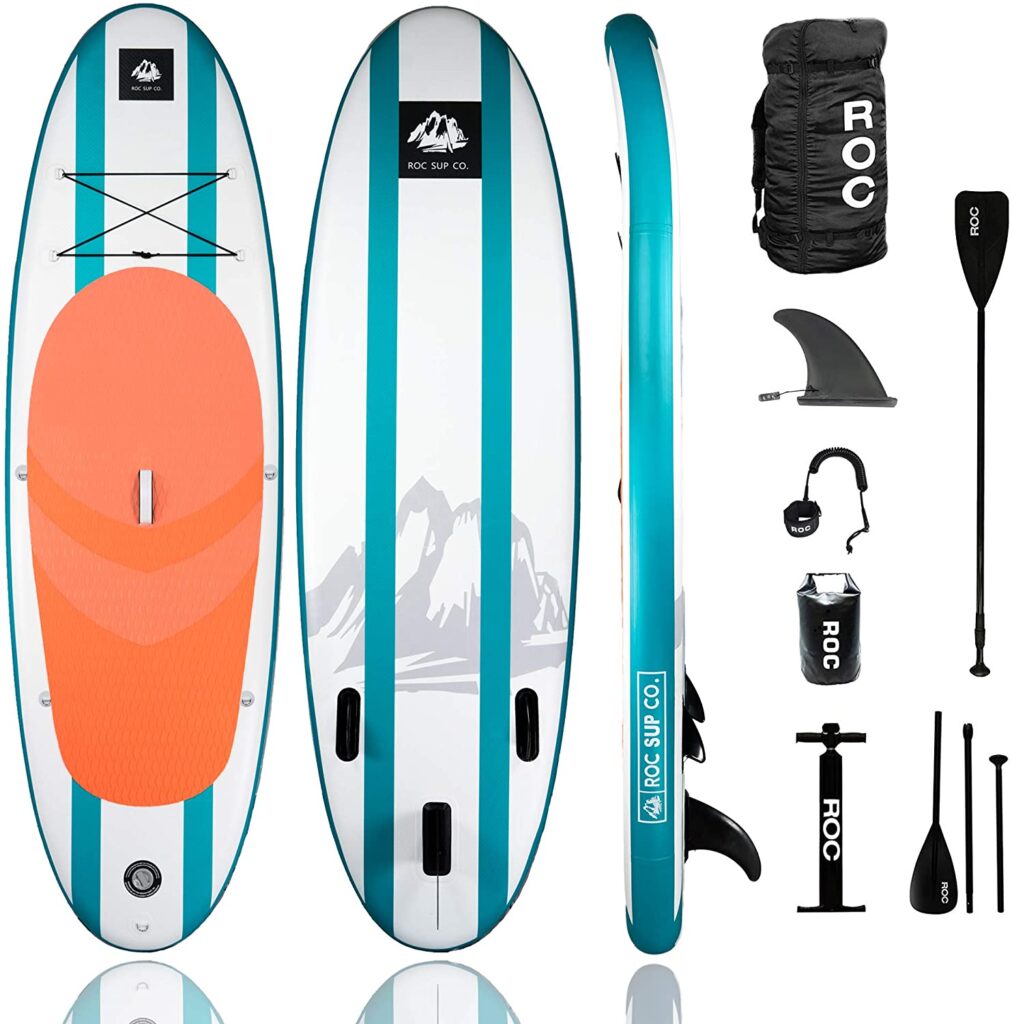 Roc is a great brand for all kinds of outdoor adventuring, meaning I was particularly keen to dive into the surf with this particular paddle board. It's one of the newest of its kind from the brand, making it already pretty eye-catching for paddling enthusiasts.
With more than 2,000 reviews from verified buyers already live on Amazon, I figured it was time to take a look at this inflatable paddle board.
From the offset, it's clear that Roc has developed a paddle board kit that gives you pretty much everything you need. It's apparent from the get-go that it's also impressively wide, which you're really going to need if you want to keep your balance.
But what is it about this Roc paddle board that's really starting to inspire people online? Let's take a look at a few of the specs and see what we can get for our money.
Specifications
Manufacturer: Roc
Construction: Military grade PVC
Weight: 17.5lbs
Supports: Up to 350lbs
Dimensions: 10 feet x 33 inches x 8 inches
Other features: Hand pump, waterproof bag, safety leash, coil, aluminum paddle, one year warranty
More about the Roc Inflatable Stand Up Paddle Board
This board offers flexibility and confidence. It is suitable for use in a variety of places. You can take this Roc model on the ocean or use it on stretches of fresh water. It's ideal for use on rivers and lakes, for example and securing against an embankment is a cinch. Carrying it into the water or lifting it out, the lightweight Roc is easy to maneuver – meaning that if you've ever had any problems with paddle boards before, this model could show you the way towards easier handling.
It is definitely worth mentioning its extra wide surface. This makes for a comfortable stance and can increase stability. It's good for sitting as well as standing, in fact! You never know when you're going to need to rest your legs, so having this flexibility is ideal.
With a weight limit of 350 pounds, it will be difficult to overload this board. Boarders have been known to take their dogs along for the ride – that's another plus point to having a wider board, and this Roc model is going to be a real asset if you have a pooch with you.
This model also comes with a good quality backpack for carrying your essentials. It also has a waterproof bag supplied. Experienced boarders will know what essentials they will need to carry and that this backpack should give you enough room. The paddle is likely to be the most important additional item to carry here, however. Aluminum is lightweight and strong. This one is collapsible and so easily managed in confined spaces.
Now that we've taken a close look at a few of the details this paddle board has to offer, let's consider some of my favorite features. What is it about the Roc inflatable board that really makes it worth your time and money?
What are the best features of this paddle board?
First of all, let's talk about the value. Competitively priced, it is within the reach of discerning paddle boarders on a budget and these days, who isn't? The beauty of this paddle board is not just the price tag, but in the fact that designers have come up with a well balanced, attractive model at such a rate. If you're in the market for a leading paddle board that doesn't break the bank, then you can do much worse.
This Roc inflatable stand up board is made of exceptionally strong PVC – the same material is used for military purposes – to you and me, that means you can pretty much rely on it in any situation. They're certainly unlikely to be using paddle boards in the armed forces, but it's nice to know the technology's made its way to the leisure circuit.
In fact, this Roc model is considered to be one of the most durable of the lightweight models available. One of the biggest problems you're likely to face when shopping for a lighter paddle board is that it's not always going to support you in the most intense of conditions. It's good to know that you can pretty much take this board down to the beach, inflate, and not expect to topple off every five minutes.
At 10 feet long, this board is a good length for carriage and maneuvering. All experienced paddle boarders know that anticipation is a useful way of maximizing performance. The length and width of this board also aid how you travel on the water and in the surf. I like the fact that this board is appealing to novices as it's got a very short learning curve, while experienced boarders likely won't find it patronizing in the slightest.
Apart from being designed for strength and durability, it looks good, too! It comes in an attractive shade of pale grey with stylish blue stripes. These accentuate its sporty appearance.
Easy to clean with a wipe down, light scuffs can be removed easily. For more serious issues, Roc prides itself on having a good customer services department. You should not encounter any issues which they cannot help you with (that's my experience, anyway). Of course, there is also the added benefit of the manufacturer's warranty.
Are there any drawbacks to this paddle board?
Reviews for this paddle board are, thankfully, mainly in the positive. However, there are some concerns over build quality, meaning that a few boarders have found the product to fail to live up to the price tag. However, these scores seem to be few and far between. In any case, my advice would be to take as good care of your paddle board as possible.
Yes – the Roc inflatable board can take quite a lot of pressure and can do more than you probably believe it can – but at the same time, it's not made of indestructible diamond! It's always a good idea to carefully read the care manual that arrives with your paddler and to make sure that you know how to store it and use it in the surf.
There are some high intensity currents and waves out there, meaning you're going to need to take the brunt of it at one time or another. If you have any concerns about the quality of your paddle board manufacture once it arrives, be sure to reach out to a customer service rep. They won't bite!
In fact, the one year warranty is really going to come in handy here, so make sure to take advantage if, on the rarest of occasions, your paddle board arrives with anything so much as a scratch or a hole. In my experience, I've had no problems with the brand. Do take time to read verified reviews to get the full picture, however.
Some also claim that the paddle provided doesn't float – as aluminium is lightweight to an incredible extent, this is difficult to prove until you're actually on the water. It's perhaps worth making sure you test the floatation before you set out into the wide open water.
Should I buy this paddle board?
This is an ideal paddle board for most potential paddlers – novices and experts alike. Regardless of your level of expertise, this Roc board is well made and should satisfy even the most energetic demanding boarders. It is competitively priced, extra wide, and easy for even the newest of boarders to get to grips with. What's more, it comes with a handful of added features that should make your time in the surf that little bit easier.
In terms of strength and durability, it has become a market leader, so has earned its popularity. It comes with a confidence boosting warranty and the reputation of a well known and respected company. It is therefore not difficult to give a positive response to this question!
Of course, there are a few concerns scattered here and there – and it is often to do with the quality of the product. However, do always take reviews with a pinch of salt, even if verified buyers do offer some of the only opinions you should be listening to. I personally feel the Roc inflatable paddle board is a great investment for newbies and experienced boarders alike, and it's not likely to burn that big a hole in your bank account.
If you are new to paddle boarding and want to try something cheaper, I'm right behind you. However, do keep this product in mind should you want to move up to something a little more premium as you go along. This isn't a board that you are likely to grow out of too quickly, in which case, you should have many years of boarding happiness yet to come.