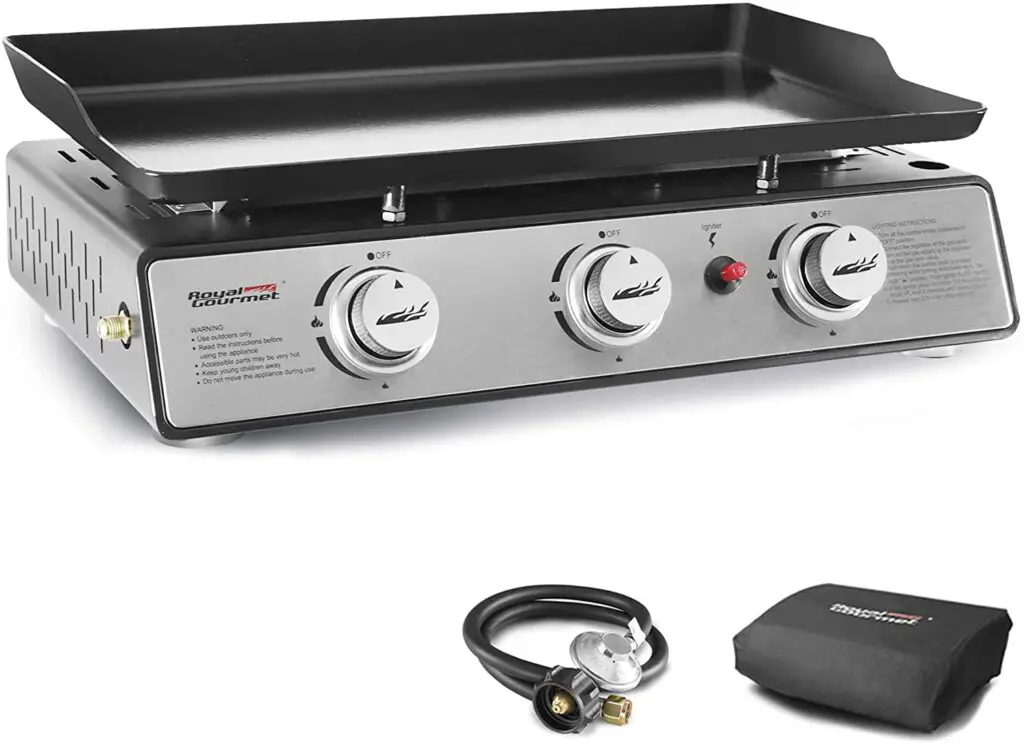 The best grills for portable use are, naturally, light enough to carry, while offering an impressive heft of power.
Royal Gourmet is a brand available on Amazon that already provides an impressive array of choice, but the PD1301S appears to be picking up more interest than most. In this review, I'm going to be digging into why that might be.
Tabletop cookers like the PD10301S are extremely popular thanks to their versatility, however, you're always going to need to make sure you invest in a model that's going to be sturdy and reliable in all weathers.
This particular model is actually a bit more powerful than you might expect, particularly when compared to other units that compete alongside.
More About The Royal Gourmet PD1301S
The Royal Gourmet PD1301S is a portable grill/griddle with three independently operated burners. It is a tabletop cooker and though it has four feet, this piece of equipment does not have legs. In this respect it is smaller than some other portable grills/griddles and therefore easier to pack, using less space than those which are self supporting on folding legs.
The standard 'S' model, made of stainless steel, comes in black – but a sister model PD1301R comes in a mid range shade of red. Pick the look you like best!
Powered by propane gas, this cooker has its own convenient ignition system. I'll go into this in a bit more detail below, but it at least means you won't have to fumble around with matches or lighters.
If you are looking for a reasonably priced and surprisingly easy to assemble portable cooker, this could be the one for you!
Specifications and Essential Facts
Manufacturer: Royal Gourmet
Fuel: Propane Gas
Weight: 20lbs
Build: Heavy Duty (alloy steel)
Dimensions: 25 inches x 16.3 inches x 7.9 inches
Grill Area: 316 square inches
Added Features: Stabilising feet, detachable griddle, internal ignition switch, oil container, independent burners
Burners: 3
Power: Up to 25,500 BTUs
What are the Best Features / Main Selling Points of the Royal Gourmet PD1301S?
The PD1301S is a fully portable unit with three independent burners. That means you can easily cook a variety of meals or meats at once without having to keep switching between. For a product of this size and weight, that's pretty impressive. Of course, the fact that you can crank up to 25,000 BTU with this grill is a further feature worth investing in.
This portable cooker has removable parts for cleaning, including a cup which collects residue oil. This helps to conveniently carry away waste material for disposal and also find the cup itself easy to clean.
The internal ignition is a feature point that's very attractive to grill owners, as it's a safety standard that means you won't have to risk muddling around with matches or lighters. All you need to do is press a button and away you go. That's all the more impressive given the fact that you have three separate burners to work with, that can all be doing different things.
This model also benefits from a kit that's surprisingly simple to put together out of the box. That means it's not only easy to get up and running, it's also a cinch to clean down and put back away again. Perfect for camping trips and outdoor vacations.
What are the Benefits of Using the Royal Gourmet PD1301S?
For purposes of convenience for transportation and ease of operation, this is certainly a well designed product. It has reasonable dimensions for storage and as it has no legs, and requires much less space than some other self supporting portable pieces of equipment. In addition to the unit itself, you might want to buy other accessories to support your cooking experience along the way.
The independent burner system means that if you have fussy eaters, or if you simply want to diversify your cooking while on the go, you won't have to keep moving pots and pans off the same flame. This is a huge benefit to those who are looking for an all in one unit.
The grill area is nice and large, meaning you can easily cook for a small to large group without inconvenience. I especially like the fact that the container pretty much does away with you having to find somewhere safe to dispose of oil and any other deposits. It's only ever a good thing in my eyes.
What's more, this grill system is impressively priced. It tends to roll in cheaper than most other grills of its kind, meaning if you do want to save money at point of sale, this is likely to be a worthwhile investment.
Does the Royal Gourmet PD1301S Have Any Drawbacks?
There really isn't much in the way of 'cons' I can add to this review that go against the Royal Gourmet PD1031S. It tends to be well received by other grilling fanatics, and that's generally as a result of the unit's sheer flexibility and power.
However, some users have noted that the drainage hole for the cooking surface does not line up exactly with the holder beneath. Inevitably, this has led to some frustration – but I have to agree that Royal Gourmet's aftercare for this product has been pretty impressive. If you have any particular issues with this grill, there's always someone available to help.
In terms of prolonging the integrity of this portable cooker, no storage bag is included in the purchase price – though one is available to purchase separately.
It's one of a few different accessories and pieces that are actually beneficial to the unit, however, they don't arrive in the main package. You'll need to buy the propane tank, for example, as well as a special trolley for the device if you need to. I don't think a specialist trolley is really necessary here, but it's down to the individual user and their needs, of course.
Conclusion – Should I Buy The Royal Gourmet PD1301S?
The main advantage to this item has to be flexibility! Having three independent burners plus a good sized grill/griddle, it should satisfy the appetites of a reasonably sized family or group.
Being a little smaller than some other portable kitchens means you may have more space to pack other essential items and maybe even a spare gas canister or two, as well.
The Royal Gourmet PD1301S is one of the most impressive products in the manufacturers' outdoor grill line right now. It's brilliantly suited to small cooking needs and won't leave a dint in your vehicle suspension.
It's worth keeping in mind that you need to be careful with the surfaces you put this tabletop grill on – and, don't forget that you will need to buy the propane tank outright to connect up at home.
Royal Gourmet does have bigger and smaller units for sale elsewhere online, so absolutely make a point to research the market within your budget before you make a final choice. Personally, I think the PD1301S is a good all-rounder, especially when it comes to the sheer power you'll get out of three burners working independently. There's a lot that sets this product apart from the competition, and the amazing price is certainly one element.