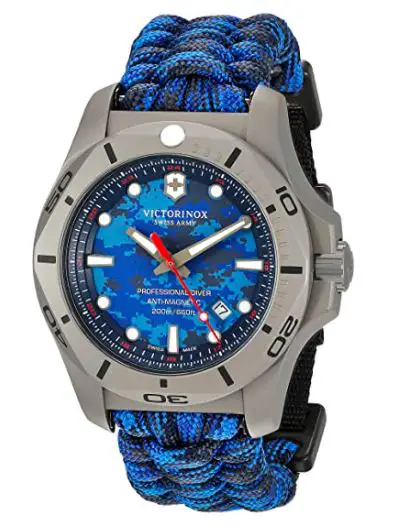 Swiss watches are famous for being some of the best-made in the world. That, it seems, transfers nicely to diving watches too, as the Victorinox Swiss Army range is one of the best-loved premium divers' timepieces online.
This particular watch that I'm reviewing for this article is one of many in the same line – super water resistant, and built to the same incredible standards the Swiss Army expect.
For the purpose of this review I'm looking at the blue camo variation, which is still price similarly to other variants in the line.
This watch might be available at a mid to premium price, but it remains one of the best-reviewed diver watches of its price – so I'm intrigued to see how it pulls off in the long run.
More About The Victorinox Swiss Army Mens INOX Pro Diver Watch
Made by Victorinox, of Swiss quality and packed with features sought by divers or others interested in watersports, this is a smart, well proportioned watch. Buyers can be reassured with this product, which comes certified by the N1HS 92.11 standard – that means it falls in line with the incredible Swiss expectations we all know and love.
The watch comes in a striking shade of blue, and it has the same color strap. There are, as mentioned, many other colors and styles in this line, so if blue doesn't appeal to you, by all means look around! Though marketed as a man's watch, it could appeal to women too! Let's take a look at the specifications below.
Specifications and Essential Facts
Manufacturer: Victorinox
Weight: 4.4oz
Water Resistance: 200m / 660ft
Build: Titanium (case) nylon (strap)
Watch Style: Analog
Case Diameter: 45mm
Case Thickness: 11mm
Colour: Blue camo (others available)
Added Features: Swiss Quartz movements, hook and buckle clasp, anti reflective dial window, calendar, two-year battery, count-up diving scale, five-year guarantee, rotating bezel
What are the Best Features / Main Selling Points of the Victorinox Swiss Army Mens INOX Pro Diver Watch?
Victorinox has a good reputation for creating quality products and this particular diving watch has undergone 130 manufacturing tests. It has qualified to meet the standards for certification and the company is further prepared to back up its claims by offering a good guarantee (of up to five years)
This watch is strong and stylish. Built in titanium and stainless steel, it looks good and feels good to wear! It arrives with a unidirectional bezel, and has an anti-reflective dial – making it all the easier to check your watch when you're out in the deep blue.
It's a battery-powered model with power to run for at least two years. While not as eco-friendly as solar options, this should at least be enough time to satisfy most divers.
Novice divers will likely find the ease of display reading and the luminous face very useful – while this might not be the most feature-rich of the diving watches you see available online right now, it offers near-unbeatable engineering for the price.
I also like the count-up feature built into the watch – it may seem like an average Swiss build that's simply ready to take under the water, but it does have a few nice surprises that really make it worth the price tag.
What are the Benefits of Using the Victorinox Swiss Army Mens INOX Pro Diver Watch?
First of all, you get the amazing benefit of Swiss watch engineering. There's a reason why Swiss watches are so well-sought-after – this is a robust, indefatigable piece of diving kit. Providing you care for your watch properly, you can expect incredible accuracy for years to come. Not only that, but it's always easy to see what you're doing, too.
The watch is not heavy by comparison to some of its competitors. That, naturally, is going to be a major plus for anyone who wants to continue diving without being weighed down by cumbersome tech. Of course, customers who buy the watch in person will be able to try it on. It's worth noting that you'll need to measure carefully for the watch strap, too.
This is a truly great-looking watch that is going to withstand pretty much any deep diving adventures you throw at it. I really like the fact that I'm able to take something as classy as this into the water, and still expect it to work for years down the line.
Does the Victorinox Swiss Army Mens INOX Pro Diver Watch Have Any Drawbacks?
The look and sheer engineering prowess will clearly set this watch above the pack, though there are diving watches out there with more features and functions. What's more, of course, not everyone will adapt so freely to analog in the water – it's a case of your own mileage may vary, here.
The Nylon strap clearly matches the color of the watch and though it is quick drying and some believe to be comfortable, other people prefer plastic or leather. Again, this is a personal choice.
Some people prefer a watch to be solar powered and this product will need its battery changing approximately every 2 years. This may seem like a minor point and if you are well organized, this should not cause a problem, but it is something some customers may find irksome.
Otherwise, it's a very well-received watch, and one I really won't have any qualms about attaching to my own wrist for diving adventures any time soon.
Do also ignore the marketing – there's no need to assume this watch is 'just for men' – that's largely down to the strap sizing.
Conclusion – Should I Buy The Victorinox Swiss Army Mens INOX Pro Diver Watch?
If you are looking for a smart, attractively styled watch and like the striking blue color, this watch is hard to ignore. Beyond its outer appearance, the watch has a great guarantee and has undergone significant testing. Victorinox provides a certificate confirming quality authentication, conforming to Swiss Watchmakers Standards.
Built of a robust construction, yet quite light in comparison to the weight of some of its competitors, this watch will not feel heavy on your wrist. The watch face is clear and easy to read, with a luminous aspect which comes in very handy.
This is a watch that divers who want to be seen will likely choose – it's a real fashion statement. However, Swiss watches are not just great for looking good – they provide incredible resilience, and the fact you can take this Victorinox deep down into the waves (up to 200m) is nothing short of a marvel.
I think this watch is well worth buying if you are looking for a timepiece that's going to give you years of use as well as an instant visual appeal – it may not be as feature-heavy or as diving-intensive as some of the other timepieces I've reviewed, but it's still a magnificent piece of kit. It's a mid priced watch that's closer to the premium end of the scale, but it's still worth every last penny. Take a look and if you have any major diving adventures planned, this watch will be a great ally.