Vortex Crossfire vs Diamondback Binoculars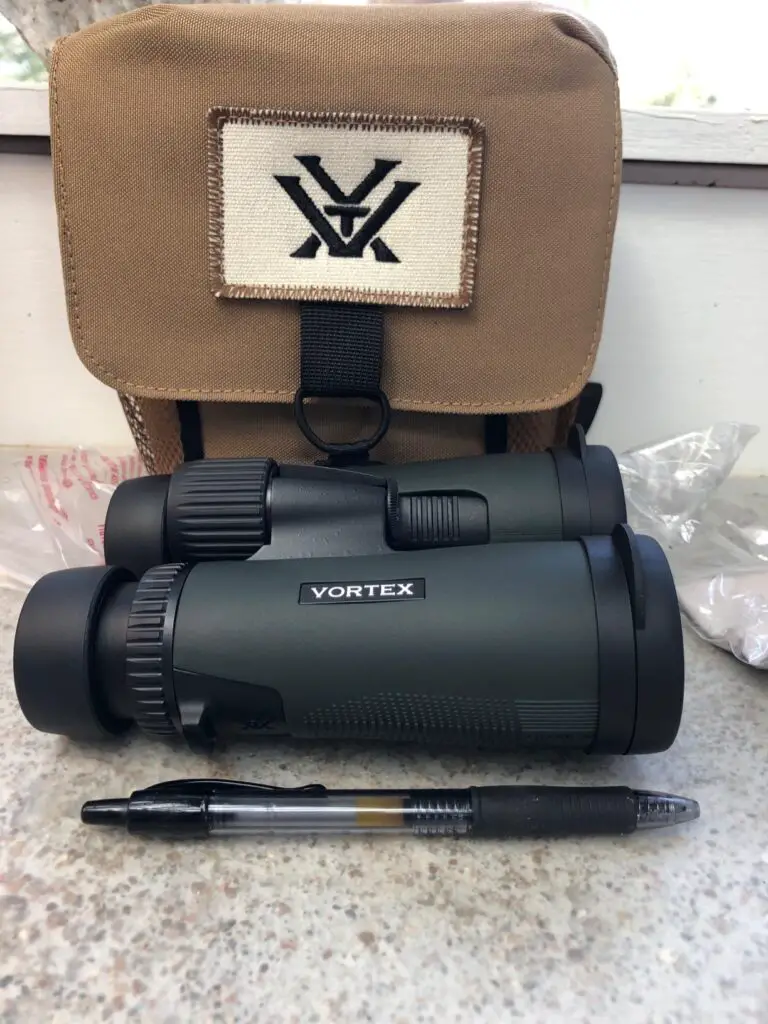 When it comes to hiking, biking, and adventuring across the US in general, you're going to need a solid pair of binoculars so you can see the best of the world around you. Therefore, why not look for a brand that leads the way – such as Vortex? In this guide, I'm going to be taking a quick look at Vortex Crossfire vs Diamondback binoculars – two of the best lines available from the manufacturer right now.
There isn't that much to tell between the Crossfire or the Diamondbacks on first glance, meaning that to the untrained eye, it might seem as though you are paying out more than you have to for a particular fancy view master. However, having done some serious digging on my own, I found that there are more than a few differences between these two leading brands which are well worth comparing and contrasting before you put any kind of money down.
Therefore – if you have any kind of Vortex binoculars in your sights for the near future, make sure to take a thorough glance through my guide on Vortex Crossfire vs Diamondback binoculars.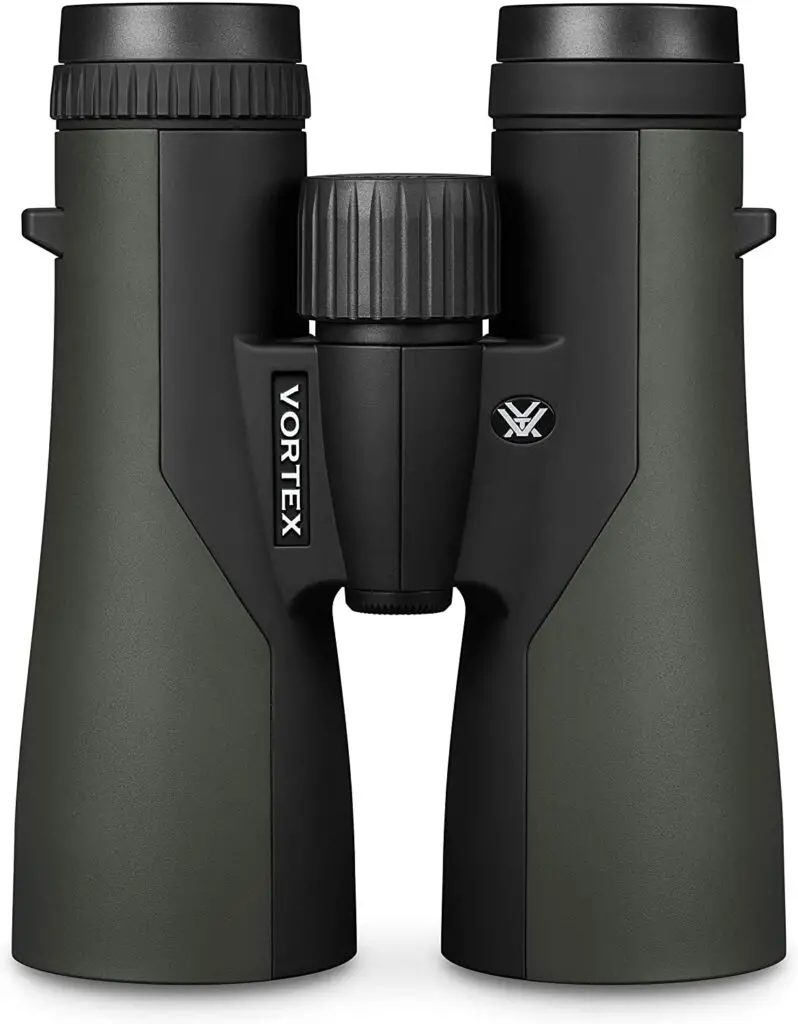 I'm going to be taking an intensive look at both of these binocular lines a little further down in this guide – for now, however, I'd like to take a look at a few areas which you are most likely to compare between the two types, and to help break down which models may appeal to you the most.
Of course, everyone's needs and priorities are likely to be slightly different, which means that some may find the following headings and sections more useful than others. However, on the whole, I feel it's worth breaking things up and to check out what these brands are all about.
Pricing
The main point people are likely to look into when it comes to the Vortex Crossfire vs Diamondback binoculars is the price tag. Diamondback binoculars fall on the premium end of the market, which means that you are likely to spend upwards of $200. Crossfire binoculars are much more reasonable for those working to tighter budgets, and you can still expect to pay around $120 – $150 for good quality manufacture.
That said, many people will likely stray to the Crossfires for the cheaper tag. That's only reasonable – however, as I will soon discuss in my full breakdown of both models, there are plenty of great reasons why the Diamondbacks might be your better option.
Durability
The Diamondback binoculars are clear leaders in this respect, with their argon purging manufacture leading the way and showing buyers why they retail at the premium end of the scale. Argon purging helps to make sure that binoculars are fully resistant to the elements.
Many times, you'll find that binoculars fail and falter under heavy weather such as wind, rain, snow, and low temperatures. Therefore, it's important to invest in a pair which is going to continue working for you long after the fog or rain starts to set in.
Crossfire binoculars from Vortex offer durability in the manufacture thanks to nitrogen gas used in the build. While this will help to keep your binoculars waterproof and fogproof to an extent, it's safe to say that you are going to get more of a premium edge from the Diamondback range, which goes some way to explain the pricing.
Your Diamondback binoculars are probably more likely to withstand knocks and shocks, too, meaning if you want something that's going to stick by you across some of your wilder adventures, it's a good line to head for.
Magnification
Both the Crossfire and the Diamondback binocular ranges come in a variety of different zooms and lens diameters, meaning that there's no need for you to have to opt for a catch-all model. The Crossfire, despite being the more affordable of the lines, actually offers up to 12x magnification, available from a base point of 8x. Diamondbacks, meanwhile, will start at 8x and go all the way up to 15x.
Therefore, from the get-go, if you do value maximum zoom, you will probably want to take a closer look at Diamondbacks as opposed to Crossfires. That said, both ranges offer 8x, 10x and 12x models, so unless you're looking for the especially premium line, Crossfire binoculars might actually do more than enough for your needs.
Lens Diameters
It's always worth looking at lens sizing so you can make sure you're getting the right level of light into your binoculars. As with magnification, there are plenty of different choices out there for those looking to buy from either the Crossfire or the Diamondback ranges, meaning that again, you won't have to put all of your money into one specific model.
For example, Crossfire allows you to take advantage of models ranging from 8×42 all the way up to 12×50. That doesn't seem like much of a difference to the naked eye, but experienced binoculars users will likely know the key differences!
As you might imagine, the Diamondback binoculars are going to offer you a wider line. You can invest in binoculars from at least 8×28 all the way up to 15×56. Therefore, this model expands the line both ways – offering compact lenses or super-sized models which will appeal to you varyingly depending on your needs and wants.
Viewing Field
Something that's always worth looking into when buying binoculars for the first time is field of view. This will let you know, roughly, how far ahead you can see with your chosen pair. On the whole, you can expect to see up to 325 feet away with the Crossfire binoculars in good weather. However, the Diamondback models offer a little bit more, in 330 feet of viewing field.
This is unlikely to make much difference to the average binocular user, but to those who are really deeply into the technology, that five feet is likely to do more than you might imagine.
Which is the Winner?
That's hard to say. The battle between Vortex Crossfire vs Diamondback binoculars is one which was never going to be easily contested! However, both models and lines come with plenty of choice, and both are rugged enough to withstand much of what your treks and mother nature herself have to throw at them.
On the face of things, the Diamondback series is always likely to win through. However, that doesn't mean the Crossfire range is ever going to be worth passing up. If anything, these binoculars offer a fantastic alternative to those people who want access to Vortex's best tech, only they might not have $200 spare to hand.
However, before I crown the winner of this face-off, let's consider looking at the two lines in a bit more details. This way, you at least get the chance to see both models up close before going ahead and buying either outright.
Vortex Crossfire vs Diamondback Binoculars: Up Close
Not sure which pair of binoculars to buy from Vortex? It's a great brand – but it's not necessarily easy to tell which of these two options is likely to work best for you. Therefore, let's start breaking down the facts.
Nr. 1: Vortex Crossfire HD Binoculars
The more affordable of the two binoculars lines in our match-up, the Crossfire system is one which is much-loved by walkers, hikers, bikers and more. What I like about this range is that for the affordability, you get a great selection of different magnifications and lenses. It's a standard roof prism model, and they are very easy to adjust.
As mentioned, these binoculars benefit from nitrogen technology which should help to keep lenses free of fog and water as and when you need clarity the most. These binoculars are also impressively rugged and resistant, meaning that you can pretty much rely on them for any kind of trip outdoors – fishing, mountaineering, you name it. They are also fantastic in their compactness, too, meaning that it never feels as though you are lumbering massive lenses around on your neck.
✅ Pros:
Very affordable for most people buying top quality binoculars for the first time
Very resistant against most weather in general
Extremely durable, likely to take more than a few knocks and shocks
➖ Cons:
Not as technically proficient as the Diamondback cousins
💡 I like the Crossfire range a lot purely for the value – I think it's a great introduction to some of Vortex's best manufacturing and technology. It's solidly-built, has reliable weatherproof tech, and there are at least four different sizes and styles to choose from.
Nr. 2: Vortex Diamondback HD Binoculars
As mentioned, the Diamondback models are likely to stand apart from the pack thanks to the pricing. However, as you will likely expect, you are paying more for the advanced tech and build – meaning that, for all intents and purposes, these binoculars are a step up from Crossfire in terms of premium quality.
You get a choice of at least nine different lens and magnification line-ups, meaning that there's plenty of flexibility. What I like about the Diamondback line the most is, of course, the fact that you'll have access to some of the best weatherproofing and waterproofing on the market. This is thanks to the o-ring manufacture and the argon purging, which is a step up from the technology and manufacture used in the Crossfire models.
✅ Pros:
Lots of different diameters and magnifications to choose from
One of the sturdiest, most rugged designs on the market
Design is not over the top, yet feels professional
Argon purging allows for complete protection against the weather
➖ Cons:
Can be pretty expensive for many people!
💡 I think the Diamondback range of binoculars stands up as one of the best premium choices on the market right now. It's safe to say it probably won't be within everyone's budgets, however, for those who have the money to invest in premium binocular tech, it's well worth holding out for.
FAQs
Are Vortex Crossfire Binoculars Waterproof?
Yes – the Crossfire binoculars are built to offer gas purging and o-ring sealing, which means that they will work harder than many binoculars to keep water and moisture out of your lenses. However, you may find that Diamondback binoculars are likely to purge more water thanks to the advanced technology and build.
What Are the Main Differences Between Vortex Crossfire and Diamondback?
Diamondback binoculars offer a little more in terms of durability and weatherproofing, which is largely why you will expect to pay a higher price. Diamondback binoculars will also give you a slightly larger field of view and come in higher magnification and lens diameter sizes. Crossfire binoculars carry the same manufacturing standards and quality, but price much cheaper on the whole.
Should I Save Money to Buy Diamondback Binoculars?
If you are serious about investing in the best binoculars available for weatherproofing and durability, the Diamondback range is likely to be a solid choice. There are many binoculars ranges out there which cost $200 or more. However, Vortex is a trusted brand with years of experience and expertise – meaning I believe it's well worth saving up for.
Are Crossfire Binoculars Worth It?
However, if your budget is a little tighter and you want to take advantage of Vortex's brilliant technology sooner rather than later, you should absolutely consider investing in the Crossfire range. These may help you to step across to Diamondback models at a later date! Why not take a chance on Crossfire first and work your way up?
Conclusion
So – in the battle of Vortex Crossfire vs Diamondback binoculars, which range comes out on top? It's safe to say that the Diamondback range edges out in terms of sheer quality and features available. However, it is much more expensive than even the highest options in the Crossfire range – and from what I've seen – literally – there's no reason why Crossfire can't do for you what Diamondback perfects.
Therefore – try them out for yourself if you can, and in the meantime, check out a few verified user reviews to get the lowdown.