Which are the best telescopes under 200 $?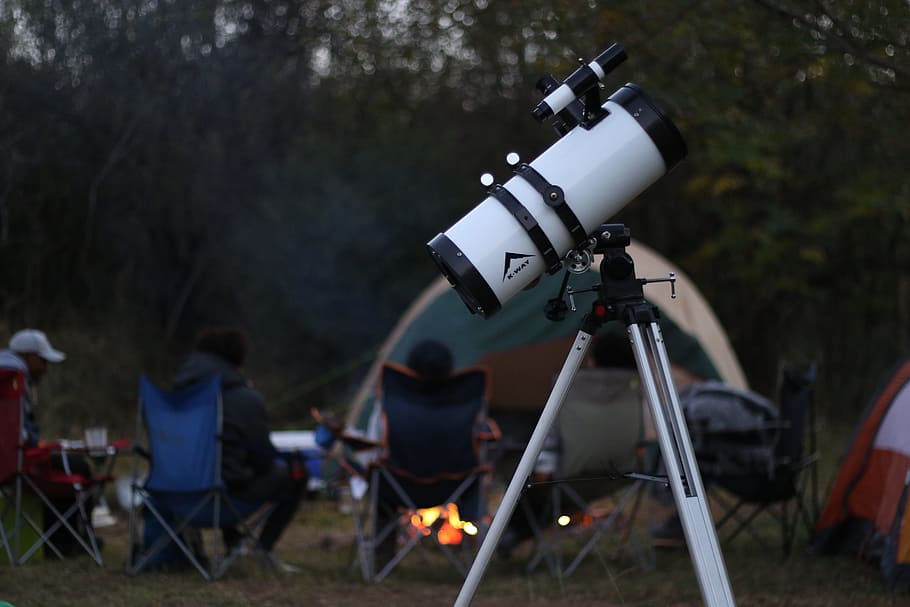 In this review we will look at 5 best telescopes under 200 $ that you can use while camping or sky gazing at your backyard. There are many telescopes that are on sale for under $200 and some of them are ideal for budding astronomers. Despite the price they can still provide the user with exciting and clear views of the night sky.
As a beginner, it is difficult to know what to expect from telescopes and many waste hundreds of dollars in their search for a telescope to match their requirements. Most telescopes can provide views of the Moon's craters and other planetary features such as the rings of Saturn and some also offer glimpses of more distant celestial bodies, however a buyer should not expect to get detailed sights of these for this price point. The telescopes put forward in this list do offer a combination of affordability and good quality optical components.
The majority of them are also simplistic to use and assemble, which makes them the best choice for amateur astronomers that are just starting out this exciting pastime.
Celestron 127EQ PowerSeeker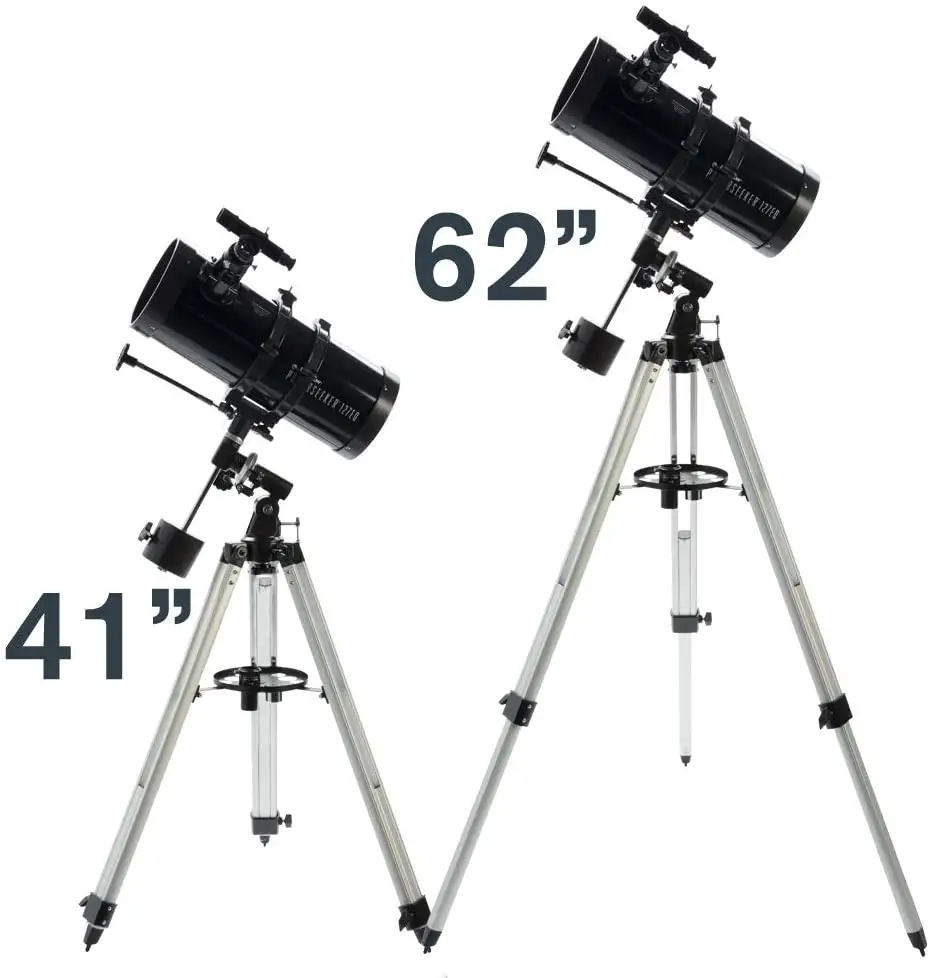 The Celestron 127EQ PowerSeeker comes with an equatorial mounting and is designed to offer resilient quality-made telescopes at affordable prices. Coming in at around $ 140, this model is a great value piece of kit that will afford the user an interesting glimpse into the night sky.
The key features of this product are a 3x Barlow lens that triples the magnification power, a 127mm aperture, a 1,000 focal length and some decent optical image components that allow the buyer to observe either the night sky or some more terrestrial objects. Past buyers have reported being able to observe nebulae, Jupiter, Saturn and Mars using this scope.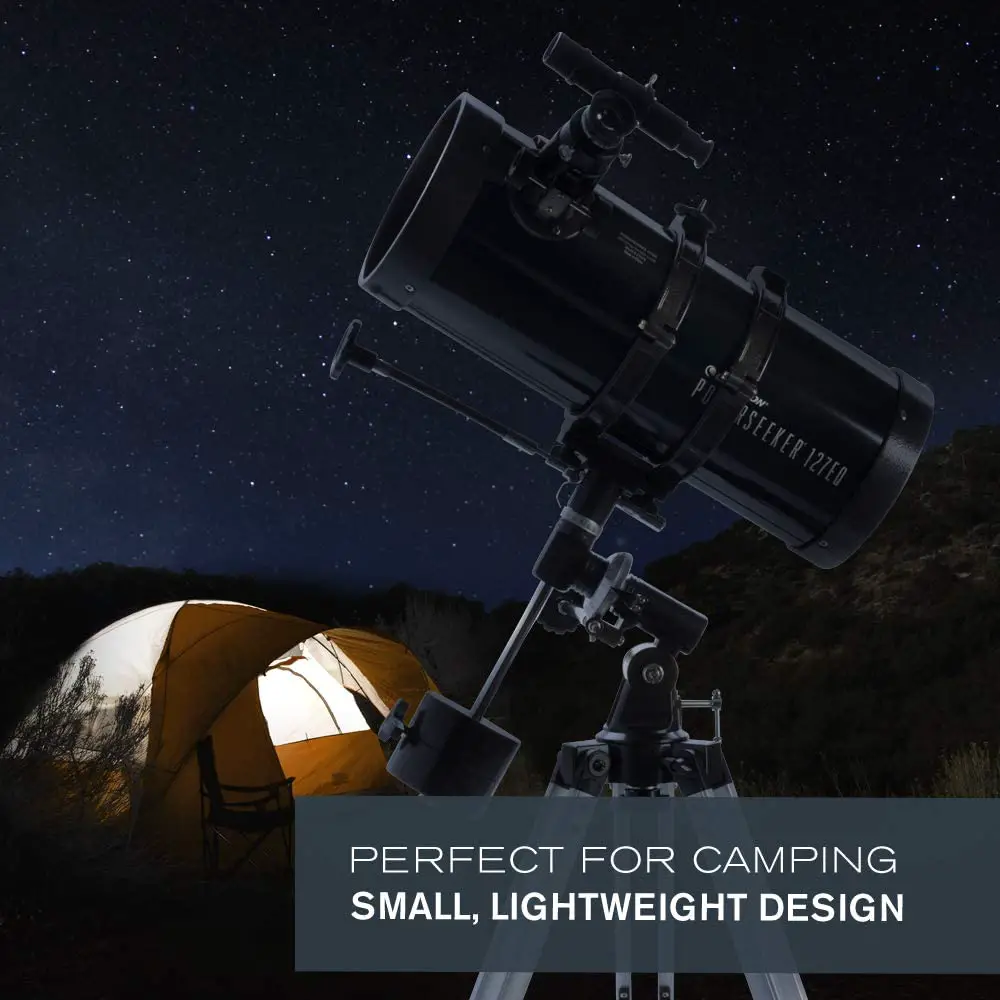 The main flaw reported of this telescope is that the included 4mm eyepiece does not also guarantee the clearest views. However, overall all this telescope offers solid optical components for an affordable price and provides a great gateway into the night sky.
Orion SkyScanner 100mm with table base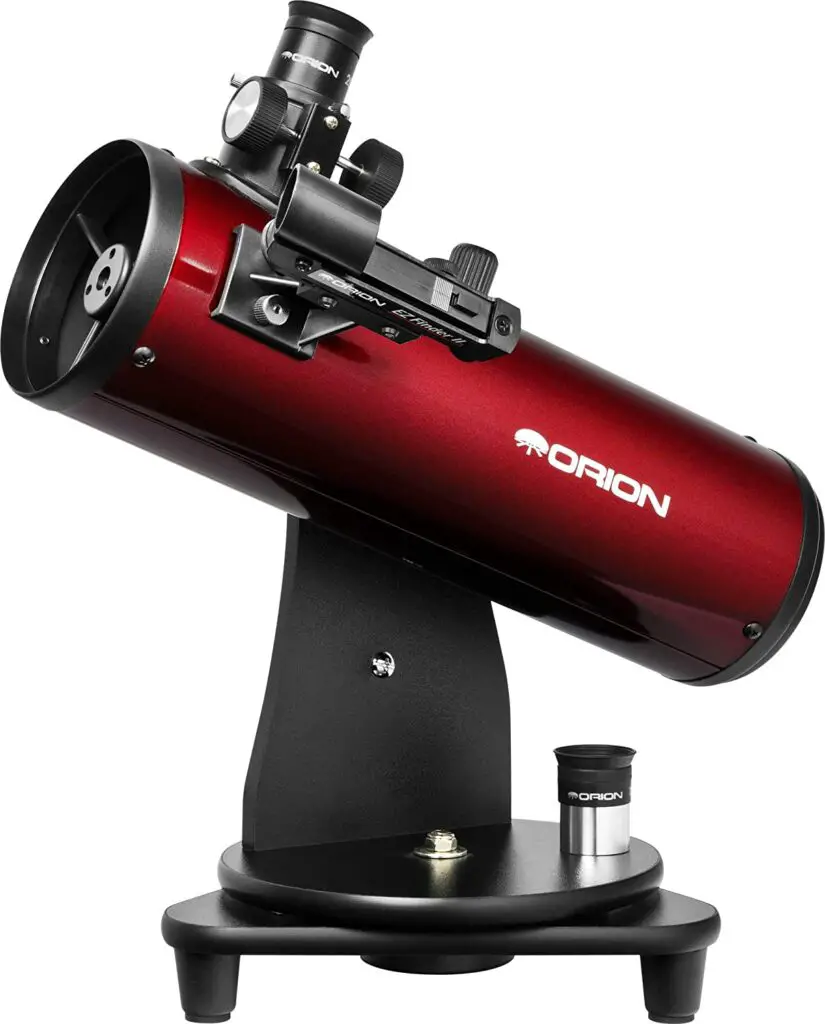 The Orion SkyScanner 100mm lacks an equatorial mount and thus is a telescope for use primarily on flat surfaces hence its price of only $ 100. The lack of equatorial mount is offset by its portability and value, making this a very suitable telescope for beginners.
The Orion is extremely maneuverable due to its small size and modest weight of 2.8 kg. This makes it perfect for transporting and for small space storage. The only flaw related to its size is that consumers will need to purchase a tripod separately to obtain a more traditional height from this telescope. In addition, the SkyScanner can be mounted in about 10 minutes thanks to its simple design.
The small size of the SkyScanner has the ability to provide wide views of the night sky. It has a 100mm aperture, three eyepieces that provide a wide range of magnifications, and a focal length of 400mm. It is also capable of providing detailed panoramas of areas with high levels of light pollution, and allows you to observe distant celestial bodies even in dark areas. Its steel structure and its one-year guarantee make it a reliable product.
The only potential flaw for consumers is that its finder is in a somewhat uncomfortable and impractical position, which makes it difficult to use. All in all, it has received excellent reviews for its performance, simplicity and portability.
Celestron AstroMaster 114EQ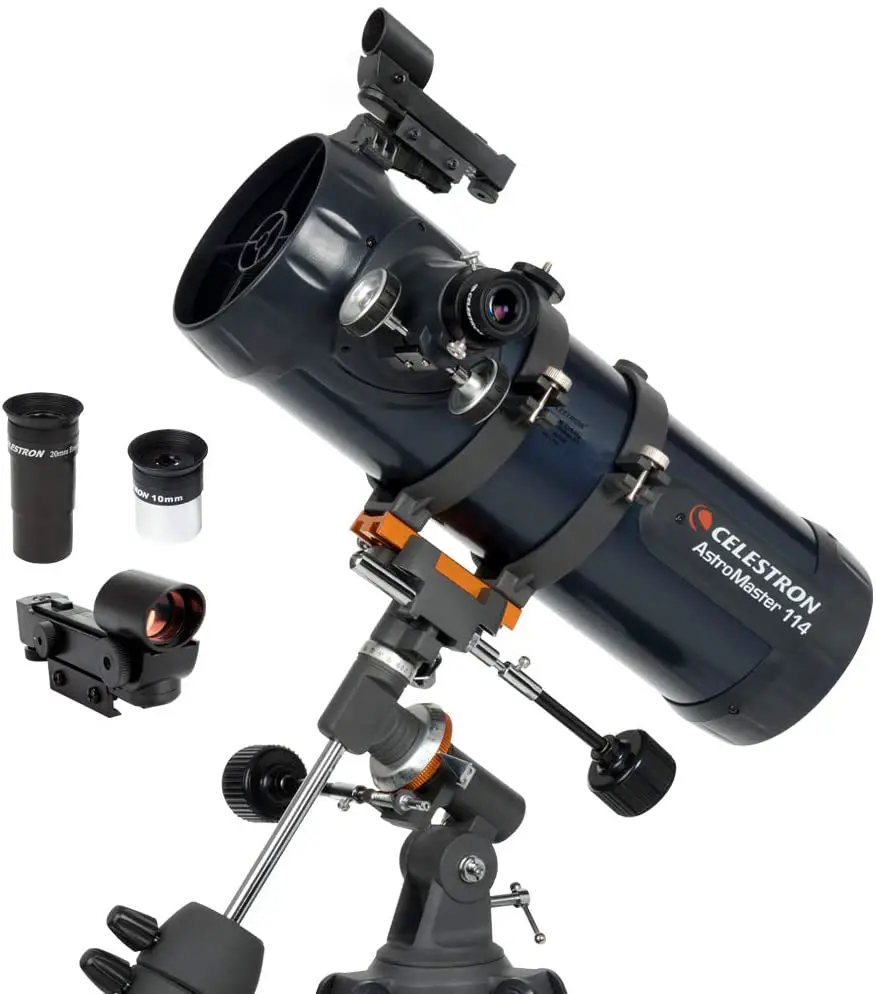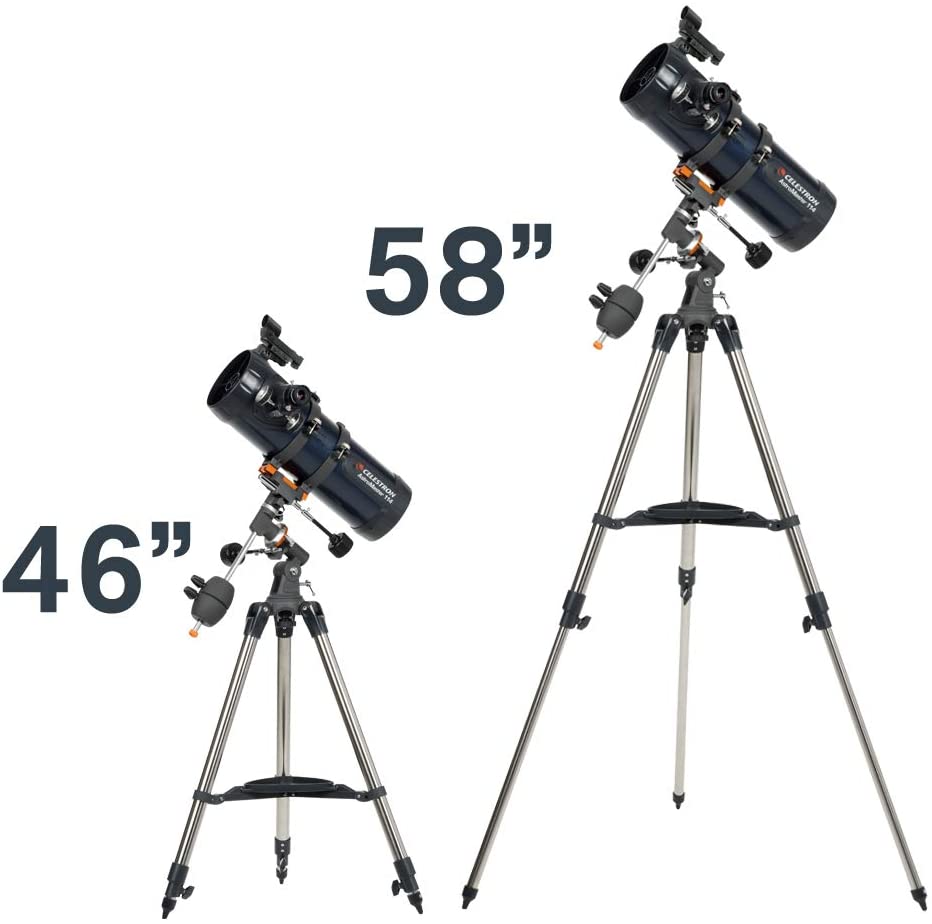 The Celestron AstroMaster 114EQ combines simplicity and an inexpensive price that make it a perfect choice for beginner astronomers with optical capabilities that make it interesting even for the most experienced. Even consumers who purchase the AstroMaster 114EQ as their first telescope generally report that they were able to mount it quickly and easily, in part thanks to the quality of the instructions that accompany the telescope. This telescope is of the Newtonian type and is equipped with an equatorial mount, a respectable 114mm aperture and a focal length of 1,000mm.
These features allow consumers to enjoy views such as the Moon's surface, Saturn's rings, and even some more distant celestial bodies. You can also get land-based views if you wish. The telescope includes Celestrom's planetarium software, called Sky X, which offers an instructive database of celestial bodies. The AstroMaster is generally considered a well-built telescope, and is protected by a two-year warranty offered by Celestron.
The only negative aspect of the telescope is the red dot finder, which is sometimes difficult to use. In any case, the telescope represents an economic and reliable way to explore the night sky.
Orion StarBlast 4.5 Astro Reflector
The Orion StarBlast 4.5 is a telescope for use on flat surfaces designed to be simple to use and to have excellent optical components. This telescope is sold pre-assembled, allowing the consumer to simply remove it from the box and use it immediately. Due to its small size, the telescope can be transported quite easily, although it must be used on a raised surface such as a table to make its use comfortable.
In addition to portability, the StarBlast 4.5 has excellent optical components that allow you to observe not only Venus, Saturn and the Moon, but also other images such as nebulae and agglomerations of stars. These components include a respectable 110mm aperture, 17mm and 6mm Kellner eyepieces, and a design that simplifies the process of locating objects.
They make the StarBlast Astro Reflector a well-reviewed product even among the most expert astronomers, who claim to use the StarBlast not only for quick observation sessions, but also for the quality of the views it provides.
The only flaw is the inconvenience potential that the types of eyepieces required to obtain optimal panoramas with the StarBlast could represent. All in all, it provides superb views for the price it offers, in a simple, small package.
Orion SpaceProbe 2
The Orion SpaceProbe 2 differs from other telescopes thanks to its easy to use equatorial mount and the scarce presence of complicated parts and accessories. In fact, it is an excellent choice for those who want an easy-to-use basic telescope to start the stargazing hobby.
Priced at around $ 99, it is extremely affordable, while its 76mm aperture, its 700mm focal length, its 10mm and 20mm eyepieces and its reflector design provide it with solid optical components. Its steel and aluminum structure and its one-year guarantee make it extremely reliable. The only flaw of the telescope is that the assembly procedure can last well over an hour, and it may be difficult to follow the instructions; unlike other beginner telescopes, which are usually mounted in less than half an hour.
The SpaceProbe also does not automatically keep objects out of sight, and therefore the consumer may have to do extra work to track the course of the objects in the sky. However, the optical components of the SpaceProbe allow views of the Moon and planets, as well as other distant celestial bodies. The combination of simplicity and resistant optical components makes the SpaceProbe a great choice for any amateur sky observer.
CONCLUSION
Diving into the world of astronomy does not have to be something too expensive. There is a huge range of telescopes priced under $ 200 that offers enough functionality and quality to interest any amateur observer. Simple designs and easy mounting procedures make these telescopes easy to use even for those who have never owned a telescope before, particularly if you are looking for a telescope suitable for children.
Stable optical components allow you to view the Moon and other planets very clearly, and a reliable construction together with special features make these telescopes products that will satisfy the needs of aspiring astronomers for years.