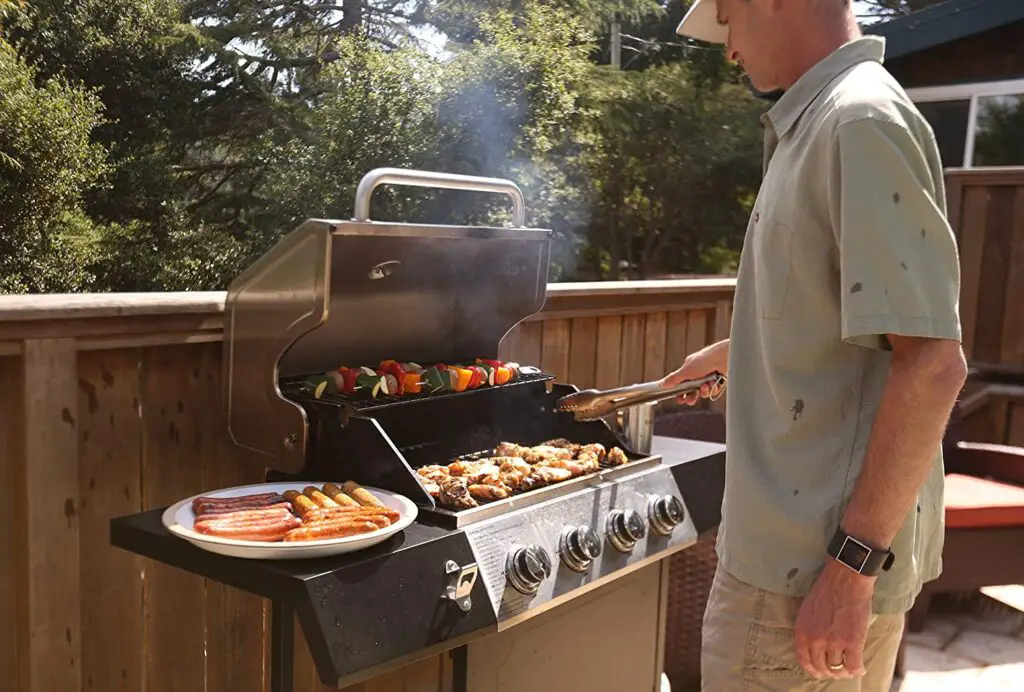 Sometimes, bigger really is better, and Cuisinart's landmark propane model grill, the CGG-7400, aims to cater to bigger parties and even business events. When catering to a larger party of people than most, you're going to need a sizeable, powerful grill that's going to bend to your every culinary whim!
I've reviewed plenty of grills and BBQ sets over time that are perfect for short trips and casual use. However, the CGG-7400 certainly appears to be built for more professional standards, as it's a real monster of a unit – and it's one of the best-protected systems I've ever had the pleasure of using.
More About The Cuisinart CGG-7400
The Cuisinart CGG-7400 is a full size grill designed for outdoor catering, suitable for large families and groups. It is user-friendly, easy to operate with a number of desirable features including a large warming track to support the grilling surface. It arrives with all you need to assemble it and use, apart from the gas cylinder, which is sold separately.
A heavy-duty cover is also sold separately, to protect your appliance from the elements. Made of good quality stainless steel, this grill is easy to clean and has had very favorable customer ratings. Therefore, you don't just get my seal of approval alone for this model!
A full size grill is ideal for those big family get-togethers and for corporate galas. After all, you really don't want to keep people waiting for hot dogs and burgers! This grill is powerful enough to cater to all culinary demands – so let's dig a bit deeper and look at the specs.
Specifications and Essential Facts
Manufacturer: Cuisinart
Fuel: Propane Gas
Weight: 72lbs
Build: Heavy Duty (stainless steel) – also has cast iron cooking grates
Dimensions: 54 inches x 22.5 inches x 46.5 inches
Grill Area: 443 square inches
Power: 11,000 BTU per burner (44,000 BTU)
Added Features: Twist and start ignition, drip tray, two side tables, four foot gas hose, 167 square inch warming rack, built-in thermometer, bottle opener, feet and wheels
Burners: 4
Power: 11,000 BTU per burner (44,000 BTU)
What are the Best Features / Main Selling Points of the Cuisinart CGG-7400?
This large, versatile grill comes with so many good features, it's difficult to decide where to start! As to be expected of a grill this size and quality, once assembled and in position, it is designed to cater for large families and groups. It has good storage space, twin side tables for utensils, crockery, ingredients or anything else a busy chef may need to keep on hand.
The layout is as streamlined as the outer appearance of the grill, which has a robust lid and good, strong handle.
The four independently operated burners mean that a wide range of foods and/sauces can be cooked at different temperatures – and there is an inbuilt thermometer, to help the chef to avoid over or undercooking foods. Everything from tougher meats to delicate fish and shellfish can be monitored!
An experienced cook will know which ingredients to start cooking first and as some become ready to serve they can be stored on the large, warming rack. That can also be used to keep puddings, sauces at an even temperature or even warm burger buns or bread rolls for hot dogs!
A very handy little feature is the inbuilt bottle opener. Many of us have experienced losing bottle openers, especially when they leave the work station!
What are the Benefits of Using the Cuisinart CGG-7400?
The standout benefits for me with the CGG-7400 lie in the fact that pretty much everything you need is right here in one unit. Four powerful burners, a warming rack, a drip tray, a bottle opener – and enough space to cook for larger groups. What more could you want, honestly?
Stainless steel is also usually easy to clean, especially when looked after. Given that there's a protective stainless steel lid and handle, and that the grill itself is super easy to clean, it makes it all the more appealing to those looking for an easy ride.
Maneuverability is also a key feature of this large grill. It has sturdy feet and two strong wheels to help it be repositioned and then secured with safety in mind. While pretty large, there's no need to worry about getting it from points A to B.
Another benefit lies in the fact that for the size and features available, it's very reasonably priced. You can expect to pay a few hundred dollars for this model, which given the capability is more than reasonable. You'll need to pay for the propane cylinder separately, but that's hardly a new premise if you've ever owned a grill like this before.
Does the Cuisinart CGG-7400 Have Any Drawbacks?
The CGG-7400 may not be the most user-friendly to set up for the first time, especially if you have very little experience in handling grills of any size. The CGG-7400 is particularly big and impressive, meaning it's going to take more than a little time for you to get it up to speed on day one. In my opinion, that's not really enough to put me off buying it – it's size that matters, after all.
Some users have mentioned that the temperature in the grill unit can vary thanks to a gap in the main design. This doesn't throw off the whole usability of the CGG-7400 altogether, but the fact that there is a slight space for the air to come through at all can be a little annoying.
To counteract this, you may need to think carefully about where you position it – perhaps against a wall, for example, instead of out in the open.
Overall, the CGG-7400 receives pretty good ratings and reviews from avid grillers. It's certainly larger and more feature-rich than your average outdoor grilling unit, meaning if you do want to upgrade your cooking experience, it's likely to be a safe bet.
I'd probably recommend you take the concerns regarding assembly and setup with a pinch of salt. This grill may not be perfect for beginners, but if you already know your way around grills and cooking appliances, there's very little here that will likely throw you off.
Conclusion – Should I Buy The Cuisinart CGG-7400?
I personally think the Cuisinart CGG-7400 is one of the best grills of its kind and size to buy online right now. While it can take a little bit of getting used to if you're more of a smaller grill enthusiast, there is plenty of scope here for you to really take your outdoor cooking to the next level.
It's very easy to move around and comes with some seriously robust manufacture backing everything up – meaning that this should be a grill that stands the test of time. Just make sure that you invest in the additional bits and pieces such as the gas cylinder along the way.
If you're really not sure if a smaller grill is going to give you enough room, then you're going to want to invest in a system like this with plenty of power and resilience!