Are you looking for the best folding saw for backpacking? There are plenty of reasons why a handle, portable saw can help you on your travels. In this guide, I'll take a look at what you need to know, as well as some of the top choices I've found online.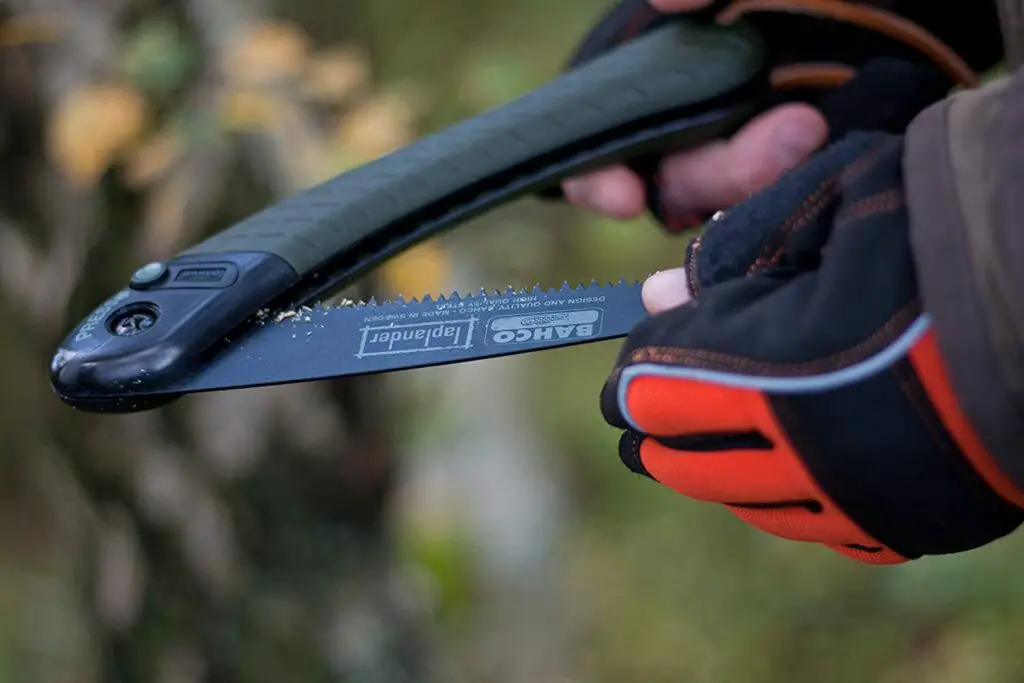 How to Choose a Folding Saw

To choose the best folding saw for backpacking, you'll need to consider strength and ease of use. These are the two main factors to keep in mind when shopping around, though you should also consider portability. I'll look into the main factors to compare a little further down.
However, the best folding saw for your needs is going to depend on type, weight and cutting ability, too. It's easy to think that one folding saw is going to tackle all jobs, but that's not always going to be the case.
What are the 3 Types of Backpacking Saws?
The three types of backpacking saws are folding saws, bow saws and pocket chainsaws.
In this buying guide, I'm going to be looking at folding saws. As you can imagine, these are easy to compact and carry around without you causing yourself an injury, or accidentally damaging any of your kit or clothing. These tend to be great to flip out if you need to get through wood that's around 6 inches thick at most.
Bow saws tend to be the classic choice. These tend to be great for thicker woodcutting, and for intensive work. However, it's only ever really worth carrying a bow saw if you are going to be taking up lots of firewood cutting, or if you know that a folding saw isn't going to do enough.
A pocket chainsaw, meanwhile, does what it suggests. It's foldable and easy to carry, but you may prefer folding saws for the fact that you can generally use them one-handed.
Is a Saw Really Worth Carrying?
Yes – especially if you are roughing it and need to round up firewood! Just as you might want to take a pocket knife or Swiss Army knife with you to cut through plants and vegetation, it makes sense to have a foldable saw to hand if you really want to keep warm on the move.
Not everyone has firelighters to hand! It might also be a useful safety tool, too. If you need to cut yourself, or someone or something else, out of a tangled spot – then it makes sense to have a tough saw with you.
How Big Should My Saw Be?
Generally, a good size of backpacking folding saw should be around 8 inches in blade length. There is no harm in looking for smaller blades, or those of a similar length, however, these saws tend to do more for you from job to job. You're not going to be able to get through much in the way of tree cutting if you use a smaller blade, however.
You can, of course, go larger. However, while this naturally gives you greater cutting power and prowess, it's going to add bulk and weight to your backpack. Surely, therefore, it's worth looking out for the mid-range option!
What Do I Want My Saw to Do?
You'll normally need your saw for cutting through shrubbery and tree branches. You might need a folding saw to cut down wood for a fire, or you may need to saw through greenery or woodland to get clear access to certain paths and routes. Therefore, always make a point of considering a saw if you are going to be heading out into the wilderness!
Again, just as you might pack a Swiss Army knife for survival purposes, so too, might you consider a folding saw. It may not be too obvious whether or not a saw is going to be useful to you from the get-go, but you never know when you might need it in the long run.
What to Look Out For
Let's consider a few of the basics to finding the best folding saw for backpacking.
Size and Weight
As mentioned, different sizes and weights of saw will help you cut through specific thicknesses of wood. However, the bigger the saw, the heavier the load.
Teeth Numbers
The number of teeth to your saw will give you a more precise, powerful cut. Believe it or not, this is worth considering before you look at the size of the teeth!
Handle Comfort
While it's great to find a foldable saw that is powerful enough for your needs, consider your comfort. A saw with a comfortable handle will make all the difference if you are going to use it regularly.
Look at reviews from verified buyers as far as this is concerned. Soft grips or ergonomic handles are a must. Otherwise, you're going to end up causing yourself pain and fatigue from endless, repetitive sawing.
Pull Strokes and Sawing
Finally, look for a folding saw which is likely to give you maximum cutting potential. Some saws will only cut when you pull back on the stroke, while others will cut on push as well as pull. A folding saw which cuts on both strokes is going to be doubly worth the money.
What is the Best Folding Saw for Backpacking?
I've lined up seven of the best backpacking folding saws for you below to compare and consider. All of the following are easy to use and take with you – but do take the time to click the links and read up on what verified buyers have to say, too!
This 7 inch saw is lightweight, easy to fold away, and is mid-range in terms of price. It's got three sides to the teeth, and if you want to replace the blade after a while, you can. The grip on the blade handle is also ergonomic, making it comfy to use over long periods.
Key Specs: 7 inch blade, 0.47lbs, replaceable blade
✅ Pros:
Simple to use and easy to store
Plenty of power for the size
Nice and comfortable to use
Blade can switch out if you need to
➖ Cons:
May be a little out of budget for some
I think this is a great foldable saw for the price. What you see is what you get – it's made in tempered steel, and it should offer you more power and precision than you expect from a saw of this size.
This folding saw actually combines the best of both worlds, with the power and strength of a bow saw, and the convenience and portability of a folding tool. It boasts a sizable 12 inch saw blade, with a comfortable rubber grip to allow ease of cutting over long periods.
Key specs: 12 inch blade, 1lb, dual saw system
✅ Pros:
Brings together bow saw power and folding saw flexibility
Very easy to use over long periods
Extremely precise
Can be fitted with standard blades
➖ Cons:
One of the more expensive saws available
I really think the price of this fantastic folding saw is more than worth it. It's an innovative build, and while it might be bigger than what many campers are looking for, it offers precision you really can't get for the price elsewhere.
If you're really looking for a budget saw model, then this is likely to be a top pick for you. This simple folding saw system is easy to fold away and get back out again, and at just over 7 inches in blade size, you should have more than enough sawing prowess to get through most branches. It also saws back and forth, making it a brilliant choice ahead of most of the pack.
Key Specs: 7.5 inch blade, 0.4lbs, safety locking
✅ Pros:
One of the most affordable folding saws available
Saws on push and pull
Very lightweight
Super-safe with locking on close and ope
➖ Cons:
May not be as premium a build as other choices in this list
What really appeals to me about this saw is the fact that you get a dual stroke system at a fraction of the price of other folding saw systems. It's great value, though some people may prefer to invest more money in a more durably, strengthened system.
As the name suggests, this is a folding saw with more heft to it than most. This is a portable handsaw which is super comfortable to grip and use over time, and what's more, it's actually lighter than you imagine. With a 14 inch blade, it's around twice the size of what you might normally need for simple branch cutting, so make sure to keep this in mind!
Key Specs: 14.2 inch blade, 1lb, dual hand grip
✅ Pros:
Seriously sizable cutting action
Lighter than you might think
Won't give you fatigue over time
Wears wel
➖ Cons:
Might be a little too bulky for some trips
This is a fantastic foldable saw which proves that you can invest in foldable camping tech that has plenty of bulk behind it. It's definitely more portable than it looks, but consider your sawing needs before going too large.
If you thought the Silky saw above was a behemoth, check out this stylish, imposing beast! This two-pounder blade is built with a comfy grip and incredible sawing prowess. It offers around four teeth per inch and is thick enough to withstand just about everything you throw at it. It might even be more portable than you imagine it to be!
Key Specs: 19.6 inch blade, 2lbs, four teeth to every inch
✅ Pros:
One of the heaviest duty, most durable folding blades
Great for super-thick cutting
Easy to handle and grip
Folds up smaller than you'd imagin
➖ Cons:
Not great for single hand cutting
This is an absolute monster of a folding saw in the best way. Silky tends to go all out in this regard, and I think the fact you get so much power and robustness for the weight and cost is fantastic value – take a look if you know you need more than the 7 inch average.
This is a tree saw that gives you more reach than most! This is a foldable, durable cutting system which extends all the way up to five feet – and there is even a ten foot model if you're going to be cutting down branches from even further off. It's a powered tool, meaning that you benefit from electric cutting, as well as a carry sling for ease of transport.
Key Specs: 60 inch blade, 2.3lbs, locking and extending system
✅ Pros:
Perfect for far-off branches
Easy to lock for safety
Lighter than you think
Built in carbon steel for max durabilit
➖ Cons:
Likely bigger than what many backpackers need
If you're really looking for a heavy duty saw with tons of reach, but don't want to weigh yourself down, this is a fantastic choice. It really is lighter than it looks, and I love the fact that it's so easy to pop up and fold away again.
As the name suggests, you get two tools for the price of one in this package – you can cut and plane on the go with this brilliant multi-tool. It's a powered system, which means you are going to need to ensure you have a supply with you. This tends to be a useful powered tool for woodwork and other jobs, but it's likely to have plenty of uses for camping and backpacking, too.
Key Specs: 4 inch blade, dual action, comfort handle
✅ Pros:
Two tools for the price of one
Very quick cutting action
Long enough for smaller branches
Safety lockin
➖ Cons:
While this might not be built for backpacking per se, there's still lots to take away from this saw system. I love the fact that you get two great tools in one simple package.
Conclusion
Are you struggling to find the best folding saw for backpacking? Make sure to take a look through my online picks above, and, as always, listen to what verified buyers have to say, too! In no time, you'll find a saw tool that compacts easily, and which will get you through the undergrowth.
SOURCES USED