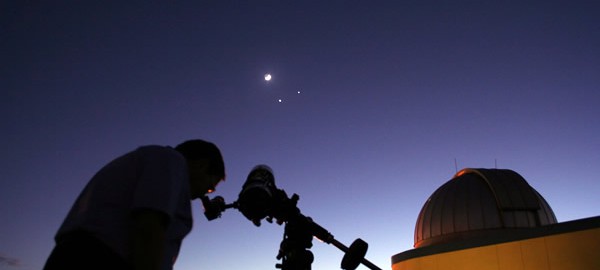 Its incredible to consider what minute percentage of our infinite universe is ever actually experienced by those of us that don't work for NASA. Colossal planets, shimmering stars and goodness knows how many other galactic wonders dance through our Milky Way and beyond on an hourly basis. Most of this passes us all by without us ever even noticing that it is happening.
To truly appreciate the sheer scale and fantastic characteristics of our universe, one must strive to take a closer look at it. Nothing quite equates to the spellbinding moment that you witness the glimmering beauty of another galaxy with your own eyes. Or see the blazing detail of a shooting star as it flies past earth at inexplicable speed.
The ability to stargaze from your own home places you within an elite group – one capable of seeing beyond our world from the comfort of their garden.
When I was recently gripped by a deep desire to experience this phenomenon for myself, I decided to invest in a telescope of my own, so that I could explore the stars at will. Unsurprisingly I discovered that the features that cause each model to differ from one another can be as infinitely intricate as the stars themselves.
Having gained a true appreciation of the advanced technology that goes into building a telescope, I undertook some extensive research to finally whittle down my options. Having done so I considered the needs of others in my predicament and ultimately decided to share not only what to look for when buying a telescope but also the models that really stood out for me.
How to Choose the Best Telescope for Planetary and Deep Sky Viewing?
Although the array of telescopes available for general purchase is almost as extensive as the galaxy itself. Aperture, focal ratio and magnification are just a handful of the numerous factors to take into consideration. In their most basic form telescopes can be organised into three groups: reflector, refractor and compound telescopes.
Reflectors use a system of curved mirrors to allow users to witness the skies above whilst refractors use a large lens at the end of the scope's tube. Compound telescopes on the other hand use a combination of the two. Each style comes with its own benefits and drawbacks but deciding which telescope best suits you goes beyond the style of the model.
Here are some factors to take into consideration when shopping for a telescope for under $1000:
Aperture. Aperture refers to the diameter of the telescope's primary lens or mirror. Ultimately, the higher a telescope's aperture the greater detail the viewer will have of the celestial bodies that it is viewing. Greater aperture measurements can improve the visibility of fainter astronomical objects, such as other galaxies or features such as craters on the moon.
Focal Ratio. Measured by dividing the aperture by the telescope's length, the focal ratio refers to the 'speed' of the scope's optics. Ultimately, the smaller the telescope's f/number, the lower the image quality and wider the field of view. Higher f/numbers therefore typically denote a greater zooming ability.
Magnification. Magnification refers to the telescope's focal length and how it compares to the focal length of the eyepiece. Magnification can be adjusted by changing your telescope's eyepiece and is measured by dividing the focal length of the telescope itself by that of the eyepiece. For example, a 1000mm scope with a 20mm eyepiece would result in a magnification level of 50x.
Set up. It stands to reason, given the highly technical nature of telescopes as a whole, that some take more preparation when setting up than others. Typically stored in their dissembled form, setting up a telescope can very from simplistic to extremely complex. It is an important factor to consider when deciding which style you wish to buy.
Mount. The varieties of mounts available are multitudinous to say the very least, which each type serving a particular purpose to perfection. However, the most popular mounts tend to be either of the altazimuth or equatorial varieties.
Portability. This one is relatively straightforward. Some telescopes are built with portability in mind and others are not. Therefore certain models are more suited to staying put at home as opposed to taking them with you on an adventure into clear skies above earth's wilder spots.
The Best Telescopes Under 1000 Dollars
Here is a collection of the 10 best telescopes that I discovered during my search. Despite the fact that they are all worth under $1000, these products are of excellent quality thanks to the fact that they have been created by some of the better manufacturers on the market.
Each model has its own ups and downs, so hopefully reading this article will help you decide what product best suits your specific needs. For example, some may prioritise an easy set up to help beginners come to grips with their early stargazing experiences whilst others may focus on photography of the night sky.
Here are my top 10 telescopes available for under $1000:
Orion is one of the largest manufacturers of everything that you could ever need to stare at the stars, from telescopes to cameras to filters. It stands to reason therefore that they are extremely good at what they do. Orion stargazing equipment is well and truly amongst the best available to buy.
The Orion SkyQuest XT10 Plus Dobsonian Reflector Telescope is an excellent all-round telescope option, which comes with a number of accessories that bolster the stargazing experience. Easy to set up, the telescope has a number of subtle features that make it simpler to adjust once erected. This includes the secondary mirror thumbscrews, for altering the image on show.
The telescope comes with a number of accessories that bolster its stargazing capabilities, including a variety of eyepieces, allowing for differing scopes when gazing at the night sky. A safe solar filter is also provided, which means that the telescope can be used during the daytime. This is perfect for looking at all manner of solar phenomena, such as solar flares and eclipses.
Key Specs:
Product weight – 50 pounds
Pros and Cons:
✅ Pros:
Very easy to assemble.
Thumbscrews negate the need to use tools for adjusting the mirror.
Arrives with a number of additional accessories.
➖ Cons:
Quite heavy in comparison to other models.
💡 Whilst this telescope is at the higher end of the pricing scale on this list, pushing towards the $1000 price limit, there is a reason for it. The crisp images of this Dobsonian telescope immaculately portray the planets of our solar system and beyond. More technical than some others on this list, it is the right model for those looking to delve deeper into the world of astronomy rather than skimming the surface.
Based in the US, Sky-Watcher telescopes was started by David Shen, a man with a real passion for astronomy and what lies beyond our world. The brand aspires to create top-quality star gazing equipment at a reasonable price, making it available to the many rather than the few.
The Sky-Watcher EvoStar 100 APO Doublet Refractor is an excellent optical tube, created with portability in mind. Not only is this an excellent option for those looking to buy a telescope for under $1000, it has also proven very popular amongst those with a passion for astrophotogrophy. With this in mind, this Sky-Watcher telescope is capable of producing razor sharp images with color correction technology built in.
Beyond its potential as a tool for taking pictures of the universe, the telescope is a compact and easily-transported model that comes with a handy case for moving it to the ideal stargazing position. Its dual-speed focuser also makes finding the right focus and absolute breeze.
Key Specs:
Product Dimensions – 41 x 12 x 15 inches
Product Weight – 21 pounds
✅ Pros:
Excellent color correction, making it ideal for astrophotography.
Quick focusing thanks to the dual-speed focuser.
 Very light, making it easy to transport.
➖ Cons:
Doesn't come with a tripod.
💡 What makes this model stand out in particular is its light and compact build. This makes it extremely easy to transport despite its premium standard characteristics. Perfect for anyone looking for a more portable telescope.
This model by US brand Sky-Watcher is a brilliant telescope, designed with a tube and base that separate for a more compact and portable form when in storage. It is highly commended as one of the better telescope options for those looking to find their feet as an aspiring stargazer thanks to its easy-use set up and very reasonable price.
The large aperture of the Sky-Watcher Flextube 250 Dobsonian 10-inch Collapsible Large Aperture Telescope means bright, clear images of the night sky. The tension handles on the flanks of the telescope make the movement of the tube extremely easy without necessitating a perfect balance. This telescope is also very easy to transport in comparison to many of its competitors, making it ideal for trips into the great outdoors with the idea of admiring the night sky. The perfect telescope to bring camping with the family.
Key Specs:
Product Dimensions – 38 x 27 x 19 inches
Product Weight – 42 pounds
✅ Pros:
Innovative collapsible design for ease of transport.
Smooth movement thanks to the Teflon bearings.
Sturdy despite its relatively light build.
➖ Cons:
Set up not suitable for a total beginner.
💡 This Dobsonian is easy to assemble and provides incredibly crisp images once collimated. Its primary benefit is the manner in which it compacts so efficiently, meaning that it takes up very little storage space when not in use. Efficiently packed away, this is a model made for those taking up stargazing as a part time hobby.
Compact and lightweight, the Orion 10014 SkyQuest XT4.5 Classic Dobsonian Telescope is perfect for those looking to stargaze both at home and in rural areas with brilliant nighttime clarity. This reflector telescope collects an incredible amount of light in comparison to many other beginner-level models. This leads to crisper images and the ability to see what would otherwise be invisible to the naked eye.
Perfect for those that have just begun a foray into the world of astronomy, this telescope comes with a number of eyepieces, a pinion focuser and Starry Night astronomy software, which helps guide the user through exactly what it is that they are looking at. Weighing only 22 pounds, it is remarkably lightweight and easy to move even long distances. It is ideal for those looking to bring such a piece of kit with them on an adventure into the wilderness.
Key Specs:
Product Dimensions – 40 x 19 x 13 inches
Product Weight – 22 pounds
✅ Pros:
Brilliant value for money in comparison to most competitors.
Simplistic operation makes it an excellent choice for beginners.
Light body despite its large size.
➖ Cons:
Takes up a lot of storage space due to its long tube.
💡 This is the perfect choice for true beginners. Whilst the set up is somewhat time consuming, the telescope is easy to operate when it is ready. Despite it being simple enough to operate, this telescope offers images of truly great quality. Ideal to fueling a new found passion for star gazing.
An overall excellent package for any beginner stargazer, the Orion StarSeeker IV 130mm GoTo Reflector Telescope Kit has more to it than the brilliant 650mm focal length telescope itself. The extensive GoTo database of over 40,000 objects can take you on a fantastic tour of our solar system and beyond.
Perhaps the most appealing feature of this Orion telescope is its motorized object-location technology, which means that it can rearrange its own position to find a particular point in the sky with very little effort. The computerised self-readjusting design makes looking at planets, stars and other celestial bodies with minimal effort, maximising your stargazing experience.
Key Specs:
Product Weight – 21.5 pounds
Pros and Cons:
✅ Pros:
The accessories that come with the telescope bolster the experience.
The motorized location tech helps keeping track of your discoveries.
Capable of picturing deep-sky sights such as nebulas.
➖ Cons:
No travel case included to help move from A to B.
💡 What makes this model stand out is its motorised location technology. Capable of relocating what you've already discovered, this telescope allows you to explore the universe relaxed by the thought that your previous discoveries can easily be located once again. The advanced mechanisation of the StarSeeker IV adds an extra element of scientific wonder to your experience when mapping the stars.
Undoubtedly one of the leaders in the optics industry, Celestron is a company that strives to be at the head of the pack when it comes to developments in the field of stargazing. Thanks to this, Celestron is a brand that guarantees products that are technologically advanced and built with ultimate functionality in mind.
The computerized system that the Celestron – NexStar 127SLT Computerized Telescope runs on allows it to find galaxies, nebulae and distant stars with pinpoint accuracy and even track them so that the user can return to a particular spot later on. The 127mm aperture allows users to see beyond our solar system with brilliant clarity.
Easily set up and conveniently portable, this make of telescope is the perfect choice for those that wish to learn more about out galaxy and beyond when exploring areas with amazing cloudless skies. It is perfect for families looking to teach younger generations about the stars that make up the universe.
Key Specs:
Product Dimensions – 40 x 19 x 11 inches
Product Weight – 20 pounds
✅ Pros:
Designed to be easy to set up and align.
Stars and other items are easily located using the computerized location.
Easily transported thanks to the portable design.
➖ Cons:
The number of additional accessories available is somewhat limited.
💡 The crisp imagery offered by this Celestron telescope combines with the Starry Night software, making it possible to navigate the stars to perfection with the push of a button. This model is the ideal companion for a first foray into the world of stargazing.
The eyepieces that come with the Orion 08985 SkyQuest XT6 PLUS Dobsonian Reflector Telescope in Twilight Blue allow for views of the galaxy with up to an incredible 240x magnification. The lower price but incredible image quality makes this model an extremely good affordable option for any amateur stargazer. However, it can also be appreciated by more advanced galactic fanatics as well.
The redesigned base allows for extra maneuverability of the tube, as well as extra stability and a white ring to prevent accidents in pitch-black conditions. The telescope's sleek and stylish design combines with its premium-standard qualities to create an excellent telescope suitable for all standards of stargazer.
Key Specs:
Product Dimensions – 51 x 18 x 51 inches
Product Weight – 35 pounds
✅ Pros:
Collimation is made easy through the laser collimator.
Easy to set up, with the necessary tools included.
High quality and contrast for a Dobsonian thanks to the long lens.
➖ Cons:
Large size means that it can take up quite a bit of storage space.
💡 The Orion 08985 SkyQuest XT6 PLUS Dobsonian Reflector Telescope in Twilight Blue is a brilliant Dobsonian telescope that does all the basics just right. The telescope can be collimated without the use of tools, making the set up extremely easy. It is amongst the more stylish members of this list. The twilight blue tube is a real standout feature that makes this telescope stand out amongst the competitors.
This powerful reflector telescope is the perfect tool for beginners. Adjustable and easily personalized according to your astronomical needs, the high-quality 130mm glass optic lens makes the Celestron – AstroMaster 130EQ Newtonian Telescope the perfect telescope for even those with the most basic knowledge of the solar system. It has a strong build thanks to the steel tube, which
The telescope's AstroMaster mount has slow-motion control knobs, which allow for extra precise movements when gazing over the night sky. It is a fantastic example of a product that has mastered all the basic needs for anyone using a telescope. It also comes with a portable tripod, making it easy to set up wherever you may be in the world.
Key Specs:
Product Dimensions – 35 x 19 x 12 inches
Product Weight – 26.5 pounds
✅ Pros:
High quality optics offer clear images of the majesty of the night sky.
This Newtonian telescope is very sturdy thanks to its steel body.
Using the telescope is straightforward, making it perfect for beginners.
➖ Cons:
Not equipped with motorized location technology.
💡 The Celestron – AstroMaster 130EQ Newtonian Telescope is designed with ease-of-use in mind.  Built with all of the attributes that make a great starter telescope, it is the ideal tool for all budding astronomers to explore the starry skies at night. The telescope's magnification of up to 269x allows the user to delve deep into the astral skies above us.
The Orion 9827 AstroView 6 Equatorial Reflector Telescope is a prime example of an extremely well built reflector telescope. The 750mm focal length Newtonian reflector optics allows users to see distant galaxies, the craters of our moon or even images of the planets from our solar system, from Saturn's rings to Jupiter's storms. The adjustable aluminum tripod and equatorial mount make it easier to track the celestial objects as they gradually migrate across the night sky.
Both 30x and 75x views of the night sky are available thanks to the 25mm and 10mm Sirius Plossl 1.25″ telescope eyepieces, respectively. The mount's equatorial design and reflector technology combine to provide clear views of the solar system's greatest wonders as they travel across the skies above.
Key Specs:
Product Dimensions – 33.7 x 19.1 x 17.4 inches
Product Weight – 37.1 pounds
✅ Pros:
Adjustable tripod makes the stargazing experience more personalized.
Slow motion tracking provided by the equatorial mount.
An excellent model to use as a first "proper" telescope.
➖ Cons:
Not equipped with motorized location technology.
💡 Adjustable to suit the needs of every user in the household, this Newtonian reflector telescope has excellent optics for clear views of the stars above. The manual operation of this product gives a more hands on approach, executing the basics to perfection.
The large 8" aperture and f/3.9 focal ratio of the Orion 8297 8-Inch f/3.9 Newtonian Astrograph Reflector Telescope make it an ideal telescope for taking pictures of the night skies with immaculate detail. This telescope has a long tube, which accounts for excellent zoom capability and image contrast, meaning clear views of the universe.
The telescope's incredible capabilities and very reasonable pricing combine to make it an excellent and relatively simple tool for taking premium quality images of the solar system and beyond. Astrophotography is made easier by this excellent piece of equipment.
Key Specs:
Product Dimensions – 35.6 x 18.9 x 17.1 inches
Product Weight – 17.5 pounds
✅ Pros:
Great for beginner astrophotography.
Very portable thanks to its extremely lightweight body.
Smooth focusing mechanics.
➖ Cons:
Doesn't have a focal lock.
💡 This telescope is great for amateur photographers who are looking to capture images of the stars and beyond. Capable of taking snaps of extraordinary phenomena such as nebulae and galaxies outside our own, it is sure to expand the horizons of the user and their photographic subjects.
Frequently asked questions:
What is the difference between Dobsonian and Newtonian telescopes?
Whilst the difference between the two is minimal, explaining it can become extremely technical. In simplistic terms, Newtonian telescopes operate by reflecting light using a mirror to collect and focus light, which in turn produces an image. Where a Dobsonian differs is in the mount used, rather than the optics. Therefore, technically speaking a telescope can be both a Dobsonian and Newtonian at once.
Are Dobsonian telescopes good for viewing planets?
Whilst the Dobsonian telescope design is simplistic it can be effective for viewing planets within our solar system. These typically aren't of professional quality, however low-cost Dobsonians with a large aperture can be capable of presenting top quality planetary images. Obviously heading outside of our solar system in search of other celestial objects requires a much bigger model!
What can you see with a Dobsonian telescope?
Dobsonians are perfect for viewing near space objects, including the moon and planets within our solar system. They are also equipped to view celestial bodies from further afield, however tracking these bodies can prove challenging without a properly integrated system designed to do so.
Can I do astrophotography with a Dobsonian?
The short answer is yes, images of the solar system can be taken with a Dobsonian telescope. However, due to the inability to take longer exposures these images are typically limited to the planets in our solar system without the image quality diminishing somewhat.
Refractor vs reflector vs cassegrain?
Reflector telescopes use mirrors to reflect the light of the night sky whilst refractor telescopes use glass lenses to achieve the same result. Cassegrain, or compound, telescopes use both technologies combined as reflective mirrors refract off a bigger lens. They tend to be small, portable and somewhat more expensive than the other two.
Conclusion:
When it comes to purchasing a telescope it can often become expensive very quickly to purchase all the kit necessary for experiencing the full astronomical experience. There are other factors that one must consider too: Are you using your telescope for pictures? Are you seeking a simplistic telescope or something more technologically complex? What style of telescope best suits your needs, Newtonian or Dobsonian?
Whether this is your first telescope or your fifteenth, the models above are sure to prove well worth their reasonable price tags. Each has its own benefits, whether it be its portability, qualities in astrophotography or its ease of set up.
It is possible that spending less on a telescope will lead to the purchase of a substandard brand, but the ten telescopes above are all available for less than $1000 despite their high quality performance.