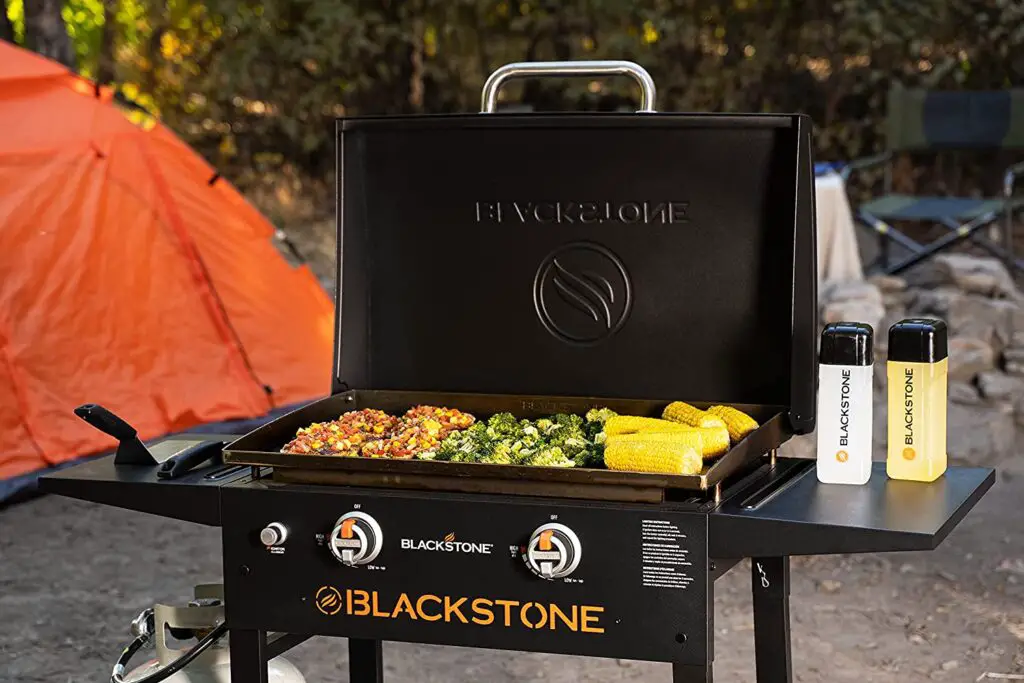 One of the biggest pains in setting up portable cooking is finding enough space. If you're cooking for a big party, the last thing you're going to want to do is muddle around with several grills at once. What if a single cooking unit could take away all of that stress and woe?
If you are searching for a flexible 'cooking station' to use at home, in your garden or even on a balcony, Blackstone's 1883 serves up a brilliant option. This model combines different cooking methods to easily facilitate your catering requirements for between two and ten people.
The major plus point of this model is that, when parts of it are folded and the propane gas tank is secured, it can be easily transported as a portable piece of equipment to take on vacation or perhaps simply a picnic to be enjoyed during a day out!
The design team at Blackwell – based in the US – have styled a functional cooking appliance with user friendly features such as folding legs and shelves, well-placed to house ingredients and tools in conveniently well placed shelving.
More About The Blackstone 1883
This Blackstone product offers traveling groups or people partying at home with a simple, versatile method of cooking a variety of foods with minimal fuss. There's zero need to plan cooking days in advance. If your Blackwell is stored in your garage with a propane gas tank to hand, it takes minutes to hook up and get started with.
Securing your fuel supply, unlocking legs and unfolding shelves are nice and simple. There's no need for you to buy any extra shelving or units – on the face of things, it's an all-singing, all-dancing cooking machine. However, different units will appeal to different chefs and styles of cooking.
There is a further range of Blackwell accessories available to buy, to complement your cooking experience. For now, however, let's take a look at the 1883 in a bit more detail.
Specifications and Essential Facts
Manufacturer: Blackstone
Fuel: Propane Gas
Weight: 108lbs
Build: Heavy Duty
Grill Dimensions: 32.7 inches x 21.7 inches x 17.7 inches – grill surface area extends to 53 inches max
Added Features: Foldable legs, shelves, 'plug in and play' propane functionality
Burners: 2
What are the Best Features / Main Selling Points of the Blackstone 1883?
As you can see from the specifications above, the Blackstone has been designed with convenience in mind. Easy mechanisms of folding usable surfaces such as shelving mean users can quickly open up the 1883 so that it is ready for use in seconds.
It is easy to recognize that its size belies its capacity! The two burners are great for heating sauces, cooking side dishes or heating all kinds of meat and vegetables, even melting cheese.
The griddle is simple to use and ideal to cook a wide range of meats, fish,vegetables and even eggs. It is easy to clean and its impressive size means that foods can be turned with ease. There's enough room to cater for up to ten people at once.
The extendable grill area is a definite plus – meaning you can use it for smaller dishes and picnics as well as those larger BBQs.
The protective cover – available as an add-on at the point of sale – enables the Blackstone 1883 to be stored outdoors. That means you won't have to worry about your griddle getting wet. Keep in mind that this is an optional extra – but in my opinion, it's worth adding on.
What's more, the fat / drip tray is brilliant for catching any by-product that drains during cooking. That's only ever going to help with cleanup!
What are the Benefits of Using the Blackstone 1883?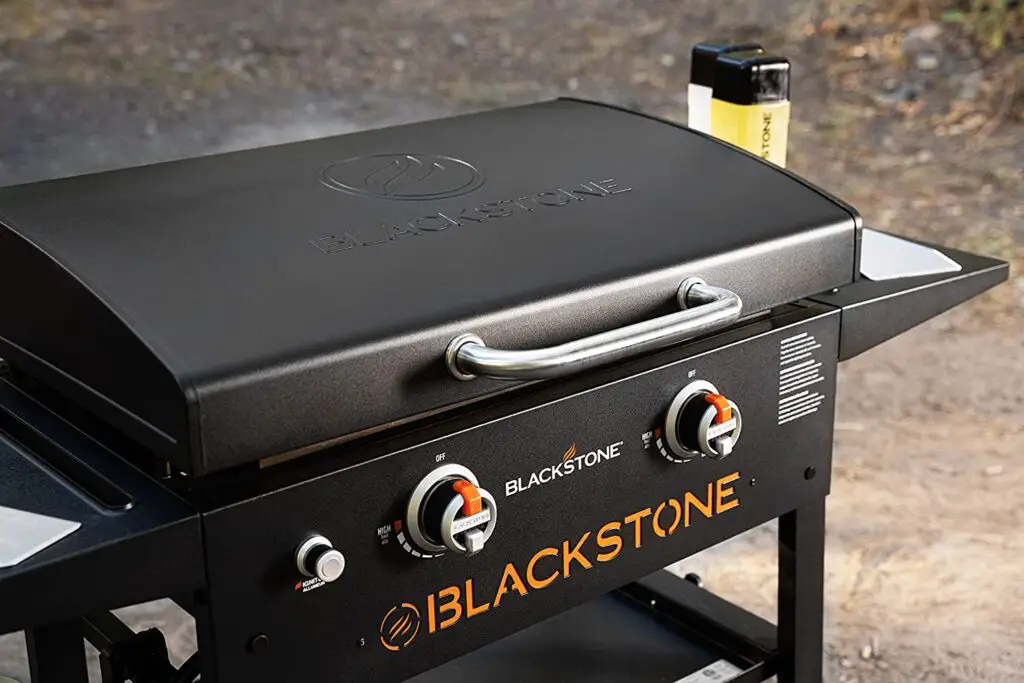 Flexibility has to be top of the list here, with users ranking this highly in their ratings of the product. As well as being simple to fold up and pack, the 1883 is super simple to clean and care for!
A huge range of foods can be cooked on the Blackstone 1883, and if you are taking your portable kitchen on holiday, it is amazingly convenient to pack everything up in cool boxes, to defrost along the way – ready to pop on the grill when you arrive. It's brilliant for pancakes, eggs, all kinds of meat – it's a multi-functional marvel.
The ease of setup is a major plus point. Let down the legs and unfold the shelves, attach your propane gas Tank and start cooking! Within minutes you can have food on the table ready for between one and ten people.
User feedback for the 1883 is glowing – especially when it comes to being able to balance different food on the same grill. The sheer space and flexibility in design means you won't have to stagger different stages of the same dish. It's a bit of a game-changer.
Does the Blackstone 1883 Have Any Drawbacks?
Catering for everyone's ideal size of grill is impossible, so the designers at Blackstone have listened to consumers and setup extending shelves to cope with demand for space to place utensils and ingredients.
The cost of the Blackstone 1883 will vary depending on the vendor you buy from. However, you may find this to be a grill that's a little pricier than the majority. Fans of the 1883 will likely tell you that the ease of use and the grill area are well worth the cost.
Verified buyers of the Blackstone 1883 have mentioned – in the minority – that the temperature control and its heat distribution could use improvement. However, these factors are likely to be affected by the individual cook / chef – and the weather during a BBQ!
Therefore, I can confidently say that – providing you have some grilling experience behind you – you shouldn't have too many issues with the 1883.
Conclusion – Should I Buy The Blackstone 1883?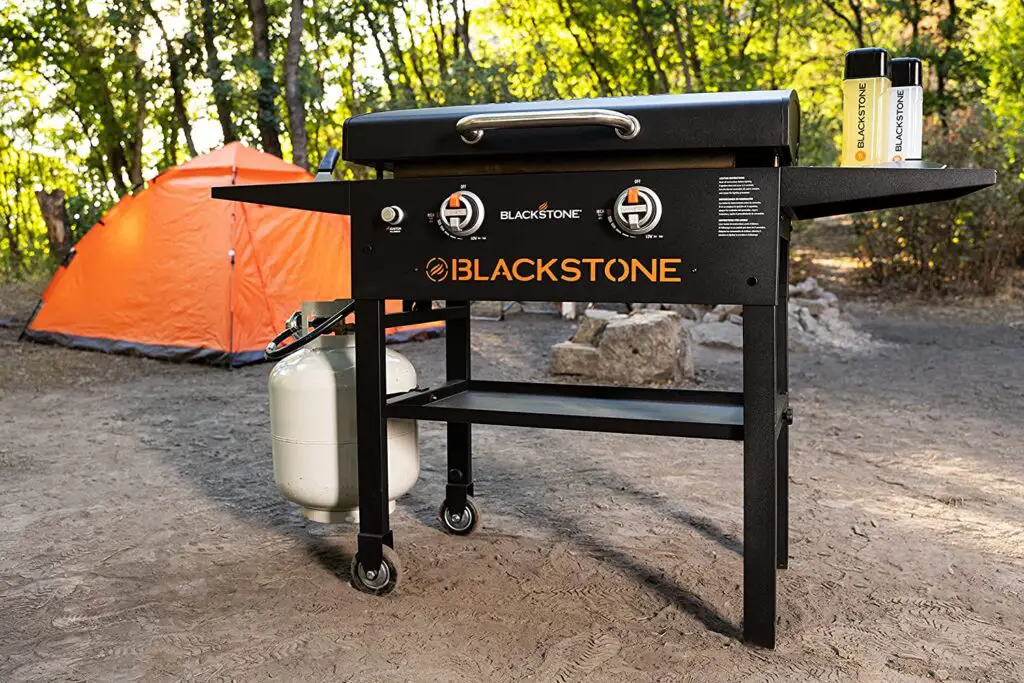 The bottom line is, yes – you absolutely should buy the Blackstone 1883 if you're cooking for lots of people. Even if you're tired of setting up and packing away the same old grill, you're likely to get lots of value.
If you want to buy a simple to use, simple to transport, simple to care for portable kitchen, this is definitely a piece of equipment worth considering. Ultimately, that really is the best phrase for it – it's a portable kitchen right out of the box.
The Blackstone 1883 is super versatile – it can be fully extended to 53 inches and will load up with a variety of foods, organised with handy-to-reach utensils. It's also very easy to clean once cooking is over and done with!
The 1883 is designed with stability, durability and more in mind. The folding legs, for example, make it simple to pack and transport. It effectively takes away the need to rely on the same cheaply-made BBQs.
If you're keen to invest in a BBQ / grill system that's scalable and extendable to your various cooking demands on the go, there are few options better available. The 1883 receives some concern from those buyers looking for cheaper options – but when it comes to flexibility, reliability and sheer elbow room, it's worth every penny.