Cross country skiing is a lot of fun. While it might be something you work up to as a skier who's just getting started with lifts and guides, it's one of the best ways to explore the wonderful slopes and slaloms across the continents. Whether heading to the Alps or sticking in North America, there are plenty of great ways for you to explore the snowy landscape with the right cross country skis and bindings.
If you already have a pair of skis and have been trying out a simple slope or two, then you might already have experience with bindings. These are crucial for binding you directly to your boarding.
Otherwise, you'd be pretty much at the mercy of the elements with two streamlined pieces of wood attached to your feet. This is all well and good, but for the best control and the most security when skiing cross country, you are going to need bindings.
However, bindings for cross country skis can get a bit confusing. In this guide, I'm going to be taking a look at the main types. I'll also take a look at an example of both you can buy online right now, which I've gone to the effort of reviewing for you.
This means should you know which type of binding you need at the end of reading this guide, you can get started with two of the top picks available on the web.
You've probably noticed that there are at least two different types of binding available. These don't dictate any kind of quality. In fact, there is still quite a bit of confusion out there regarding what works best. In this guide, I'm going to put these rumors to rest and to help you understand what you should be looking for in cross country bindings.
Which Skis are You Using?
Before I get into the two main classes of ski bindings for cross country use, I must make it clear that the type of bindings you pick may work best with certain types of cross country ski. This should be pretty easy for you to see and learn more about through the product descriptions you find online.
However, consider whether you are using backcountry or touring skis, at least as a base template. These, as well as Nordic skis, tend to be the most popular choices when it comes to skiing cross country. Backcountry options are short and wide, with metal edges.
These tend to be preferred by those who really want more control on their turn carving, especially when heading downslope.
Touring skis, meanwhile, are narrower than the above choice, but are just as short – at least, compared to the Nordic mainstream. These tend to be wax-free and can use a metal edge like their backcountry equivalents above.
I won't go into too much detail on these ski types as you will likely be reading this with a pair of skis in hand, ready to find the best bindings for cross country. That's likely to be a guide for a different occasion!
Therefore, let's cut to the chase and see what to expect when it comes to the different bindings available. The one thing that DOES matter at this stage is, of course, the boots you wear. More about this a little bit further down in the guide.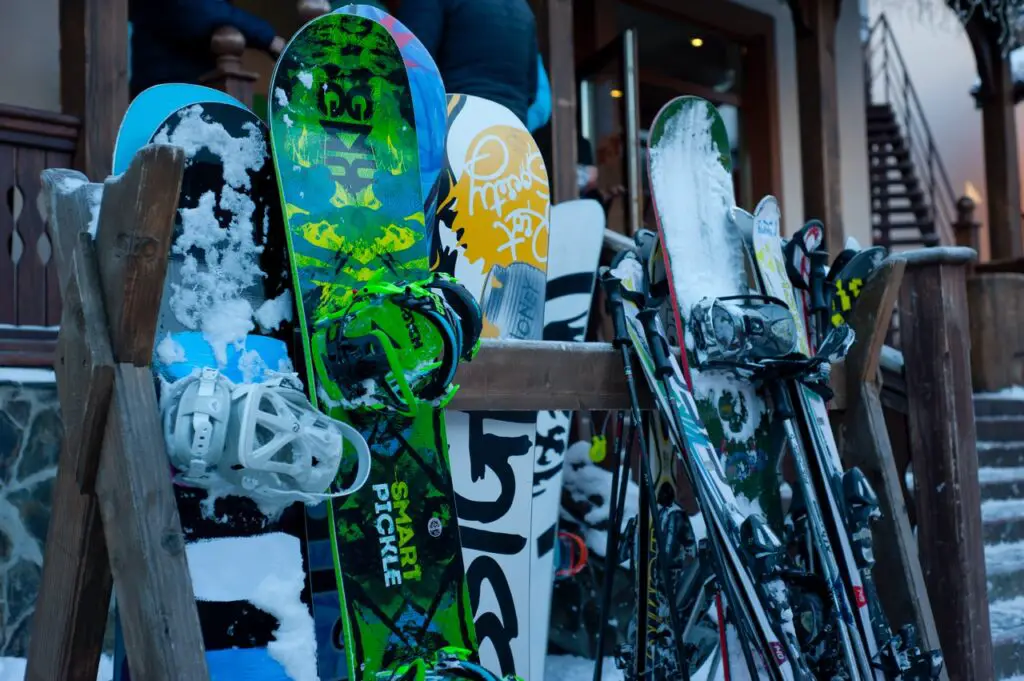 What Are the Different Types of Cross Country Ski Bindings?
Cross country ski bindings are available in two types, NNN and SNS.
NNN stands for New Nordic Norm and SNS stands for Salomon Nordic System. The reason why there are two different types is because only certain bindings will fit to certain boots. When you buy ski boots, you will find that they will come with either an SNS or NNN rating.
This is worth keeping in mind if you are going to ski cross country, because if you use NNN boots on an SNS binding and board, you will be going absolutely nowhere fast.
Bindings, of course, follow the same pattern, regardless of whether they are SNS or NNN. Bindings serve to fix you securely to your skis, meaning that your boots are unlikely to go slipping and sliding around.
The fact is, if you bind the wrong type of boots using the wrong clips, you are going to be left standing without any hope of hitting the slopes.
As mentioned, some bindings work better with specific skis, and it's therefore a really good idea to take a look at product descriptions and marketing before you make a leap into a deal you assume to be good value. Trust me – plenty of skiers, me included, have made this mistake in the past. We all have to start somewhere – take heart!
What is the Difference Between SNS and NNN Bindings?
The main difference between NNN and SNS bindings is that NNNs have multiple ridges, while SNS tends to offer just a single clip.
This really is the main difference. If you're looking at bindings with two parts, it's NNN. This means you'll need the right boots to fit.
However, novice skiers may well be wondering what the real benefit is to using NNN over SNS, or vice versa. The fact is, experts feel there's not much to tell between them.
Both systems simply clip your boots to the boards, keep you safe on route, and give you that little bit of extra power and support along the way. It is pretty comparable to different types of electrical socket you find all over the world. They all do the same thing – they are just set up in different ways!
If you're an experienced skier, you may well have a preference for either SNS or NNN. This might simply be down to the type of boots you prefer! In many cases, it might be worth investing in boots before bindings, but again, there's no real correct answer.
Generally, it's worth leading with boots first so that you can find the best fit, comfort level and purpose. Then, you should hunt down a great set of SNS or NNN bindings, as appropriate to your boots and skis, so that you can safely fasten yourself in and get ready for some cross country fun.
Can I Tell if I Have NNN or SNS Boots Just By Looking?
Yes – you simply have to look at the sole of your boot.
NNN boots, as they use two different parts, will have two distinct grooves in the sole. One central bar in the middle, therefore, will indicate that you have SNS boots.
This is worth knowing if you bought your ski boots long before your bindings, and don't have access to any information which confirms this.
What Are Automatic Bindings?
Automatic bindings allow you to step into your clips which you can then bind at arm's reach with a pole.
Manual bindings, meanwhile, are those which you will normally need to adjust by hand. Some people prefer manual bindings for the added security, while others prefer automatic binding for the obvious – in that you won't have to get up close to secure them.
Again, there are no right or wrong answers when it comes to whether you choose manual or automatic bindings. The choice you make in the long run will likely revolve around what you find most comfortable and most convenient.
SNS and NNN Bindings Available Online
It is really easy to narrow down top SNS bindings and NNN bindings online. However, to help you get started, I have chosen two top products which I think are well worthy of your consideration.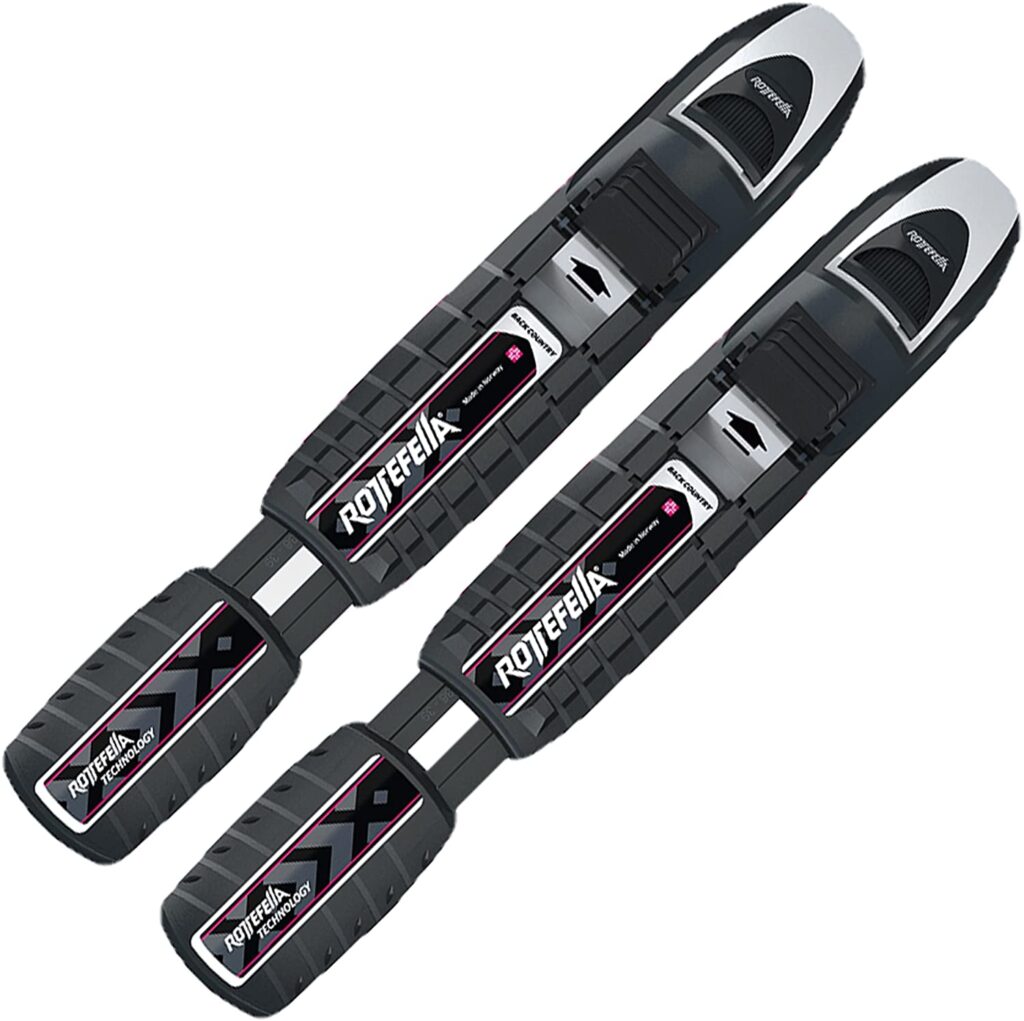 These NNN bindings from Rottefella are lightweight, robust, and will work well with any related Rottefella boot systems. They are well-priced and have a unique selling point – they are backcountry bindings.
Rottefella states that these bindings are the only ones on the market to place to this unique demand, and that they are the strongest available for this type of cross country skiing.
These bindings are built to allow for ease of securing and to support your feet more than average bindings while on the slopes. They are wider than most, which may appeal to those who are looking for a bit more stability. There is also a flat heel plate in place, which Rottefella states helps add to the overall stability and control.
Key Specs: 0.95lbs, automatic binding, NNN, built for backcountry
✅ Pros:
One of few bindings online which are built to withstand backcountry demands
Very easy to fit and release
Some of the most stable available online
Wide binding for added support
➖ Cons:
Won't fit a wide range of boots
💡 While this binding system is likely to be a great choice for those who are looking for a Rottefella system specific to their boots under the same brand, I still think it's a solid choice if you are struggling to retain control while moving around. I think the ridges built into this binding system is fantastic if you really want to start carving properly, though you will need to make sure you have the right set of boots before you get started.

Salomon is a fantastic brand as far as ski bindings are concerned, and these SNS mainstays tend to be among the best in their particular catalog. As mentioned, as SNS bindings, they should fit all boots which fall into this range, meaning that you can just go ahead and step into them to click into place.
As automated bindings, you will be able to just step in, click, and use a skiing pole to manage the rest.
This is a unisex binding solution which is stylish and is also very popular. They have been around for a few years now, but in that time, there have been few other SNS solutions which have worked quite as well. Reviews from various skiers suggest they work amazingly well on older skis as well as more modern options.
Key Specs: SNS bindings, 11oz, automated fitting, unisex
✅ Pros:
Very versatile, ideal for men and women
Should fit most if not all SNS boots
Comes from a solid, reliable brand
Very easy to get on and off
➖ Cons:
Often very popular, can be hard to source
💡 There is a real reason why these SNS bindings are so popular, and I'm right behind all of the customers that have been lining up to buy them. Easy to manage, easy to clip on and off, and workable with even older skis and boots, this is a system that all other SNS binding products really should look up to.
Conclusion
There are no real conclusions to make when it comes to which is better out of the leading cross country bindings. However, as always, the boots you wear will dictate which bindings are going to be on your shopping list.
As mentioned, it is easy enough to check which system your boots will fit into simply by looking at the sole, but if you are yet to buy boots at all, do make sure to look out for SNS or NNN in the descriptions of any products you head to buy.
Ultimately, providing you invest in leading bindings, there should be no reason why you won't expect security and control from your cross country skiing experience. Cross country skiing is likely to need more stability and security than your slalom alternative, meaning it is absolutely worth comparing and contrasting.
Just make sure to remember that you really don't need to compare NNN or SNS. You should be comparing flexibility, ease of use, durability and, of course, price.
Take a look at these factors and you will be ready to hit the cross country trail in no time. Why not take a look at a few of my other guides to learn more about what you could use while traversing the snow-capped countryside?
SOURCES