Marker Griffon 13 ID 100mm Review
When you first head out skiing, there are of course plenty of accessories and equipment you're going to need to keep to hand, as well as the right clothing and gear! However, one thing some beginners might not think about is bindings. The Marker Griffon 13 ID bindings are massively appealing to a wide range of skiers for a variety of reasons – and in this review, I'm going to be taking a look at the system in close detail to help you understand how they work.
Bindings such as the Marker Griffon 13 ID are absolutely essential if you want to stay safe on the slopes. Not only that, but bindings will help to provide you with plenty of control, carving and power over your ski, meaning that it's more than just strapping yourself to a couple of boards and throwing yourself down the nearest snowy piste!
With that in mind, one of the first things you should always consider when suiting and tooling up for skiing for the first time should be bindings.
In this review, I'll be taking a look at the Marker Griffon 13 and analyzing whether or not I feel this system to be the right fit for a variety of skiers and enthusiasts.
The fact is, you're going to need a great all-round bindings system if you want to stand any chance of keeping safe and steady on the snow. Keep reading for my full breakdown on what to expect, and why you might want to place these bindings at the top of your shopping list.
Buyers Guide and Breakdown
Of course – when it comes to any kind of ski equipment, there are always going to be a few key areas that you'll need to compare and contrast. Unfortunately, there are no one or even two bindings systems which fit every single need and demand.
Let's take a look at what you'll need to shop for when buying ski bindings, and how the Marker Griffon 13s might fit into each category and purpose.
Price
Firstly, you'll probably want to consider pricing. On the whole, the price of different ski bindings can and will vary. Generally, you can expect to pay around $200 upwards for a good pair of bindings, should you choose to purchase your own to fit to your skis.
The Marker Griffon 13 ID bindings are no different in this case. From a little bit of research, I've found that the Griffon 13s tend to retail at $200 or more, and while this may seem a little expensive to some skiers, I feel the cost is absolutely worth it if you are looking for durable, dependable control.
Weight Load
When shopping around for ski bindings, you will find that some will accept specific weight loads. Some will have lower weight limits, while others will accept people who are a little bulkier. The good news about the Griffon 13s is that there doesn't seem to be any kind of restrictive scale in place, with the general advice being that they should accommodate people of at least 80lbs in weight.
This is why I and others feel that the Marker Griffon 13 system tends to work well for lighter skiers. It is not always easy to track down durable and secure bindings for lighter adventurers, meaning that you may already have found your perfect ally on the slopes if you're struggling to adjust to a bulkier model elsewhere.
DIN Fit
Naturally, you're also going to need to make sure that your bindings comfortably fit your feet and boots. This means that you are going to need to keep your DIN in mind. Your DIN is your key to finding the right boot to fit your profile and needs – if you've read up on how to choose the right ski boots already, you may already be ahead of the game on this one.
What's great about the Marker Griffon 13 bindings is the fact that it has an impressively wide DIN range, meaning that providing you have a DIN of at least 4 and a maximum of 13, you will easily fit into these bindings.
It's always worth looking for bindings with as wide a range as possible, as these – naturally – tend to be the most flexible and versatile in all that they do.
Brake Width
Without the brake, as you can imagine, you're going to lose complete control. The brake on your bindings will make sure to keep you and your bindings in place even when you're on the trickiest of slopes and skiing endeavors, meaning that it's absolutely paramount you look for a system that offers the right widths.
However, for your brakes to work properly, you are going to need to find the best width for your given skis. Otherwise, you run the risk of investing in bindings with a brake that is far too loose, and as you can imagine, this is not going to be the safest of situations.
Luckily, the Marker Griffon 13 ID adjusts to a variety of brake widths, which does put it ahead of a lot of the pack – as there are bindings out there which will only ever offer a single brake width, or barely any flexibility at all.
Therefore, it would certainly be my advice to look closely at the Griffon 13's specs and check that your specific skis are ideally suited to the brake width system. If not, it's hardly going to be a safe and smooth ride for you moving forward.
AFD
AFD is all about anti-friction. In times gone by, older ski bindings will have expected you to squeeze yourself out of your bindings with some force. Over the years, however, bindings such as the Marker Griffon 13 ID have evolved to enable skiers to easily release themselves without any kind of trouble. This is all thanks to the built-in AFD, or anti-friction device.
The Griffon 13's AFD should let you glide off without much difficulty. However, there are a few reviews which suggest that some people have difficulty stepping in and out of these bindings. These reviews and opinions are always worth considering, particularly if you're usually finding getting in and out of other bindings to be a bit of a pain.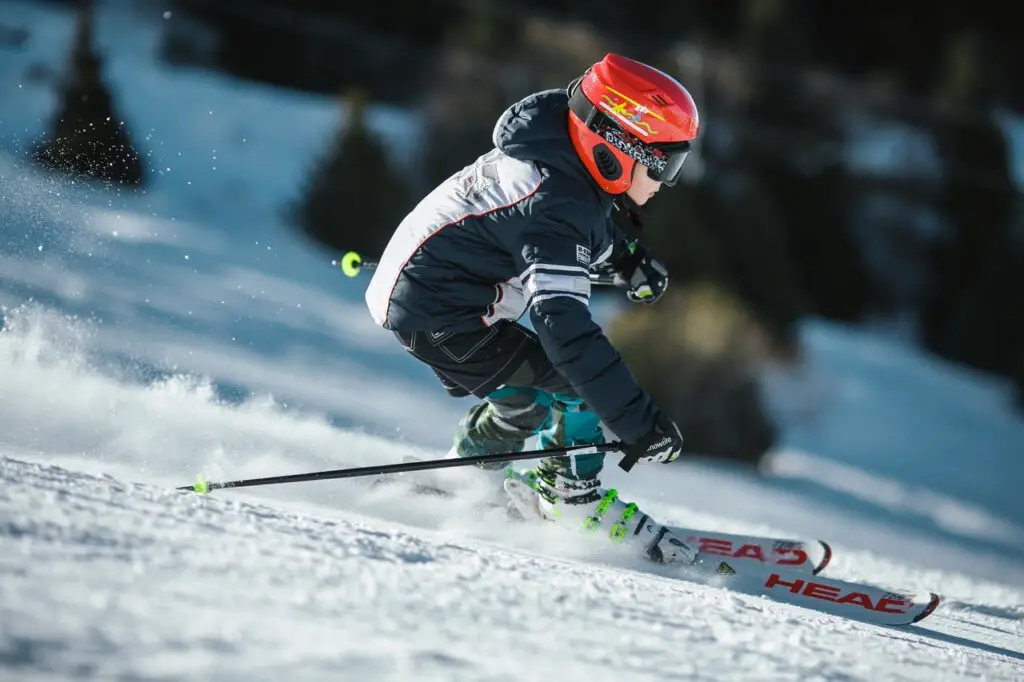 Boot Compatibility
Not all bindings will be compatible with all kinds of boot or shoe. That means you're going to need to look carefully at the compatibility details before you buy, though this shouldn't ever really be that hard to spot.
The Marker Griffon 13 is a bit of a rarity in that it actively welcomes most types of boot, from AT to Alpine and even GripWalk boots. Therefore, this is a system which is positioned to offer a catch-all experience, meaning that if you are looking for sturdy, durable catch-all bindings, the Marker Griffon 13 might just give you the flexibility you need.
It boasts a unique ID system, which means that – at least according to the marketing – you can step into these bindings without fear of losing compatibility.
I feel that these bindings are some of the most adaptable and versatile, but of course, your own opinion and experience may vary.
Therefore, where possible, I'd advise you take a closer look at this system in person, if you can, making sure they are the best fit for you and your skiing needs in the long run.
Energy Transfer
This side of the bindings buying guide can get a little complex, so I'll keep it as simple as I possibly can. One main reason for people investing in bindings in the first place is not just surrounding safety, but is surrounding power, control, and energy transfer. By energy transfer, I'm referring to the force you exert from your body into your skis so that that they move and carve in the directions you want them to.
This is why, when you start looking around for different ski bindings, you will find that they all have different pieces of technology and unique toe and heel designs. This is all in the name of giving you back that little more control and force.
The Marker Griffon 13 ID offers pivot heel and toe caps which should give you a little bit of extra energy and power to transfer directly into your skis. This isn't always easy to achieve when you're using your skis' default bindings, meaning that the innovations in place here will likely appeal to anyone who may have trouble carving and gliding.
Quick Overview

Now that we've broken down what you should be looking for in ski bindings, and how the Marker Griffon scores in each category, let's take a look at some final thoughts and ratings, to make sure you're looking at a bindings system that is likely to support you in the years of skiing and drifting to come.

What immediately strikes people about the Marker Griffon 13 ID is the fact that it is something of a premium bindings system. However, you certainly get what you pay for. This is one of the most flexible and versatile bindings system available to skiers right now, meaning that in my opinion, this is always going to be a safe investment if you have the money to hand. Surely your safety on the snow is worth it?
This is a bindings range which seems to be positioned towards the intermediate market, however, I feel the flexibility and the energy transfer alone will appeal to beginners. This means even if you are completely new to the idea of bindings, you may well find that the Marker Griffon 13 ID supports you as you start getting used to the slopes and the hikes.
These are very durable bindings, and most skiers shouldn't find it too hard to clear away snow or to hike through the drift. There's a great AFD in place, though, as mentioned, some reviewers feel that getting in and out of the bindings may not be as easy as it could be.
That said, this is a very reputable manufacturer, and the SOLE ID system alone should give you plenty of confidence in being able to slide any boot into the bindings and to get moving on the piste.
✅ Pros:
Extremely versatile in brake widths and boot types
Easy to control and clear with
Pivoted towards lighter skiers
Extremely resistant and durable over long periods
➖ Cons:
There are some concerns over ease of removal
FAQs
Do I Really Have to Buy Ski Bindings?
All skis should come with bindings of some sort, as they are essential in fixing you to them! However, many people prefer to invest in separate bindings for added control, power, and even for extra security.
Therefore, some may see bindings as an upgrade rather than a necessity, but as you grow into skiing, you may find that you need separate bindings all the more.
Are Bindings Really Worth the Price Tag?
Yes. The more you pay, generally, the better the manufacture you'll receive. This doesn't always follow, but when it comes to safety, security, control, and power on the show, you're likely going to find that you need to make a fair investment.
There are some models which are more expensive than others, and needlessly so, so make sure you shop around carefully and read what other skiers have to say.
Should I Go for a Fitting?
In this day and age, it's easier than ever to confidently buy bindings for your skis and boots online.
There's plenty of information out there! However, if, for example, you're unsure of your DIN, or if you really want to make sure you get the most comfortable fit for your skiing control, it's always worth heading into a ski shop for advice. Why not?
Conclusion
I feel the Marker Griffon 13 ID bindings are likely to appeal to skiers of various skill ranges and experiences. Therefore, they are certainly worth a closer look if you feel that your default bindings are no longer up to scratch, or if you could use a little more support in the snow.
SOURCES