Introduction to Top 5 Easiest Tents to Set Up by Yourself
Are you tired and struggling to set up your 'ancient tent'? Here, in this short article we review 5 of the easiest tents to set up by yourself in no time.
After a long hike or an outdoor festival, there is nothing worse than struggling with tent pegs and ropes.
Whether you are new to camping or taking a short overnight trip and don't want to waste time, an easily set up tent relieves the stress.
But the next step is finding the best one. Scrolling through the endless options is a daunting task in itself, but this guide will uncomplicate the process.
The first time I took a long camping trip, we walked for many miles with heavy bags on our backs. Once getting to our destination, it was dinner time and our legs were aching.
All we wanted to do was lie back, eat and fall asleep. But first we had to put up a tent that seemed even more complicated as the sun was beginning to set. I knew if I had taken the trip alone, it would have taken double the time.
I made sure that on my next camping trip, I would find a better option.
– Buyers Guide
How to Choose the Best Tent to set up by yourself.
Many things impact upon the comfort of our camping experience. So, what should you be looking out for?
You need a tent that gives us all the pleasures of the outdoors without the drawbacks. This is why we looked for tents that were well insulated and ventilated. The main purpose of a tent is a place to rest your head, but it should be a comfortable shelter too. Unpredictable weather can ruin a camping experience if the tent material is not properly durable and waterproof, so this is high on the list of our priorities.
As for speed and ease of ease of construction, we looked for a tent with some kind of inbuilt frame that won't require several people to hold, secure and adjust it. Not only that, it has to dismantle and fit away without too much strain and not be too heavy to carry. These points make the difference between a pleasant end to your trip and a tiring one.
5 Best Easiest Tents To Set Up By Yourself for A Stress- Free Trip
Here, we have collected the 5 best "Easiest Tents to Set Up By Yourself" to make your next camping trip as relaxing as possible. Pros and Cons are included so you can tailor a selection to your specific needs.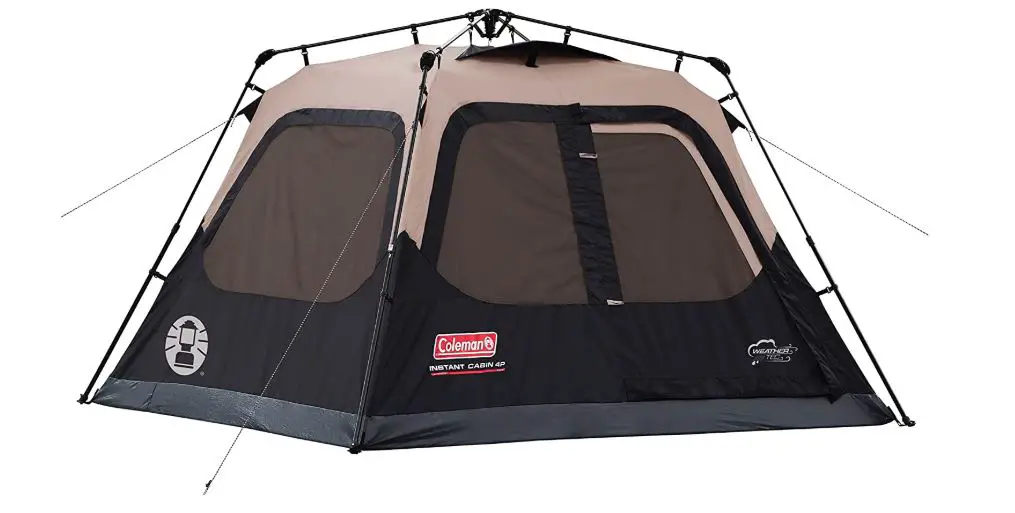 This product advertises a setup time of only a minute. Due to its pre-assembled poles, all you need to do is unpack and secure the tent. This great feature makes it effortless for even a beginner camper. From a well-established brand, this tent provides a number of exciting features. Its quick set up doesn't compromise sleeping comfort. It includes Dark Room technology to block out 90% of sunlight and 10% of temperature buildup. Additionally, its materials protect against wet and windy weather. Suitable for family holidays and big events too; it is available as a 4, 6 or 10 person tent.
💡 This product is quick to put up with pre-assembled poles, and with an expandable carrying bag: easy to transport too. Weather and Dark Room tech make for a peaceful sleep.
✅ Pros
Fast, foolproof setup
Simple to put away
Spacious Interior
➖ Cons
A separate rainfly needed in more extreme weather
Too bulky for backpacking
A well-insulated and spacious tent which is easy to put up: perfect for a festival or other event.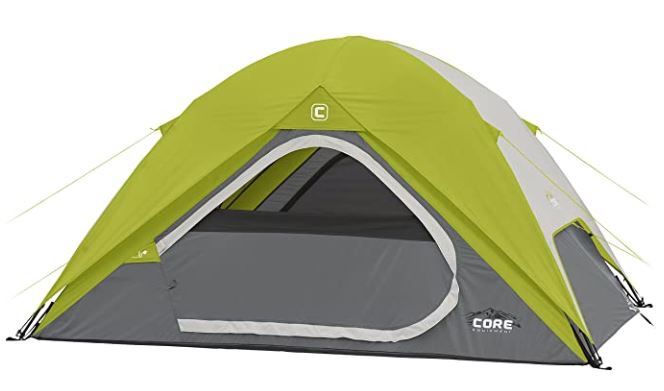 Core Equipment is a small team of outdoor enthusiasts, who take pride in making equipment that makes camping more accessible for all. This tent can be set up immediately: taking just 30 seconds. All you need to do is unpack, unfold and click into place. Although on the higher end of the price range on this list, this product features everything you need for a fun trip. It is fairly light to carry, rapid to assemble and airy with an adjustable ventilation system. A four person tent that could cosily fit a family or accommodate a queen size mattress with some space.
💡 This tent has a number of excellent practical features: an electrical access cord, waterproof technology, useful hook and pockets. It includes rainfly, tent stakes, and a carry bag.
✅ Pros
Easy setup
Functional size
Electrical cord access port
➖ Cons
Poles and zipper may become stiff with use
A practical tent which is fully functional for fun, easy camping trips.
Related Reviews: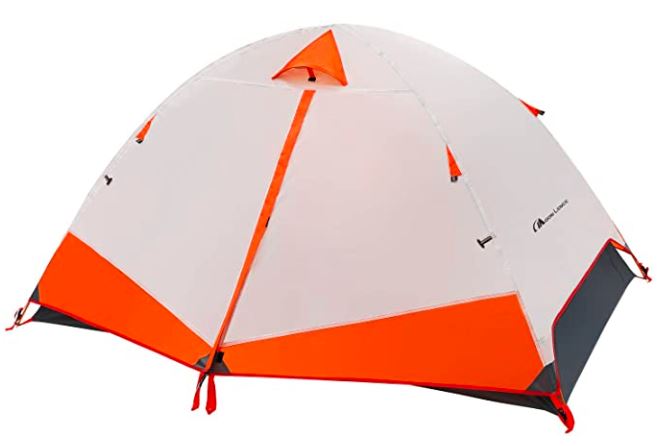 MOON LENCE has created a lightweight and durable tent which makes it suitable for a variety of outdoor activities. It weighs just 2.35kg so can be carried some distance on hiking, fishing or backpacking trips. While not claiming to have an "instant" setup like others in the list, it still only takes around 10 minutes to assemble. With two shock cord connecting poles, as well as 11 alloy pegs and guy ropes, this tent might not be as quick but it is stable. Its great value for money and adaptable to a variety of environments.
💡 Double layered, UV and 2000mm water resistance protect this tent against changing weather. Moon Lence also offers a lifetime warranty.
✅ Pros
Lightweight
Sturdy and adaptable
Value for money
➖ Cons
It may take a little more effort to put up for a complete beginner, but for a hiking trip, this tent is a fantastic value choice.
Teton Sports quick tent is a good mix of quick set up and comfort. Similar to our last recommendation, it weighs just 2.35 kg and so is easily portable for more vigorous trips. Its rectangular design best fits one person spaciously or two people cosily. The Teton sports camping cots make for a pleasant and relaxing sleep above hard ground.
💡 Less than one minute set up and light to carry for one person. This tent protects against the elements with mesh material and a waterproof rainfly.
✅ Pros
Unique and comfortable Camping cots
Light and portable
Quickly set up by one person
➖ Cons
Higher price range for a small tent
Teton's tent is attractive for its fun features: camping cots and a full mesh top that lets you view the night sky.
Bessport Lightweight Backpacking tent is good value for money for a spacious 2 person tent. It has a height of 42 inches and fits two X Long twin size airbeds. Bessport offers great customer service in that if you are unhappy with your tent you can receive a refund or replacement. This tent takes just a few minutes to set up and ranging from 2-10 minutes to disassemble on average.
💡 Bessport's lightweight backpacking tent includes weather resistant features such as: seam taped construction to prevent leaks, a full coverage rainfly, alloy stakes and reflective guyline.
✅ Pros
Spacious 2 person tent
Inexpensive price
Lightweight material
➖ Cons
Tent stakes may need to be replaced after using in hard ground
If an inexpensive and fairly spacious tent is what you are after, Bessport offers a good mid-range option.

FAQ's:
Is it light enough for hiking?
MOONLENCE, Bessport and Teton Sport Tents all are light enough for hiking.
Is it spacious?
Coleman Cabin Tent is the most spacious 4 person and Bessport is pretty spacious for 2.
Does it come with a footprint?
No, a footprint should be purchased separately.
Does it include pockets?
Yes, all tents on this list include pockets.
Conclusion
These tents are highly rated by campers and whether you are going to a festival, event or hiking trip, we know there is one for you. Points to consider are your budget, and whether comfort or practicality is the highest of your concerns. While some may take a few more minutes to set up, they all contain technology which makes them highly accessible for a smooth camping trip.