Garmin 645 vs Garmin 735XT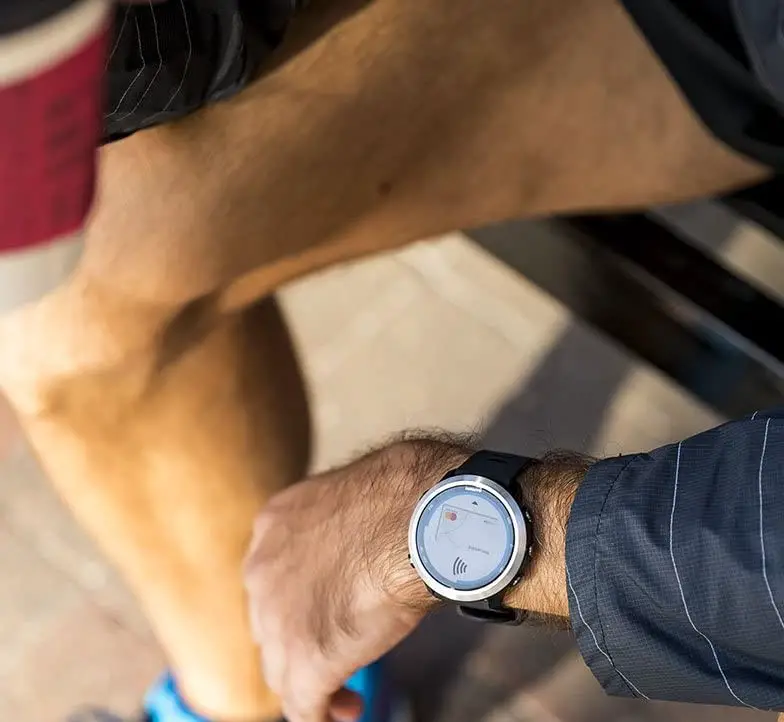 If you're as active as I am, chances are you've already thought about setting yourself up with some kind of fitness or sports watch. There really is no better way to keep track of your macros and vitals in this day and age.
Whether you are taking to the slopes, are running regularly or simply want to keep track of your heart rate while out and about, there are more than a few running trackers to compare.
In this guide, I'm going to be looking at two of the best running and exercise watches available from a top brand in the market – Garmin.
Specifically, this guide will be all about Garmin 645 vs Garmin 735XT. With so many different brands and watch models out there already, it can sometimes get a bit tricky to work out which system is likely to be best for you in the long run.
So – putting aside those Apple Watches and Fitbits for the time being, I'm going to be zooming in on why I think Garmin helps to provide some of the very best in running and fitness trackers online and offline right now.
Before you go ahead and invest in either of these watches, make sure to keep reading for the full lowdown, and a blow-by-blow comparison of everything you'll need to know.
Please note – for the purposes of this guide and review, I've considered the Music iteration of the Garmin 645, which is the premium model of watch available in the line.
Buyers Guide and Breakdown
When looking at any kind of fitness or running watch for the first time, there are naturally going to be a few different factors and features that you'll need to compare between. Interestingly, when considering Garmin 645 vs Garmin 735XT, there are a few big differences that might just make or break your pick.
Here's a quick rundown of what you can expect from either watch, and where each of the models makes significant gains and losses.
Pricing
Yep – pricing is always going to be a big factor when looking for any kind of fitness watch. Generally, the going rate tends to be anything upwards of $200, with this largely applying to everything but the Apple Watch series (which, in fairness, does offer a bit more than just a fitness tracker).
The Garmin 645 is, therefore, something of a premium choice. At its basic RRP, you are always likely to be paying more than $300 for the privilege. However, as you'll soon discover, there are plenty of reasons why there's a larger tag than you'd expect for your average Fitbit.
In comparison, however, the Garmin 735XT is a little more affordable at a general retail tag of $250 or more. There's a difference in $100 here, making 735XT the winner on price, but there might be a reason for that.
Battery Life
Naturally, if you're going to be strapping your watch on for long runs, you're going to need it to last a fair amount of time. Thankfully, even something as impressive as the Garmin 645 will run for up to seven days as a basic smartwatch.
However, when you ask it to run in full GPS with music playing alongside, you will likely only get five hours at a time from each charge.
The Garmin 735XT offers a little more battery life with 11 days' standard for smartwatch mode. Even with GPS on, you can still get a solid 14 hours per charge.
Niche Functionality
Ok – so, let's take a look at both of these watches in a little more detail, in terms of what they are actually built to do. The Garmin 735XT is, for all intents and purposes, a runner's watch. Its main selling point lies in the fact that it offers enhanced tracking for runs, jogs, swims and more.
It'll even calculate how long you spend on the ground, as well as how long your stride is. What's more, you can connect it up to a heart rate monitor that's sold separately for more insight. It boasts a staggering number of analytics, meaning that it's a runner's dream if you really want to crunch data alongside.
The Garmin 645, however, tends to move a little more towards being an all singing, all dancing smartwatch. Specifically, the Music edition not only benefits from the running analytics and connectivity that the 735XT offers, but it also offers an impressive music system and smarter display. It's entirely possible for you to connect your Bluetooth headphones to this watch and to download and play more than 500 songs. You'll also be able to sync from streaming services, too.
The Garmin 645 also offers Garmin Pay, which means that you can link your watch to a card or bank account and pay contactless with your watch. All in all, the 645 seems to offer more in the way of functionality and pizazz, though as we've discovered, that tends to be at a much higher price tag.
Wi-Fi Connectivity
When you want to sync your music or connect up via app, it makes sense that you'd want to connect your watch up via Wi-Fi. What seems to let the 735XT down is the lack of any kind of Wi-Fi syncing. Luckily, the 645 arrives with this as standard.
That said, both watches allow you to sync via app, to download new faces and widgets, and to turn smart notifications on and off. Therefore, there's not that much to tell between them otherwise at this stage.
GPS Functionality
Of course, the best fitness and running watches are going to need some form of GPS functionality on-board. It's the best way to track, map and print your run analytics, meaning that you're always connected via satellite and clear to spot.
Both watches make fantastic use of GPS, meaning that you shouldn't have any problems tracking yourself either on route, or reading your analytics and reports at the end of your sessions. There really isn't that much to tell between the two here, either, though I feel the 735XT wins out purely based on the fact that it lasts longer in GPS mode.
Activity Tracking and Heart Rate Monitor
Another staple of all fitness watches will be heart rate monitoring and activity tracking. After all, monitoring your heart rate is one of the best ways to ensure that you are burning enough calories!
Both watches under review here offer advanced heart rate tracking through pairing up with a separate monitor, which means that you should feel confident in the data it delivers from run to run.
My advice would be to seriously shop around for accessories and add-ons that fit both devices before you decide on which one is likely to work best for you. It's another good way to clearly budget ahead for the best fitness watch for your needs.
Display and Look
Lastly, let's talk about looks. Both watches here offer a modern style and a handful of buttons which are very easy to get used to. Therefore, I believe even complete newbies to fitness tracking won't find getting to grips with these watches particularly difficult.
Both watches benefit from a full color screen, which means it should always be easy to see what's going on, even when you are mid-run. The 735XT's display is a tiny bit larger than the 645's, though even the most discerning of wearers would really be hard pushed to tell the difference.
However, what is notable about the Garmin 645's display is that it will likely work best for people who are jogging and running in broad daylight. It's specifically listed as having a screen that's easy to see in the sunshine, meaning that the more expensive model might just inch ahead at this point.
Garmin 645 vs Garmin 735XT: Which is the Winner?
If I had to pick an overall winner for the best running watch out of the 645 and the 735XT, I would sway more towards the 645.
While it is more expensive, and less likely to hold out on battery than the 735XT, it does offer a few more features and widgets which just clinches the deal. The presence of a music player, Wi-Fi connectivity, Garmin Pay and sunshine display really does put it out in front.
That said, the Garmin 735XT is still a really solid, reliable fitness watch. I believe it'll work wonders for most runners, swimmers, and cyclists. It's a great all-round choice, and in most fitness watch battles, it'd come out on top.
My advice would be to consider your budget and whether or not the added bonuses the 645 Music offers are worth you investing the extra cash for. I'd say it's a decent investment, and it does hold an edge over some of the leading Apple and Fitbit tech you'll find elsewhere.
Garmin 645 vs Garmin 735XT: Up Close
While we've considered the battle between Garmin 645 vs Garmin 735XT thoroughly, it's worth examining the key stats between both watches in a bit more detail. Let's dive in and take a look.

The close winner in the battle, the Garmin 645 Music offers you simple functionality for listening to music on the go, fantastic Wi-Fi connectivity, and plenty of options for you to customize and change up.
Not only that, but it's great for crunching numbers and data for various activities, meaning that if you are all about the data you get from your runs and cycles, this is the watch for you. It's an advanced fitness tracker which pairs up with various accessories, too, meaning that you can really push it in new directions if you want to.
Key Features: Space for 500 songs, Bluetooth Connectivity, Garmin Pay, Wi-Fi
✅ Pros:
A fantastic watch for people who want to listen to music on the move
Very easy to customize and adjust to your own tastes
Very easy to use in broad daylight – responds well to glare
Lots of data and analytics available – great for data lovers
➖ Cons:
A little more expensive than your average fitness watch
Battery life can drain quickly
💡 I love the Garmin 645 for the simple fact that it makes fitness its focus, while still ticking plenty of boxes in terms of simple smartwatch functionality. It's a solid, all-round device, though do keep an eye on your battery level while running on full GPS!
This brilliant smartwatch and fitness tracker just missed out on winning the contest, but it's a really reliable and impressive little device all on its own.
Sleekly designed and with an impressive battery life, it's simple to customize and you can use it to track your movements when walking, running, cycling, swimming and more. What's more, you can connect it up to various accessories and monitors for even more data.
Key Features: 14 hours battery on GPS, App syncable and customizable, Analytics for various sports, Full color display
✅ Pros:
Very well priced for the technology you get
Built to withstand all kinds of exercise and conditions – very durable
Very easy to use, even for beginners
Battery lasts well under GPS mode
➖ Cons:
Not as advanced as other watches for the price
💡 The Garmin 735XT is one of the brand's best entry-level fitness trackers. I love the fact that you can really get to grips with this watch in just a few minutes, meaning that in any other matchup, its intuitive display and functionality would likely help it win through.
Conclusion
There's not that much to tell between these watches if you really know what you're looking for. Both are great buys, though if you really want that music experience, go for the 645. If battery drainage is a problem, then the 735XT is the one to buy.
In the Garmin 645 vs Garmin 735XT battle, it's clear that the 645 wins out – but what we learn otherwise is that Garmin really is a force to be reckoned with in a sea of fitness trackers elsewhere.