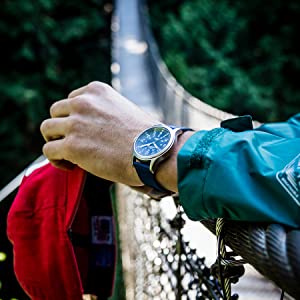 What defines an "outdoor watch" is debateable. Beyond all the minor factors that can be considered, ultimately what it comes down to is whether your timepiece has the ability to endure everything that the great outdoors can throw at it. Thanks to this, the watches that fall into this category are varied to say the very least.
The models on this list range from simple wrist watches with a robust exterior to devices capable of measuring everything from your heart rate to the distance that you have covered over the course of the day. Due to this there is sure to be a watch to suit all needs, whatever they may be. Whether its specifically for an epic multi-day trek or simply for your day to day lifestyle.
Despite their stylish designs, superior capabilities and incredible longevity, these watches are available for under $100. Much of what separates one from the other is simply personal preference. Do you prefer digital or analogue displays? A plastic band or a nylon one? Are you prioritizing practicality or technological superiority?
Regardless of the kind of watch you are looking to purchase, one thing is for sure – these watches are built to face the great outdoors. They are sturdy and reliable but with a sleek design, meaning that their use doesn't have to be limited to just when you are adventuring.
Having sampled all of the outdoor watches listed below, each very much deserves credit for what it provides the wearer. Thanks to the variety of the products below, there is sure to be at least one that will appeal to everybody. Due to this they will inevitably become a valuable companion for you every time you leave the house.
What to look out for with an outdoor watch?
Every detail from the design of the watch face to the materials used to the look and feel of the controls must be considered. To say that there are numerous factors that can be taken into consideration when buying one of these watches is an understatement. But these can be boiled down into more generalised groups of attributes that can separate a good outdoor watch from a great one.
As with any watch, everyone will have their own personal favorites. But these outdoor watches are closer to a military watch than your typical wrist watch. They are built for those that live active lifestyles, whether it be hiking, cycling, running or any other outdoor activity that they enjoy. As such, it is important to consider the factors below to suit your personal needs regarding how it will be used.

Durability – A key quality in a watch that is built to be used outside. Obviously you'll need a watch that can face the same conditions that you do, whether if be adverse weather, _ or the various bumps and scratches that come with outdoor activities. These watches are designed to last and combat whatever your adventures may throw at you.
Style – This is a matter of personal taste. Whether you prefer an analogue style watch or a digital, a classic design or a modern one, a silicon band or a felt band. These are the questions that you will have to ask yourself when deciding which watch suits your tastes best. As with regular wristwatches, the amount of variety between these outdoor watches is immense. Thanks to this, there is sure to be a watch that will fit the bill.
Additional features – So varied are the subtle extras available on an outdoor watch that they have to be bundled into such a category. These can vary from something as simple as a stopwatch to something as fantastically complex as a built in GPS tracker. These are the features that are far from essential but add a little character and uniqueness to a watch that often attract the eye of the buyer.
Best Outdoor Watches for Under $100
Given the stoic durability and technological capabilities of these watches, it is quite shocking that they can be purchased for as little as $100. One would typically consider such a time piece to set them back by almost double that amount. Yet there are those that not only perform when needed in the toughest conditions but are available for an extremely reasonable price. These outdoor watches fall into the category of a premium watch without the premium price point.
Going beyond the capabilities of a typical watch, with their strong frames and durable designs, these adventure watches are built to face everything that the great outdoors may throw at you. Whether you are looking to go running, hiking, BMXing, climbing or any other heart pumping outdoor activity, any of the watches below are sure to prove a valuable and reliable asset on your adventure.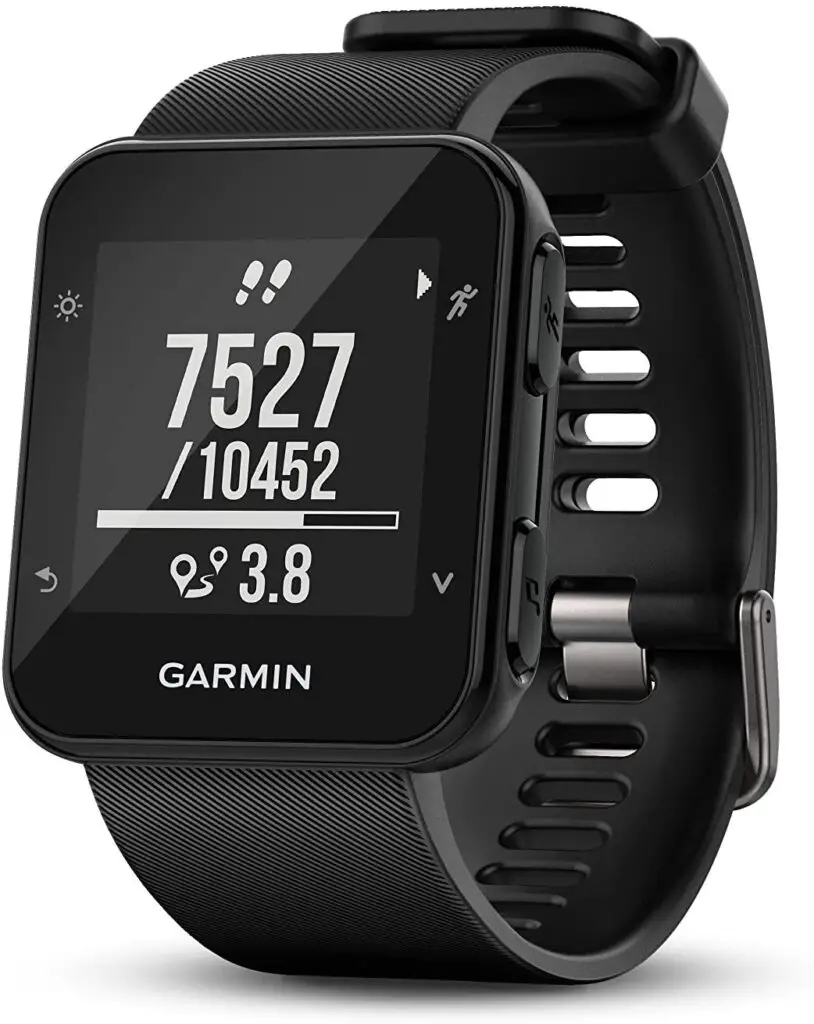 Perhaps the most hi-tech watch on this list, the Garmin Forerunner 35 was specifically designed to suit the needs of the keenest runners on the planet. The watch includes a step counter, optional heart rate monitor, GPS tracker and even the option to join Garmin Connect, an online community where you can face up against others in your area. As well as this, the watch can connect to your phone, displaying your messages for you whilst you're on the move.
Garmin is a company that knows a lot about building a strong, reliable piece of technology. The company slogan – "built to last" – says it all. They specialise in GPS devices, smartwatches and even aviation and marine products. It truly is a company that knows all about what you need when navigating the sparsest spots on the planet.
Pros and Cons:
✅ Pros:
A wide array of extra features.
Sleek and modern design.
Connects to your other devices.
➖ Cons:
Heart rate monitor costs extra.
Key Specs:
💡 The true standout factors of this watch are the extra features, which take it beyond being just an adventure watch and place it more in the category of an incredible gadget that fits on your wrist. It is a brilliant piece of tech to have when exercising outdoors as it not only measures your progress but also lets you keep in touch without the hassle of bringing your phone with you. One for the gadget lovers.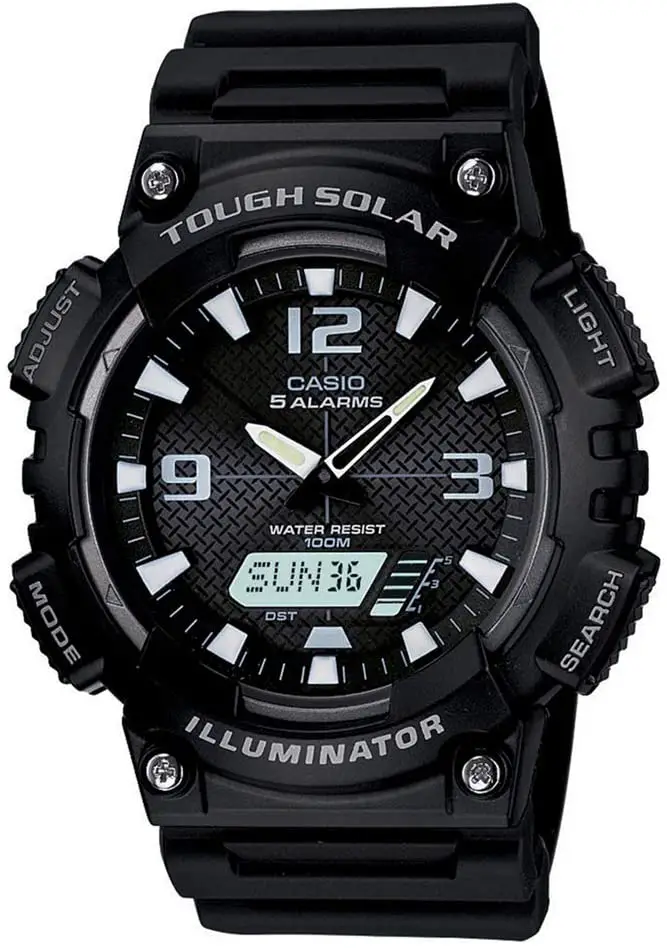 This outdoor watch by renowned watchmakers Casio is a brilliant collaboration of classic and modern styles. The traditional analogue watch face is surrounded by a more contemporary casing, complete with buttons and digital date display. The watch is water resistant up to 100m, making it suitable for swimming or snorkeling.
The Casio Men's Solar Sport Combination Watch is also fitted with a solar rechargeable battery, meaning extended battery life. Its hands glow in the dark and the LED light means that the digital display window can also be seen once the sun sets. Fitted with all the classic tech expected of a wristwatch, it has a stopwatch, countdown timer and 5 daily alarms.
Pros and Cons:
✅ Pros:
Solar rechargeable battery.
Elegant combination of old and new styles.
Water resistant up to 100m.
➖ Cons:
LED backlight only illuminates the digital window.
Key Specs:
💡 This Casio watch is a great buy for under $100. It does everything that you expect from a watch to a very high standard but also has a robustness necessary to fall into the outdoor watch category. With a battery life of 10 months on full charge combined with the solar rechargeable battery, the longevity of this device's power levels is a testament to its ability to endure.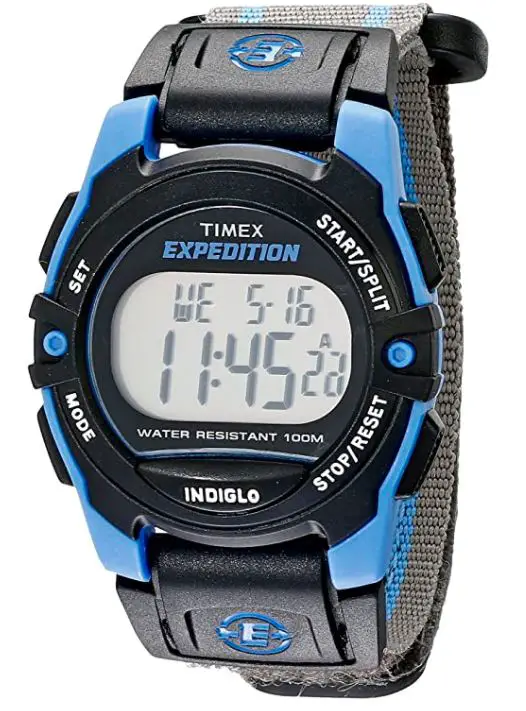 The Timex Expedition Watch is fitted with an adjustable nylon strap that is guaranteed to comfortably fit the wrist of the user. The digital display is large and clear, showing the time, date and day behind an acrylic lens that is part of what gives the watch its ability to resist water up to 100 metres. Thanks to this it can be used when swimming without sustaining any water damage.
As with every Timex watch, this model comes with decades of watch making expertise behind it. One of the brand's more modern designs, it still carries the feel of a classic watch. The Timex Expedition has a built-in chronograph function, which helps you trace and compare your personal best times, as well as an Indiglo backlight, allowing for it to be used regardless of the time.
Pros and Cons:
✅ Pros:
Clear and all-encompassing digital display.
Useful backlight.
Extremely good value for money.
➖ Cons:
Band isn't always suitable for larger wrists.
Key Specs:
💡 This is a brilliant, affordable outdoor watch. A great all-rounder, it is also available in a number of different colour combinations so you can pick which style best suits you. Its strong build, water-resistant design and lightweight structure make it a brilliant outdoor watch to take with you when venturing outside.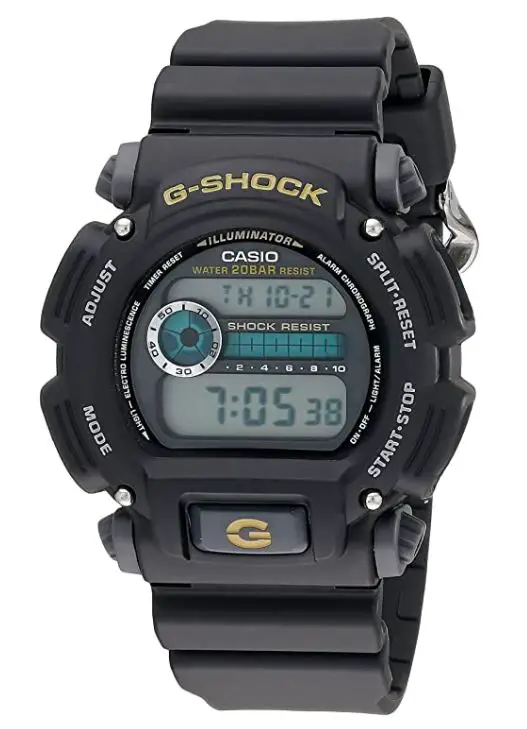 Part of the Casio G-Shock range, a selection of watches specifically designed to be used outdoors, this model has an excellent resilience to damage. Its shock absorbent construction protects against heavy impacts and extreme vibrations, making it one of the tougher adventure watches on this list. The digital display shows the time, day and date and is programmed to follow the calendar automatically until the year 2039.
Designed to suit the requirements of outdoor enthusiasts, it can be used for all manner of outdoor activities. G-Shock watches are trusted by some of the most extreme individuals on the planet, from the military to professional surfers. The 20-bar water resistance and electro-luminescent backlight with afterglow means it can be used in all conditions, day and night.
Pros and Cons:
✅ Pros:
Extremely well prepared to face the toughest of conditions.
Clear display with helpful backlight.
Up to 2 years battery life.
➖ Cons:
Slightly heavier than the other watches on this list
Key Specs:
💡 A great sport watch option. It is specifically built to endure everything that an active lifestyle might throw at it. The Casio Men's 'G-Shock' Quartz Resin Sport Watch is a great option for active types and like many others on this list is suitable for swimming thanks to the high water-resistance levels. It does everything expected of a good digital watch but can endure far more than any typical watch ever could.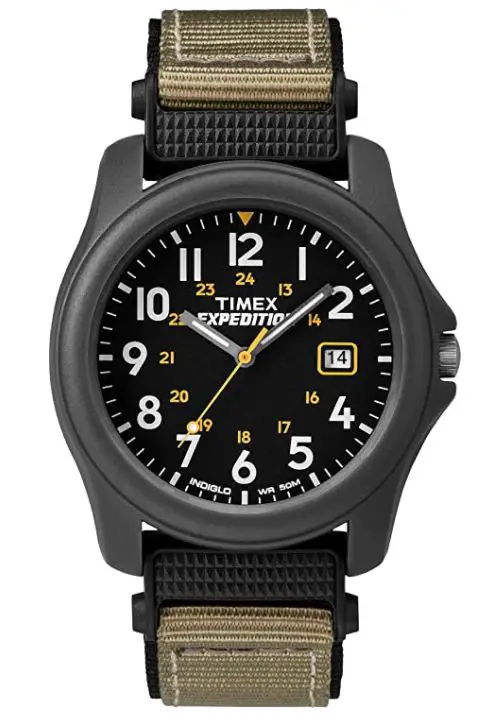 This is the most traditional watch on the list. Stripped down to the classic essentials, the analogue display and simple black and grey colors give the Timex Men's Expedition Acadia Full Size Watch a retro feel. However, thanks to the robust build expected of an outdoor watch this model falls into both the classic watch and sports watch brackets.
The Indiglo light-up dial and crisp, clear numbers allow the watch to be used in the dark. Water resistant and equipped with scratch-resistant glass, it is designed to go wherever the wearer does without any fuss. The fact that the battery can last as long as 10 years goes to show how resilient this outdoor watch really is.
Pros and Cons
✅ Pros:
Extremely long battery life.
Very stylish classic design.
Scratch-resistant watch face.
➖ Cons:
Doesn't have any flashy extra features.
Key Specs:
💡 This is the perfect choice for someone looking to buy a vintage styled watch that can take on the trials of an active lifestyle. Less extreme than the other outdoor watches on this list, the Timex Men's Expedition Acadia Full Size Watch is a brilliant example of classic taste and doing all the basic requirements justice without getting too complicated.
Conclusion
Each watch on this list has its own merits. Whilst some are more technologically advanced whilst others are in the bracket of more stereotypical watch designs, all are built to last. The sturdy materials and intricate designs used make sure that these adventure watches can be worn regardless how you are looking to spend your day.
When deciding which outdoor watch you should buy, there are a number of things to take into account. What is most important is buying a watch that is not only suited to your tastes but is also suited to the outdoor lifestyle that you lead. For example keen swimmers may want to get a watch that has a greater water-resistance level, whereas climbers may opt for a watch with greater shock absorbance. Each watch is different but those listed above each have something for everyone.