If there's any protection you're going to need when snowboarding, it's protection and safety for your head. Yes – there are plenty of pros out there who like to risk it and not wear any kind of headgear, but think about it this way – it only takes one opportunity for you to have an accident that could leave you with permanent head damage.
That's why there are so many different twists and variations on snowboard helmets in the modern age. Believe it or not, there are some helmets out there which pump Bluetooth audio through to your ears! For everyone who's ever been snowboarding and has missed the chance to listen to some top tunes on the slopes, these really help to provide a great all-around solution.
It may not seem as though Bluetooth snowboard helmets with speakers are the safest choices on paper – but believe it or not, these helmets are sometimes some of the safest around. When looking for a Bluetooth snowboard helmet with speakers, you should always compare products with safety in mind as a priority.
In this guide, I'll take you through the best Bluetooth snowboard helmet with speaker options available on the market right now. Before that, however, let's take a look at what these helmets could actually bring to your snowdrift adventures.
Do You Need a Snowboard Helmet with Speakers?
It's a good question to ask! If you're not the sort of snowboarder who is too concerned about listening to music on the go, then it might not be an option you really have high on your list of priorities. That said, it's safe to say that people who do snowboard a lot with headphones or earphones in might find an in-helmet solution to be altogether easier to get used to.
For one thing, investing in a helmet with Bluetooth built-in means that you are going to be able to take physical headphones and cables out of the question. If you're already going to wear a helmet – and you really should – then you're taking another piece of tech out of the equation. The less tech you can take with you, the better.
What's more, a Bluetooth snowboard helmet is likely to be more comfortable for you than, say, having to cram in a pair of headphones or earphones underneath your helmet in the first place. This is likely to get a bit awkward over time, and may even cause repetitive pain and strain, too.
Therefore – while a snowboard helmet with Bluetooth and speakers isn't crucial, it's likely to be a great investment if you care about listening to music on the move.
Best Snowboard Helmet with Speakers: What to Consider
When looking for a snowboard helmet with speakers for the first time, it's tempting to think that they will all offer the same tech and the same purpose. However, there are actually more than a few things which separate the biggest brands and choices online.
When looking for a snowboard helmet with Bluetooth speakers or otherwise built-in, I wanted to make sure that I was to benefit from solid sound engineering and plenty of comfort. However, if you are pretty technology minded in the first place, there might be a few specifics worth considering which you can filter down when comparing and contrasting.
As always, when looking into the following factors and features, make sure to read up on what verified buyers have to say. These buyers will be just like you – and they will likely give you an alternative view on the main product marketing as to what's likely to work best.
Here are a few things you should certainly consider when looking for speaker helmets you can use while snowboarding.
Wired or Bluetooth Connectivity?
The choice between wired and wireless when on the move should be pretty obvious. It's not unheard of for people to use wired earphones or headphones while snowboarding but think about the restrictions you might have to deal with. Bluetooth helps to keep things flexible, meaning that all you're going to need to do is pair up your device with your helmet.
That said, there is the argument that a wired helmet solution and wired audio isn't dependent on battery life. One of the biggest hassles will be when you are busy snowboarding and find that your helmet is running out of charge! Therefore, it makes sense that you should be looking for a helmet which has a good amount of battery life per charge.
Ultimately, the best choice in terms of wired or wireless is going to revolve around your own comfort and needs. However, for my money, I would certainly be looking for Bluetooth as standard. Otherwise, you're going to be seriously restricting yourself on the move.
Functions
There are going to be a few Bluetooth helmets out there which offer you more than simple music or audio connectivity. Again, these aren't essential, but they might just make all the difference when it comes to the perfect fit for you in the long run.
For example, you may find that there are some Bluetooth snowboard helmets which double as headsets for calls, too. The last thing you're going to want to fumble around with on the slopes is your smartphone. If you want to make and receive calls while out and about, you may be able to find helmets that let you control these functions from the unit itself.
What's more, there are some Bluetooth helmets out there which let you control your music from the unit, too. Again, fumbling around for your phone while on the move probably isn't the best idea. Therefore, looking for a helmet with remote music control is always a good idea if you want your experience to be as smooth as possible when you're trying to focus on your boarding!
Details
Of course, the finer details of your helmet are going to impact on what you choose to buy. By details, I'm referring to factors such as fit and comfort, as well as build and look. Your helmet needs to be something you're going to feel comfortable wearing for hours at a time, and not only that, it's going to need to have a safety certification of some form or other. This should be easy enough for you to spot in the product description, and if not, you'll be able to read up on what makes a safe helmet through other online guides and instructional videos.
There are plenty of details which will differ from helmet to helmet. Make sure to check out what's important to you and to read up on what verified buyers have to say, too.
Sound Quality
If you're serious about investing in a Bluetooth helmet, then you're likely going to care about the quality of sound you receive in return. This should be easy enough for you to shop for if you know what you're looking for in terms of tech specs. However, what's most important is that you look for a helmet which isn't going to completely distract you. Yes, it's safe enough to listen to music while snowboarding, but you are still going to need to keep your wits about you.
This is why there's always going to be a fair balance you need to strike when looking for sound quality. Crisp sound with a solid EQ and profile is all well and good, but you are never going to do well with a speaker system that completely overpowers outside noise. This is asking for distraction!
Follow what other people say – does the helmet you have your eye on give you much confidence in terms of user reviews? Are you able to try out a helmet with speakers before you buy? This is likely to be a great way to gauge whether or not it's got the right profile for your needs. Not everyone likes having their heads blown off, even when it's music they actually want to listen to!
Protection and Fit
Do make sure to find a Bluetooth helmet that fits! While you may be focusing on the technology as a priority, comfort is a basic element. I'd advise you try to on a helmet before you buy it if you can. Otherwise, try and shop around for helmets with adjustable straps and fittings. These will likely be very comfy to wear on the move, and what's more, they shouldn't be too hard for you to get comfortable with.
As mentioned, safety should be reasonably easy to compare. After all, there shouldn't be any snowboard helmets out there for sale which don't pass at least some kind of safety test! However, do look for CE stickers, at least – as these will show you that your helmet has been tested for quality and safety.
You can also invest in a helmet with an adjustable liner, which will not only help to make things more comfortable for you, but which will offer you more protection against the elements. Ventilation, too, is hugely important. If you have a speaker system built into your helmet, you may be at even more risk of falling prey to overheating.
Therefore, try and shop around between helmets which have clear venting and holes to relieve some of the heat that's likely to build up while you trek around. Just because you're hitting the slopes, doesn't mean things aren't going to warm up beneath your helmet!
Our Picks for the Best Bluetooth Snowboard Helmet in 2020
Ok – now that we've taken a good look at what you need to consider when shopping around for the best Bluetooth helmets, let's actually take a look at what I've found to be the best options for your money online right now. Feel free to look at the following helmets in a little more detail, and if you can try before you buy, definitely make an effort to!
Product 1: Wildhorn Drift Snowboard & Ski Helmet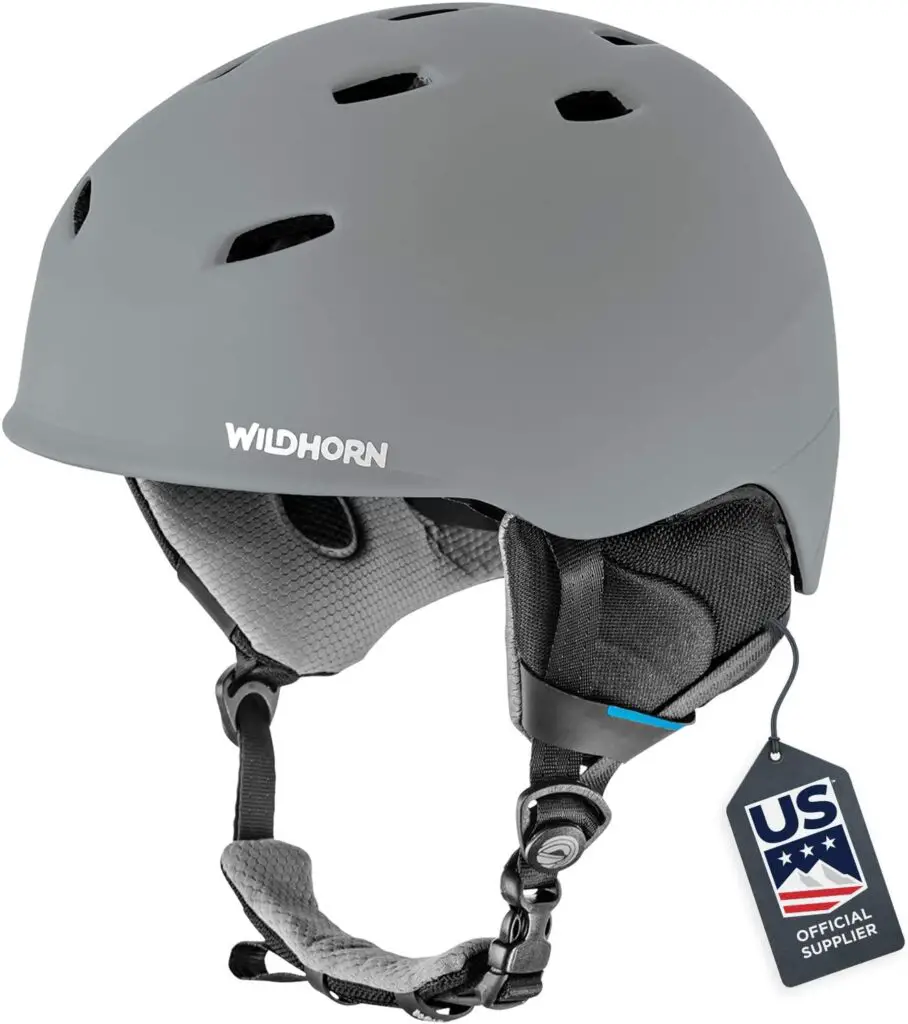 This chunky yet stylish snowboard and ski helmet is a great asset to anyone looking to stay safe on the slopes. In fact, you have the professional backing of the US ski team's main supplier. This helmet has ear pads which are Bluetooth compatible, and what's more, there's unique built-in ventilation design to help reduce overheating and sweat while you're on the slopes. It's also impressively lightweight for the look.
Key Specs: VNT venting, available in three sizes, fine adjustments
✅ Pros:
Easy to link up and to listen to audio through via Bluetooth
Available in three standard sizes for ease of fitting
Very flexible and easy to adjust
Available in a range of styles and looks
➖ Cons:
The look may not appeal to everyone
💡 I like this Bluetooth snowboard helmet mainly for the fact that it comes with stacks of comfort. Its unique, patented airflow and ventilation system really does set it apart from the pack. However, there's lots to be said for the safety and protection standards, too. It's backed by US ski professionals, so you know your head is in safe hands!
Product 2: K2 2018 Phase Pro
This imposing-looking helmet is light, compact, and easy to adjust. It's got an adjustable interface and easy customization on offer as standard, and what's more, the vent system and wrap liner will surely help to keep things cool and comfortable while on the slopes. Of course, you'll also benefit from built-in speakers, as well as a mini mic, which means you can speak and listen as much as you like. It's easy to connect devices up as you see fit.
Key Specs: Wrap liner, lightweight build, built-in headphones
✅ Pros:
Easy to connect music devices and smartphones to built-in speakers
Really lightweight – great considering the look and protection on offer
Range of looks in a striking, modern style
Really easy to vent and customize as you wish
➖ Cons:
May be expensive for some people – it's a premium line
💡 While this helmet may be the 2018 iteration of the line on offer, it still holds up to this day. For my money, it's one of the easiest snowboard helmets to connect up to devices, and it's also one of the most comfortable and best-vented. These are all great things to consider – and while it may be a little more expensive than some of the other music helmets out there, it's certainly worth the investment.
Product 3: POC Obex Pure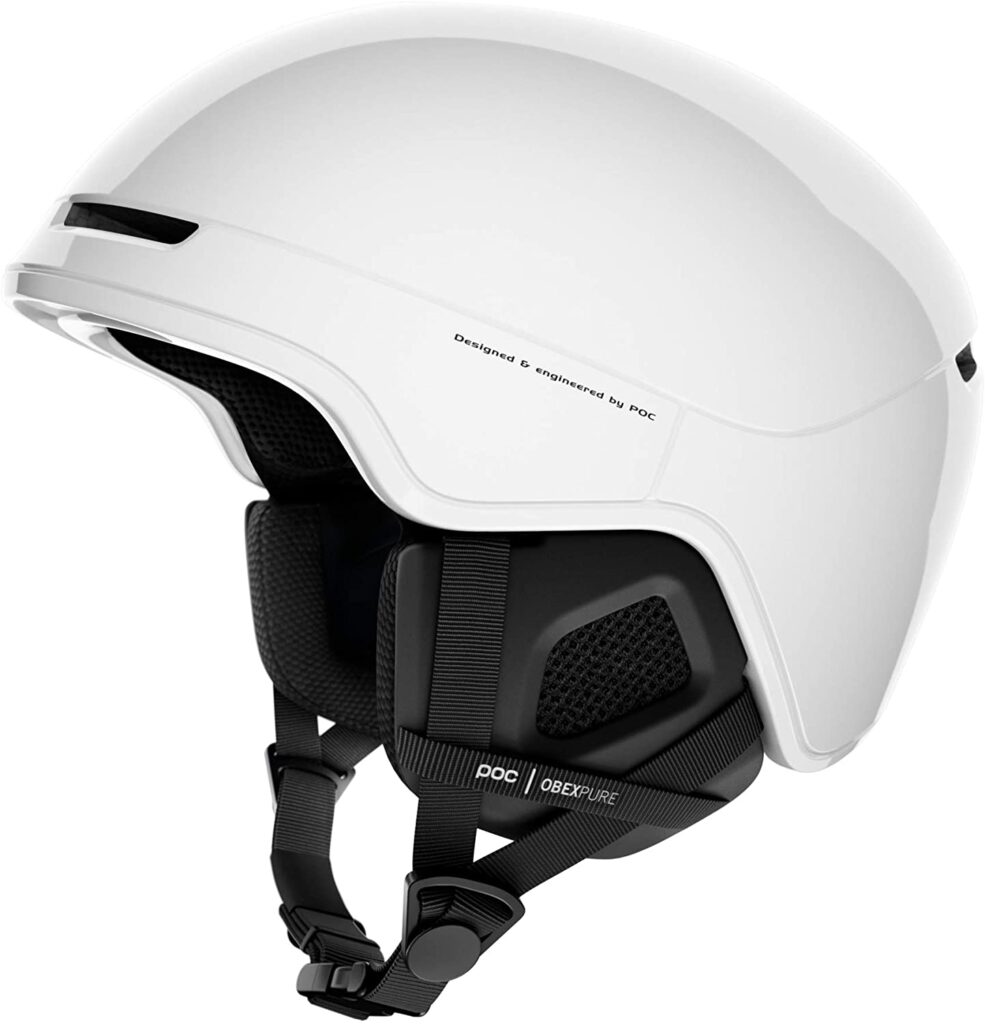 This flexible, striking helmet is set to offer plenty of flexibility and protection on the move. Available in a range of colors, styles and fits, this helmet functions with ear pads, also designed and offered by POC, which you can use to listen to music and other audio on the go. It's also impressively lightweight and minimalist, meaning that there are no fussy features or points which are likely to get in the way of your snowboarding.
Key Specs: EPS liner, POC pads compatible, PC shell
✅ Pros:
Clean, minimalist design – great for snowboarders who care about style
Well-protected with a PC shell
Compatible with a variety of other POC products and services
Easy to ventilate and reduce heat flow
➖ Cons:
Ear pads don't come with the helmet – meaning you have to buy them separately
💡 This POC helmet may be a little more specialist than some of the other picks you'll find online, it's still worthy of your consideration. It's well-designed for protection against all knocks and scrapes. I also like the fact that it is so cleanly designed – one of the best-looking helmets on the market.
Product 4: AKASO Ski and Snowboard Helmet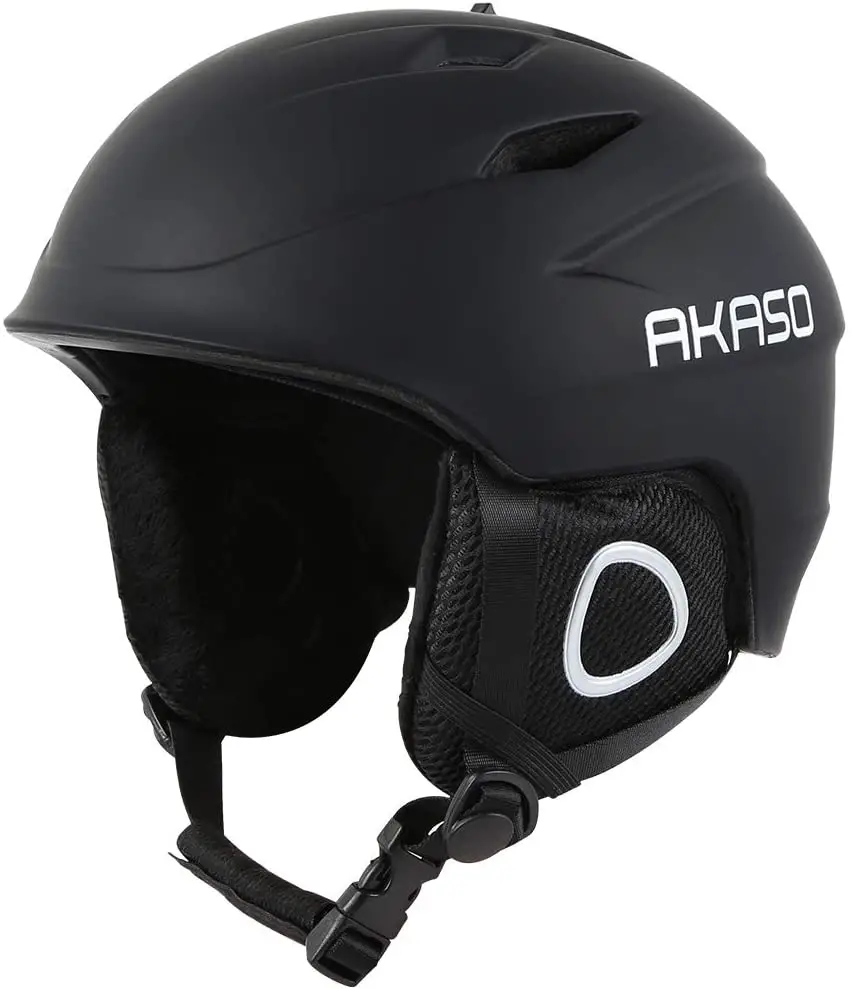 This budget helmet option holds lots of hidden strengths and benefits. For example, it's easy to control your ventilation on the move, and as you'd expect, you can listen to your music and other audio through the helmet, too. You can even take the pads and liner out as you wish, meaning that you can clean them down and adjust them if you care about fine-tuning the heat. You'll also be able to secure your goggles, too.
Key Specs: Vent slides, removable liner and pads, goggle securing
✅ Pros:
Very reasonably priced – one of the best budget helmets
Nice and easy to take pads out for cleaning
Ventilating is easy through a quick slide
Liner absorbs impact impressively well
➖ Cons:
Looks a little cheap and clunky
💡 This affordable helmet is going to be a great choice for any snowboarder looking for a cheap way to listen to music while sloping around. What's most impressive to me is the removable liner and pads, which are really simple to clean down.
Conclusion
Not everyone is going to be shopping for a snowboard helmet with music built in – but if you do like listening to tunes while hitting the slopes, there are plenty of choices out there for you to pick from.
Please feel free to take a look through my top picks in this list, and as always, trust what verified buyers have to say! Don't just strap on awkward headphones and earphones for the sake of it.
SOURCE: