Ever been on a snowmobile before? If you have, you'll already know that it can be a bit of a thrill ride! They are great for getting you from slope to slope, and what's more, there might be no better way for you to take in some of the best snowy landscapes that North America has to offer.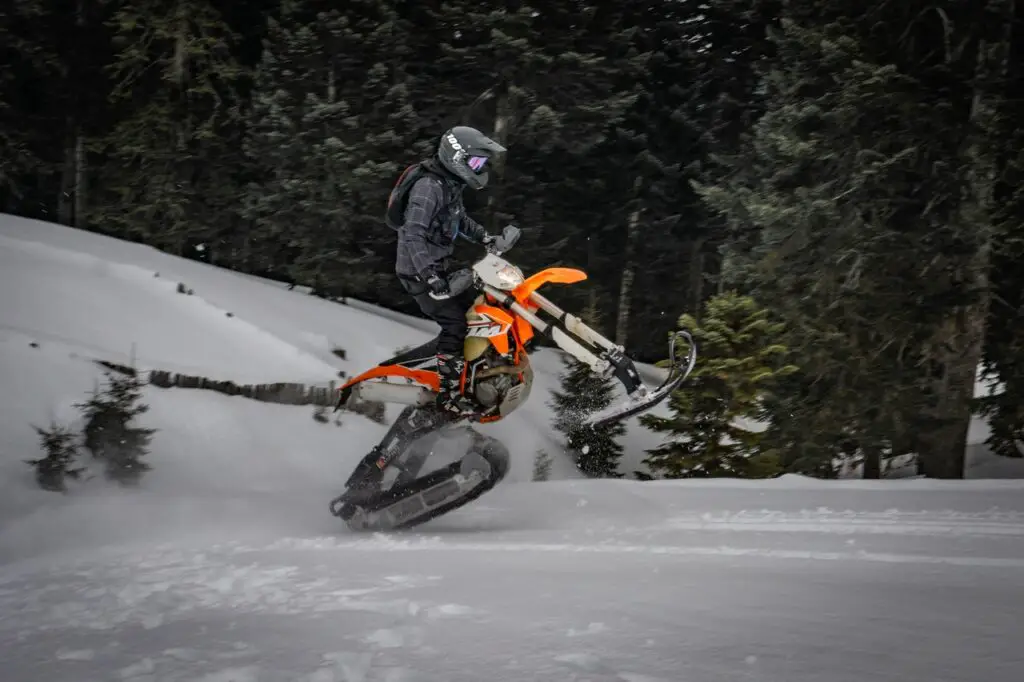 However, you're going to need to make sure you have control over all of your belongings and treasured items! Depending on where you're traveling to and from, you're likely going to need a fair stack of supplies and provisions to hand.
That's why I've put together my complete guide to the 10 best snowmobile backpacks of 2020. These backpacks are likely to save you a lot of headaches and hassle when you're scooting around in the drift. They are designed to hold all manner of items and to withstand water, spray, and low temperatures.
Buyers Guide
Believe me, I spent a lot of time looking around for a suitable snowmobile backpack the first time I took to the slopes. I'd heard all kinds of horror stories from people who had lost items while riding around on snowmobiles, and what's more, I just didn't want to risk damaging anything important on route.
That's why I can safely say that a standard bag of backpack isn't going to cut it when you go traveling on a snowmobile. I've ranked the 10 best snowmobile backpacks of 2020 below. However, before I start taking you through my top picks, let's consider a few factors and features you're going to want to compare when shopping around.
Volume and Space
When looking for snowmobile backpacks, this is always likely to be a big variable. If you have lots of important or sensitive items you want to safeguard while traveling, the more volume you have, the better. However, do also remember that the bigger the bag, the heavier it's going to be. Looking for padding and ergonomic design alongside.
Do also keep in mind that volume isn't always going to dictate that you're buying a great value backpack. It means that you can fit a lot in, but you're also going to need durability. Unfortunately, there are some bags which, while offering lots of volume, won't take much weight.
Fitting
There are different snowmobile backpacks out there for different bodies, and different users. For example, you'll find that there are some backpacks which are better suited to broader people, and even some which are better suited to younger riders.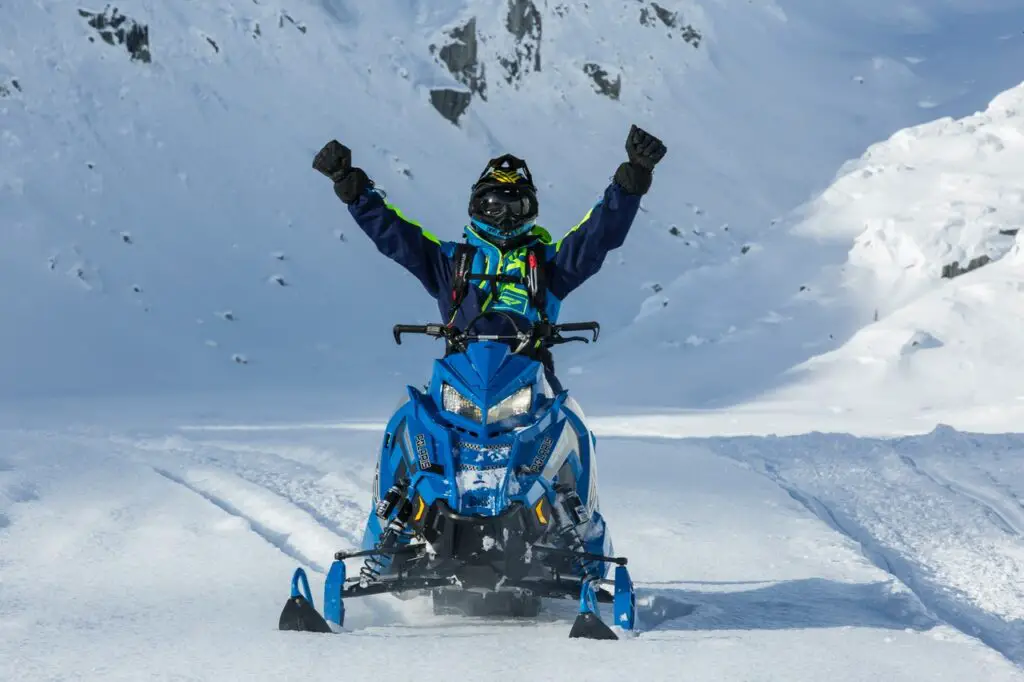 Therefore, don't immediately assume that all backpacks you look at are going to be one size fits all. At least, look for backpacks which you can comfortably adjust, if you can't find a backpack that's going to fit your precise profile.
Pockets
Anyone who's ever bought any kind of backpack before will know that pockets are everything. The same really does apply to snowmobile backpacks. Look not only for backpacks with plenty of pockets, but those with special zones for you to keep drinks bottles in, and even smart devices. You're going to need a backpack that you can easily reach into and pick from while you're riding around.
More pockets doesn't always mean you're looking at the best value backpack around, but providing they are well-positioned and durable, there are no reasons why you shouldn't make this a primary point of comparison.
Material
As you can imagine, snowmobile backpacks are variously built in different materials. Nylon tends to be a popular choice as it is fairly resistant against the elements. It is also comfortable, stylish, and durable. Of course, there are other backpacks which boast different materials and makes, meaning you really need to take each case as it arises.
However, be sure to look for material which is at least waterproof in the deep freeze, which should be fairly easy for you to spot both in backpack descriptions and in verified buyer reviews. It's these details you are going to need to keep in mind.
Straps
Straps, of course, will help you to keep things secure and comfortable. It's all well and good to assume that a basic backpack will do enough for you when riding a snowmobile. However, is a standard backpack or rucksack really going to stand up to strong winds and icy breezes? Maybe not. You're going to need to buy a backpack which helps to keep everything in place.
For example, you will often find backpacks for snowmobiles which have shoulder straps for extra comfort and security. You may even find one or two packs which have straps that you can fit around your middle, too. If you're going to be riding at high speeds in blizzard conditions, you're going to need to make sure your backpack sticks with you.
Zippers
Zippers too, of course, are ideal for security. These will help you to secure your accessories and items while on the road, and what's more, they should be easy to reach and easy to use. The problem with investing in Velcro backpacks for snowmobile use is that, while great for securing pockets in placid weather, they are not going to keep closed in extreme weather conditions.
A good zipper is one which is tight to close and smooth to open. Again, this is something you should keep an eye out for through buyer reviews online. It's a good way to find out whether or not a backpack is going to be secure enough for your needs.
Padding
If you want to wear your snowmobile backpack for a long period of time, it's going to need to be comfortable. Again, it is easy to assume that standard backpacks and rucksacks will do enough. However, when you're driving along on a snowmobile in sub zero temperatures, the last thing you are going to need is an awkward backpack pressing into you.
You should make sure to look for backpacks which offer plenty of padding both in the back as well as in the straps. This should be fairly easy to spot, and again, buyer reviews will help you in this regard, too. Above all, look for backpacks with ergonomic design and support.
Reflectors
One of the first things you should look for when traveling in the snow is a reflector. Visibility in high drift is always likely to be low, meaning that any reflective material or reflector you can attach to your backpack will be of huge benefit.
You may find that there are some snowmobile backpacks which have reflective stripes built into the design, while others will have reflectors that you can attach and remove whenever you wish. Essentially, if you are going to take your backpack into the deep white yonder, it makes sense to be seen.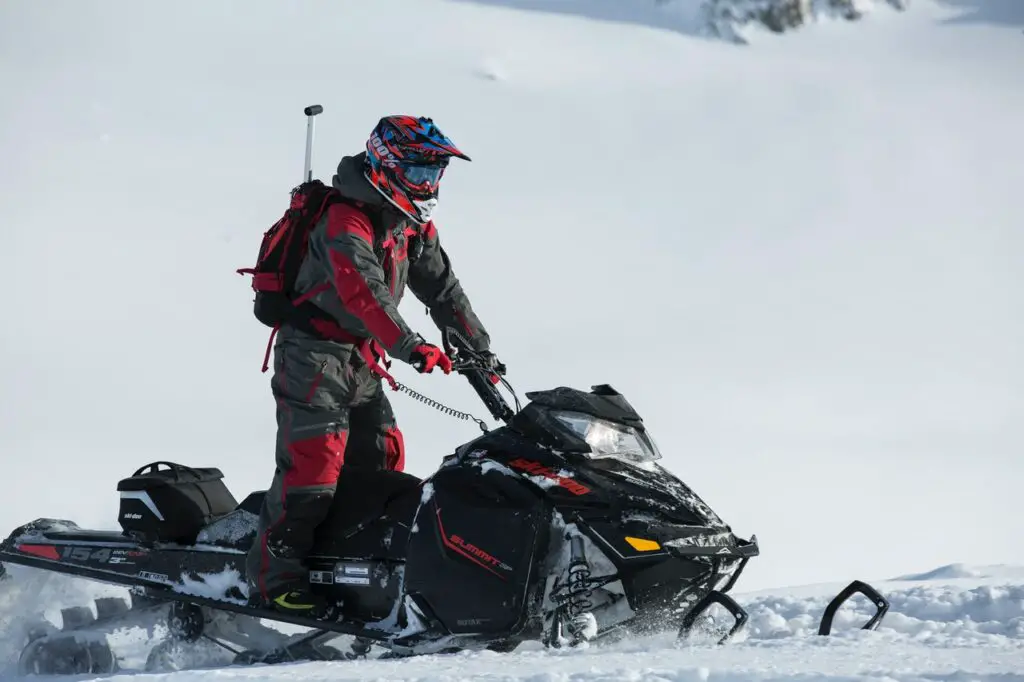 Here are the 10 Best Snowmobile Backpacks for 2020
Keeping the above in mind, I've taken a look for the best snowmobile backpacks for 2020 and have found a variety of innovative looks and designs. Why not take a look through the following, read a few buyer reviews, and see what appeals to you the most?
Product 1: Tomshoo 35L Travel Backpack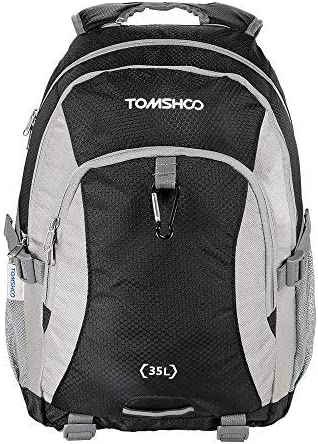 This nylon backpack is a great, compact choice which actually has more space than you will likely need on the road. It has a nice, thick backing, and it's one of the most durable backpacks on my list. With scratch-resistant nylon and webbing built-in, this is one of the most versatile and reliable snowmobile backpacks for 2020.
Key Specs: 35L volume, 30kg load bearing, multi-functional, pressure relieving straps, three compartments and bottle pockets
✅ Pros:
Lots of volume – enough for most snowmobile users
Sponge backing will help to keep things comfy on the road
Plenty of handy pockets and compartments
Lightweight yet heavy-duty bearing
➖ Cons:
Not the best-looking backpack, only available in two style
💡 I like this snowmobile backpack for the simple fact that it's a great beginner's choice. It's got plenty of volume, it's hard-wearing, and it should hold pretty much everything you want to take with you. It's great for multi-purpose use, too.
Product 2: Mammut Neon Light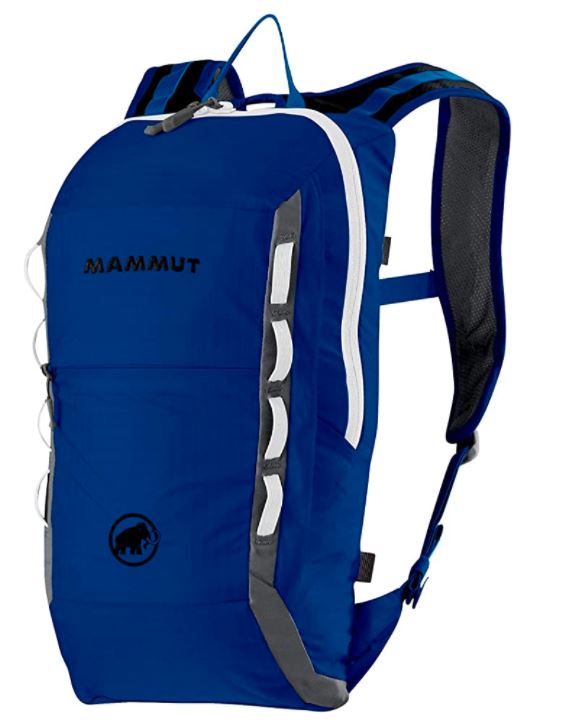 This colorful range of backpacks will help to keep you easy to spot in the drift, and what's more, it's adaptable to hydration units, meaning that you can easily attach water bottle and more to make sure you're never thirsty on the move. It comes with a flexible waist belt, too.
Key Specs: Many colours, 12L volume, hydration compatible, removable belt
✅ Pros:
Looks great – plenty of style choices here
Neat and compact enough for most people
Flexible in terms of belting and strapping
Easy to hydrate with
➖ Cons:
A little expensive for the volume trade-off
💡 This is a great snowmobile backpack for the simple fact that it's so flexible and easy to get on and off. There are bigger backpacks out there, but versatility and ergonomics are just as important as volume.
Product 3: Teton Sports Oasis 1100 Hydration Pack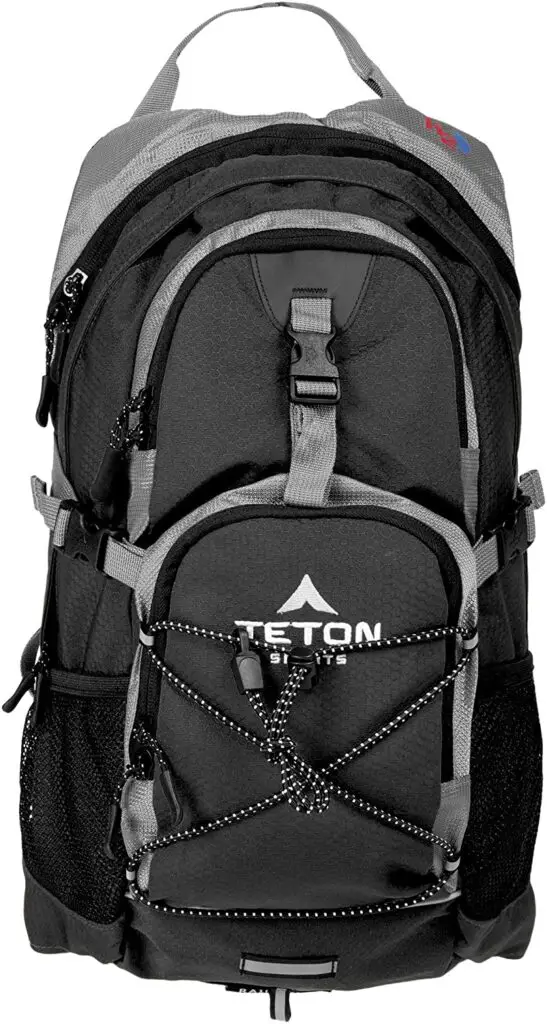 As the name suggests, this backpack is all about hydration, which means that it is effectively a portable water bladder for you to use when you're on the move in the deep snow. This great-looking backpack is really well-priced and is customizable to various wearers, meaning you don't have to worry about looking for a specific size or fit.
Key Specs: 18L volume, 2L water bladder, five styles, expandable waist belt
✅ Pros:
Great for hydration – easy to store ice in, too
Very easy to adjust – nice and comfortable
Solid midrange volume
Nice and lightweight
➖ Cons:
Not much we can say against it – some of the accessories might not be to everyone's standards
💡 This is a great all-around backpack which you can rely on both on and off the snowmobile. It's amazingly light and comfy, and what's more, you're never going to have to over-exert yourself to stay topped up on water.
Product 4: Mubasel Gear Insulated Hydration Backpack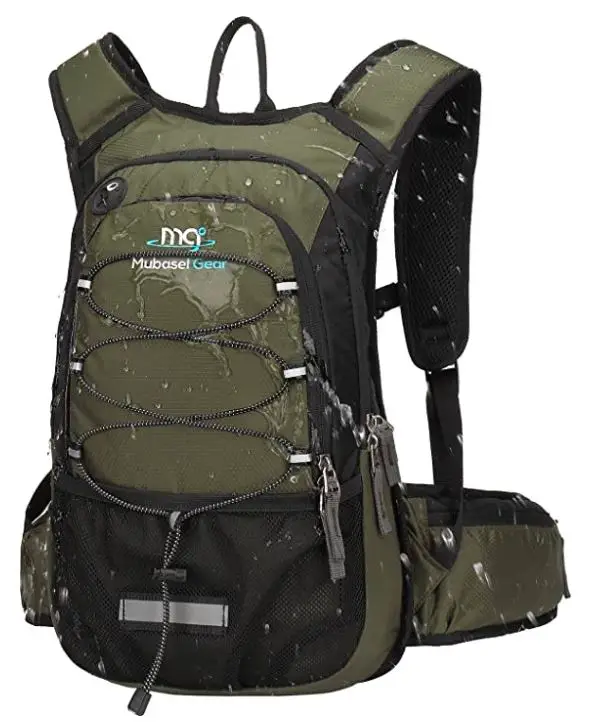 This stylish backpack is available in a range of colors, and with tightened zipper closures as well as thermal insulation as standard, this is something you're going to want to rely on when traveling across icy landscapes. The internal hydration bladder holds up to 2L, and it's free from BPAs.
Key Specs: Leakage proof, three compartments, thermal insulation, shoulder padding
✅ Pros:
Easy to access hydration on the go
Stretch mesh is great for keeping items safe on the go
Leakproof design means it's really reliable
Zips closed without any hassle
➖ Cons:
May not be a great fit for smaller users
💡 This is another great all-around snowmobile backpack with a focus on hydration. Thermal protection and added padding, too, make this an absolute must-buy.
Product 5: Miracol Hydration Backpack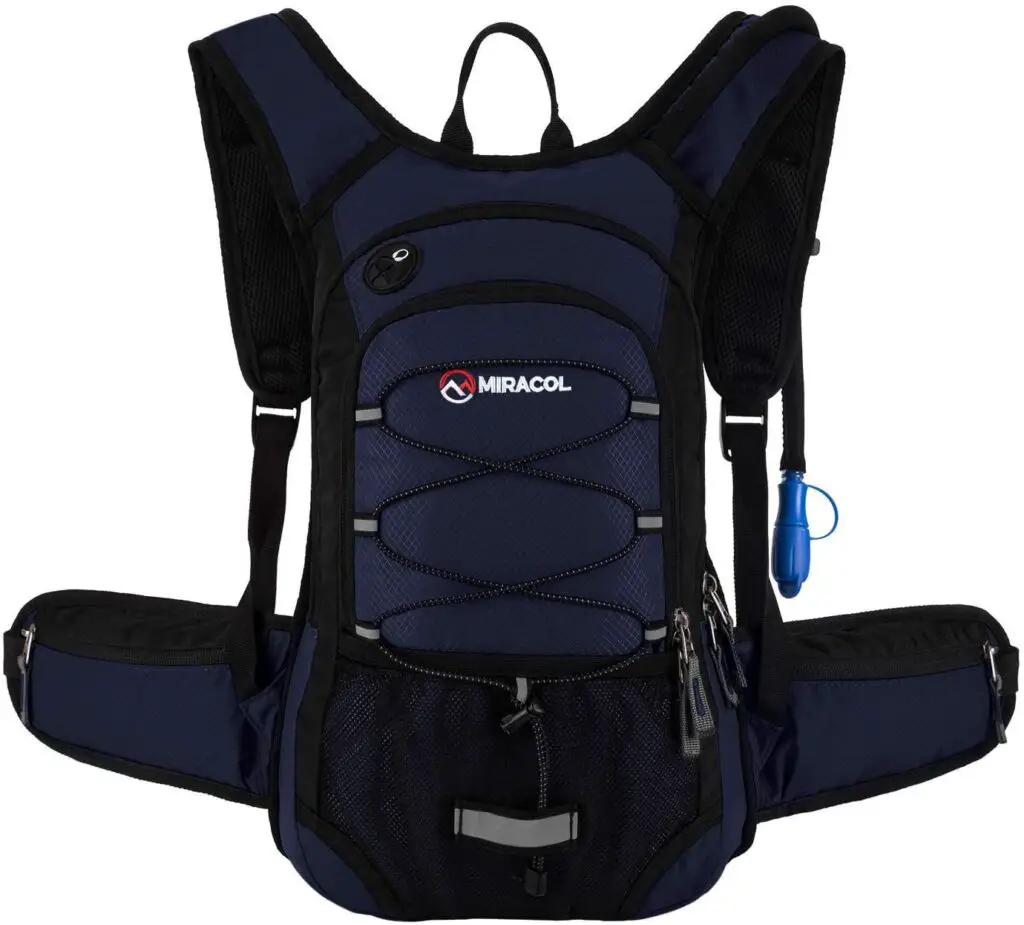 Similar in design and functionality to my backpack pick above from Mubasel, this great backpack support has a wider variety of colors and styles, with 15L capacity for all your traveling needs. The BPA-free bladder is also easy to drink from, and nylon manufacture means it's mighty durable, too.
Key Specs: Nylon material, 15L volume, water bladder, light construction at 1.6lbs
✅ Pros:
Great design in plenty of styles
Resistant and durable against much of what mother nature has to throw at you
BPA free bladder is great for keeping thirst down on the go
Easy to reach pockets for accessories and devices
➖ Cons:
Similar to plenty of other designs, may not get full brand appeal
💡 This well-priced snowmobile backpack is great for its hydration capability, though its lightweight, comfy construction really does sell it to me.
Product 6: Mammut Neon Light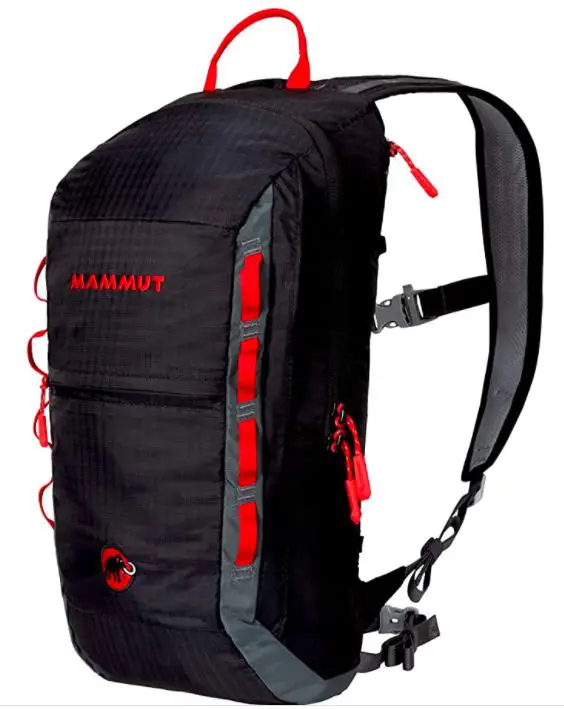 This is a really good snowmobile backpack and also is sufficient for day trips while hiking or as a city companion.
You can fit a hydration bladder with 1.5l that fits perfectly into the rear compartment. In the main compartment you can also fit a rain jacket, and if necessary, small bottles, snacks or anything else.
Key Specs: 12L in volume, goggle pocket with fleeced lining, laptop sleeve
✅ Pros:
Lots of compartments and space – great for winter sports
Ideal for hydration
No-nonsense design
Easy to strap and adjust
➖ Cons:
May be a little too small in volume
💡 This backpack might not be the most exciting on my list, but what it does offer is reliability and flexibility. It's a great choice not only for snowmobiles, but for when you're on the slopes, too.
Product 7: Vibrelli Hydration Pack and Water Bladder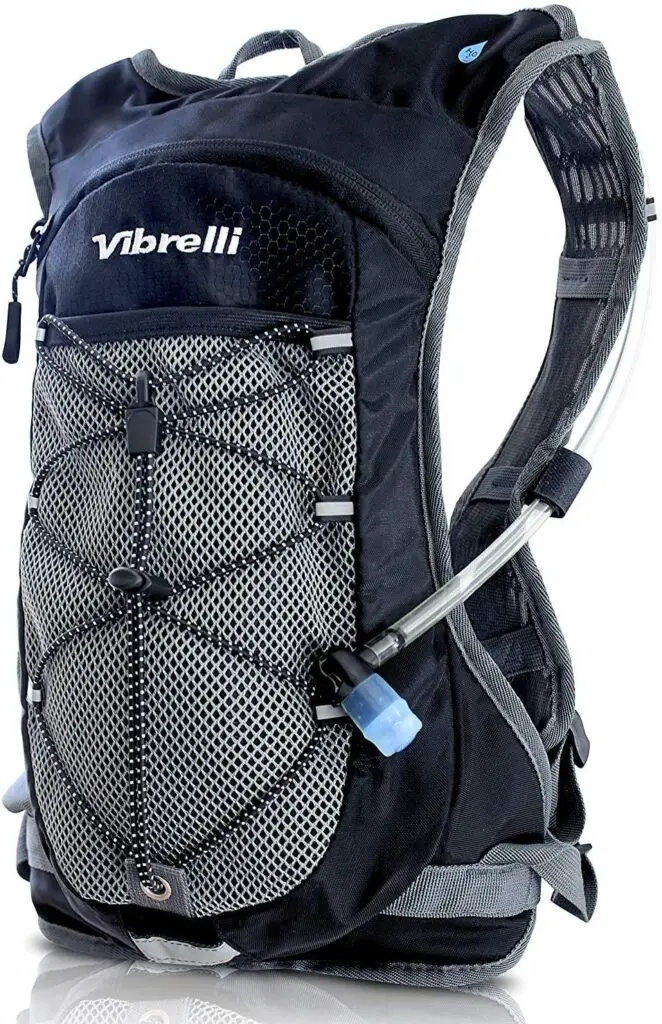 This hydration backpack is a solid choice for all kinds of adventurers – it's flexible to fit kids and adults alike. What's more, it's lightweight enough for you to take off the snowmobile, as well as flexible and secure enough for you to keep everything in place.
Key Specs: BPA free bladder, 415g weight, internal storage separate from bladder, bungee straps
✅ Pros:
Insulated bladder is great for keeping thirst at bay
Stylish and smart – available in a number of looks
Very easy to adjust and secure
Leakproof, making it great for keeping water in tight
➖ Cons:
Perhaps not the bets choice for people looking for all-around backpacks
💡 This specialist water bladder backpack really appeals to me in the sense that it might be one of the best for hydration. It's really lightweight, and it's likely to keep your items safe on the move.
Product 8: The North Face Borealis Backpack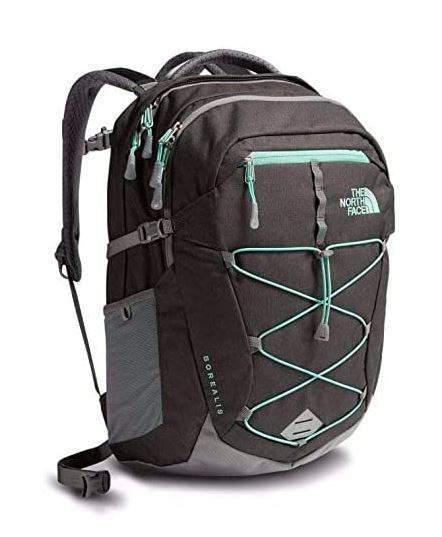 The North Face is a popular brand for a good reason. This compact backpack is available in a huge number of styles and looks, and various sizes. It boasts a lining made in polyester and can hold up to 28L at a time. There are different compartments for different purposes, too.
Key Specs: Polyester lining, 28L volume, compartments for tech and water bottles
✅ Pros:
Special compartments make it easy for you to portion everything away
Impressive amount of volume
Lots of different looks and styles
Very easy to secure and set up
➖ Cons:
Some backpacks in this line are quite expensive
💡 The North Face is a brand most adventurers know well. I like this backpack beyond the brand appeal in the fact that it looks simple enough on the outside but has plenty going on underneath the zippers.
Product 9: Dakine Mission Pro
This Dakine snowmobile backpack is a sleek, modern, no-nonsense support for all kinds of winter adventures. It boasts fantastic durability and plenty of volume for most trekkers, with weather resistance as standard. It looks tough and acts tough.
Key Specs: 18L volume, 16kg weight, rescue whistle, durable design
✅ Pros:
Ideal for rough and tumble – can take a beating
Nice and simple design
Nylon manufacture makes it one of the most weather and coldproof options
Very easy to get used to
➖ Cons:
The look may be boring to some
💡 This Dakine backpack really does what it says on the package. It's a surprisingly straightforward purchase, meaning that if you're not too concerned with the frills and fancies other backpacks come with, it's always going to be a great choice.
Product 10: Dakine Men's Heli Pack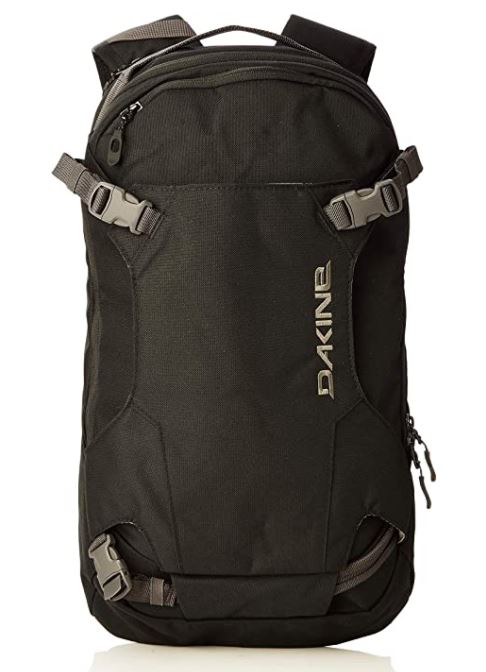 Finally, the last pick on my list is another Dakine pack, but this particular backpack is built with a specific fit in mind. Offering a web belt and rescue whistle, there's also a nice zipper closing pocket in place to help you keep your important items safe. It's also available in a great range of looks.
Key Specs: 12L volume, web belt, hydro sleeve, zipper closing
✅ Pros:
Slimline and appealing design
Nice and secure with flexible zippers
Fleece lined pocket is ideal for eyewear
Built for multi-purpose use
➖ Cons:
Pricing might not be great value for the volume you receive
💡 This is one of the more stylish Dakine backpacks out there, and as such, you're going to benefit from the brand's popular focus on functionality as well as a colorful look. However, the security, as well as the lightweight build, appeal to me the most.
Conclusion
There are plenty of snowmobile backpacks out there – and you may well find that there are some you can actually use while trekking, skiing and more. I hope you've found this guide informative – why not start taking a look at what's available online?