Tyrolia Attack 13 vs Marker Griffon 13 ID 100mm Review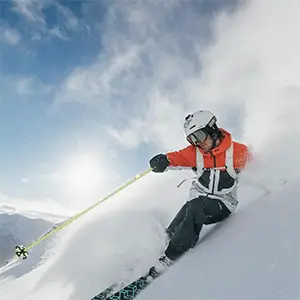 Anyone who has been skiing for some time will tell you that ski bindings are likely to be some of the most important pieces of equipment you'll come across. It's important to make sure that you are safe and securely attached to your skis!
Otherwise, you could find yourself seriously injured, or worse. As always, it's so important to make sure that you are securely fastened into any skis you aim to use, and that you are comfortable at the same time.
Rather than look at ski bindings in general in this guide, I'm going to consider the Tyrolia Attack 13 vs Marker Griffon 13 ski bindings. Both options are hugely popular with the wider skiing market when it comes to safely setting up for a day of skiing. However, whether you are a beginner or even a seasoned skiing pro, it's not always easy to know what you should be looking for when comparing between the two.
Luckily, then, I've set up a full head to head below to help find out which of the two options is likely to fit your needs the best in time to come. Are you looking for the best ski bindings money can buy?
Thinking of replacing your existing bindings? Both of these products are likely to give you lots of support. However, it's not always easy to know which option is going to work best for you in the long run! Keep reading for the full breakdown.
Buyers Guide and Breakdown
I'm going to be looking at key elements of both the Tyrolia Attack 13 and the Marker Griffon 13 ID 100mm in this review, meaning that by the end, you should have a clearer idea of what's likely to work best for you in terms of comfortably securing you into your skis!
There's plenty of ground to cover, so let's get started with comparing the two in detail.
Pricing
Naturally, one of the first points of comparison you're likely going to look at is the price. This isn't necessarily something that's going to guarantee one choice over the other, however, it's worth keeping in mind as a priority.
Generally, you can expect to by the Tyrolia Attack 13 for as little as $134.99, while the Marker Griffon 13 bindings will normally retail at around $229.00 or more. However, there are variants in the Tyrolia line, which means that you may have to pay a little more depending on what you need.
DIN Range
Always check the DIN range whenever you purchase bindings, as you're obviously going to need to comfortably fit into your skis! Luckily, both the Tyrolia and Marker Griffon models here welcome DINs between 4 and 13. Therefore, that's most bases covered. Nothing to contrast here!
Weight Range
Another point you absolutely have to consider with bindings is weight resistance. This means that you're going to need to find ski bindings which will not only keep you secure, but which will also take your weight.
The Tyrolia Attack 13 will accept skiers from 100lbs to 260lbs in weight, generally, while the Marker Griffons will accept skiers of at least 80lbs in weight. There doesn't seem to be an upper limit here, but, as always, tread carefully.
Stand Height
How high are you likely to want to stand up on your skis? This is a key aspect that you're going to need to ideally compare and contrast between. The Tyrolia models in this case have a stand height of up to 17mm, while the Marker Griffons go all the way up to 22mm.
This might not sound like too much of a difference, but that extra bit of height on the Marker Griffon might just clinch the deal for you when it comes to the punch.
Sole Compatibility
This is where things really start to heat up. Different bindings will be variously compatible with different types of boot soles, meaning you must always take care to compare and contrast before you buy into a specific model.
The Tyrolia Attack 13 binding accepts grip walk soles as well as alpine boots, making them great for beginners. The Marker Griffon 13 option does the same but goes a little further in that it will adapt to AT soles, too.
There's a slight edge for Marker Griffon here, but again, the battle is fairly tight to call!
Toe and Heel

One of the hardest things to compare between when it comes to ski bindings is the toe and heel technologies used. What you'll normally find is that every brand and line of bindings has something a little different to offer on each occasion. That's why it's hard to directly compare! So, let's consider each of the technologies used in the two bindings options we're considering here.
The Tyrolia Attack 13 offers an FR PRO toe, which is designed to offer the best in skiing across all mountain terrains. This binding system also offers a lighter heel than what you may be used to, with an NX FR heel in place. This, ultimately, helps to make your bindings easier to manage on the move.
The Marker Griffon 13 meanwhile offers pivot toe and heel technology to help you retain and transfer energy to your skis as you work your way through the snow. This isn't always easy to come by, and it does mean you get more than a little bit of control back, so it's well worth looking into.
Ultimately, it's not easy to decide which technology is going to be best for you until you make a point of trying the bindings on. However, this isn't always going to be easy to do if you're buying online.
My advice would be to take a look at your current bindings, to try a few different fittings out where possible, and to use this knowledge to compare and contrast.
Which is the Winner?
This really is a close contest, to the point where I don't actually think there's a clear winner. Both bindings systems have different technologies, and in addition to this, both have the same DIN range accessibility.
Therefore, both are likely to be hugely appealing to beginners who want to ease into bindings that are going to be instantly comfortable.
That said, in some cases, you may find that the Tyrolia option is cheaper, though research suggests that the Marker Griffon 13 works with a slightly wider range of boots and soles. That said, do also consider the weight range – Marker Griffon appears to suggest that it accepts a wider weight range of users, however, as Tyrolia is clearer on the range accepted, it's perhaps better to go with the clearer data.
However, I'd safely say that both options give you a lot of value. Make sure to read up on what other buyers have to say, of course, and do make a point of fitting yourself for bindings if you've never done so before.
I'm fairly certain that both of these binding models will work well for beginners as well as those looking for intermediate or even advanced support. They are produced and marketed towards the latter, but there's nothing to say you can't give them a try for yourself!
Tyrolia Attack 13 vs Marker Griffon 13ID 100mm: Up Close
Let's take a closer look at each of these products in a little more detail now that we've considered them in a direct battle. Let's see if there are any specifics which are likely to help tip the balance for you while shopping around!
Billed as highly intelligent and super-durable, the Tyrolia Attack range is now in its 13th iteration, and this bindings system offers some of the lightest stability you'll find online right now. This is a good thing! It's built for all-around performance, and it offers the most control and stability availability in Tyrolia's bindings thus far.
These bindings are built for ski racing, according to the marketing, however, they will work just as well in simple ski mode, and actively help to make walking around with your boots and skis that little bit more manageable.
I feel these bindings are great for beginners – not just intermediates – thanks to the fact that there's a lot of stiffness and precision, as well as a lack of friction. This all adds up to a smooth, secure experience that's not always easy to come across when shopping for general bindings.
✅ Pros:
Anti-friction system is fully adjustable to various boots
Ideal for alpine boots as well as grips
Fits DINs between 4 and 13
Rubber sole allows for ease of walking
➖ Cons:
💡 I really like the Tyrolia Attack system for the fact that it offers a lot of stability and comfort, which isn't always a given when it comes to finding bindings for the first time. It's also very reasonably priced, and if you're wearing alpine boots, you're going to benefit from plenty of stability as well as all-around security.
Marker Griffon's top-rated bindings system may seem a little pricier than the Tyrolia model, however, this system does reportedly cater to AT soles as well as alpine and GripWalk. This system offers some of the most intelligent binding available to buy right now, meaning that if you're unsure how close you need things to be, you're going to have plenty of control.
It's a really flexible binding system which, like the Tyrolia model above, is pivoted towards intermediate users, but I feel it's just as worthy of beginners' attentions. It's also lightweight and flexible enough to support younger skiers.
The SOLE.ID technology helps to establish the system as one of the most flexible, meaning that there is zero need to chop and change between different bindings unless you absolutely have to.
✅ Pros:
One of the most flexible bindings systems available
Flexible for a variety of different boots
Available in different fits and colors
Ideal for lighter skiers
➖ Cons:
May be a little expensive
💡 As I explore in a further review, I feel the Marker Griffon 13 ID 100mm series is one of the best bindings options you can invest in right now. It's the perfect pick for lighter skiers as well as younger skiing enthusiasts, meaning that if you're struggling to find your way with bulkier models, this lightweight alternative could well be what you're looking for.
FAQs
Do Ski Bindings Make a Difference?
Yes! For safety, security as well as fine-tuning the style of your skiing experience, you're going to need a flexible bindings system that you can easily slide in and out of as and when you wish. Many beginner skiers may not feel that bindings matter all that much, but as you start getting into the sport, you may well change your mind.
Do Ski Bindings Fit All Skis?
Not always. In fact, it is always a good idea to check out the specifications on your bindings before you buy, as some will be better suited to shorter skis. This isn't always a given, but it's never a good idea to buy before looking through all the requisite details.
Are Ski Bindings Expensive?
Ski bindings can retail for $180 or more on average, though there is a reason for this. When skiing, you are relying on your bindings to help you keep in control and to help you keep safe while traversing the slopes. Therefore, it makes sense to invest in bindings which are well-made, and which are ideal for your given skis, as well as your profile.
Conclusion
If you're having trouble choosing between ski bindings, don't worry. You won't be alone! The best bindings are, of course, those which give you plenty of comfort and flexibility.
The two models I've reviewed here are likely to be at the top of many people's to-buy lists – and there's no reason why you shouldn't follow suit. Take a closer look and see how you get on!
SOURCES