Choosing the best tent for camping in a large group
Whether it's a weekend away with the family or an epic adventure into the wilderness with your friends, the quality of your tent is sure to improve or impair the camping experience. When camping with a large group the importance of picking the right tent becomes even greater.
At its most basic it is your shield against the elements. However, at its most advanced a tent can provide a homely comfort that ensures a better nights sleep amongst natural surroundings.
The use of innovative structural design and high-tech fabrics has made camping in large groups an easier and more enjoyable experience for all. When taking all the factors into consideration it can be difficult to make a final decision on which is the best tent to suit your group's needs.
Having faced this task in preparation for a group camping holiday, I researched what separated the bad tents from the good tents and the good tents from the great tents. Having come to a final decision myself, I have written this guide on how to choose the best large group tent.
How to Choose the Best Tent for a large group
Various features have to be taken into consideration when buying a group tent. These features vary from ease of transport and durability to lighting and water resistance. On top of this, your requirements may differ dependant on the nature of your adventure.
For example, if you are facing more adverse weather conditions you may require a tent with greater durability and weather resistance. However, this will add to the weight of your tent, in turn reducing ease of transport.
On the face of it, choosing between the huge range of options can seem quite an intimidating task. In my quest to discern which large group tent would best satisfy my requirements I discovered that taking the following factors into account was essential to making the right decision.
Factors:
Size. It is important to take into account not only the number in your group, but also how spacious you wish your accommodation to be. For example, a 10 man tent may be better for a group of 6 people if they have a lot of equipment with them or just wish to enjoy the luxury of extra space.
Durability. It goes without saying that those venturing into more drastic conditions should pack a tent capable of keeping the weather at bay. This includes the sturdiness of the tent's poles, the strength of its shell and the overall design of its structure.
Set up. It is incredible how many different ways there are to set up a tent, each with its own varying level of difficulty. Many modern tent designs have allowed setting up your tent to become an easy task.
Material. The advanced technology behind tent fabrics is spectacular. Fabrics are engineered with remarkably lightweight, breathable and robust capabilities in mind. Discrepancies in thread count and weather-proof capability give each canvas unique properties, meaning the best fabric depends on your particular needs.
Extra features. Modern tents have all manner of remarkable extra features. These range from basic extras like storage pockets and hooks for hanging lamps to advanced additions in the form of black out blinds and electricity access points.
Why the Ozark Trail Cabin Tent is perfect for camping in large groups
After searching through the multitude of options available online I came across the perfect large group tent. The Ozark Trail 10-Person Tent is an excellent all round option for anyone looking to purchase a 10-man tent. Here I have summarised the tent's best and worst features to help guide those seeking the perfect tent to buy for accommodating a large group.
Ozark Trail 10-Person Dark Rest Instant Cabin Tent
Ozark Trail is renowned as a brand that ensures quality as well as value for money when it comes to camping gear. Ozark Trail tents are an excellent option for those seeking a camping option that isn't expensive but sure to provide comfort and convenience on your trip.
This large, 10-man tent is incredibly spacious and extremely easy to set up. Measuring 14 by 10 foot and over 6 foot tall at its centre, the Ozark tent's dimensions and cabin-style design allow for ample room and even space to stand. The poles are pre-attached, making the set up possible in less than 2 minutes and features like the innovative Dark Rest fabric and eight adjustable skylights provide extra comfort.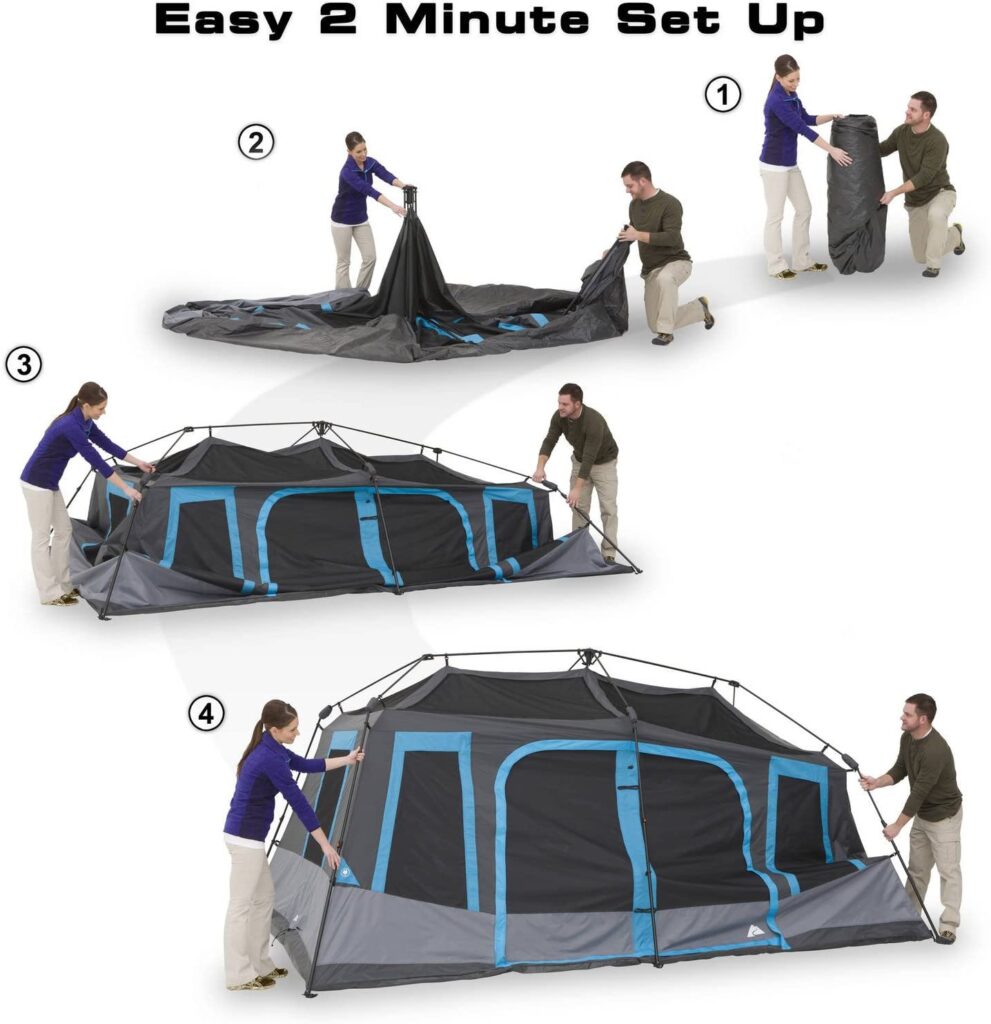 The easy set up and large dimensions mean that it's perfect for a group camping experience. Ideal for families, festivals or camping with a group of friends, it can fit two queen size mattresses or up to 10 campers in sleeping bags. The divider splits the tent into two large rooms. This offers a way to personalise your Ozark Trail tent, allowing for privacy or the option to have one light room and one dark.
The in-built wall hangers and pockets are perfect for storing your outdoor gear in an organised fashion. Ceiling hooks for hanging lanterns ensure perfect lighting even during the night. There is also an entry point allowing for electrical sockets to be used in the tent if you are staying in a campsite.
Key features of the product:
Product Dimensions: 165 x 120 x 78 inches ; 20 pounds
Shipping Weight: 37.7 pounds
ASIN: B01LYK6SZV
Amazon Best Sellers Rank: #119 in Camping Tents
✅ Pros:
Extremely easy to set up thanks to the pre-attached poles.
Black out blinds and skylights allow for easily adjustable natural light levels.
The pockets and in-built wall hangers are great for storing your equipment.
➖ Cons:
Collapsing the tent is not as easy as setting it up.
My experience of this tent was great overall. Incredibly spacious, even for a large group, and with a number of additional features that gave it a homely feel. It is the perfect sleeping option to retreat to once your daily activities are over. My particular highlight was opening up the large skylights at night time to gaze at the stars above from the comfort of my air mattress. I would recommend this tent to anyone looking to camp in comfort as part of a large group.
Related Reviews:
FAQ's
What is the benefit of the Dark Rest ceiling panels?
With all panels zipped up the tent has a completely dark interior, causing it to stay cooler, even in direct sunlight. At night the opposite occurs, keeping the cabin-style interior warmer than cool outdoor temperatures.
What kind of interior storage does it come with?
The tent comes with a mesh hanging organiser and gear pockets. These are perfect for storing lighter equipment and keeping it off the floor.
Is the tent waterproof?
Yes. The rainfly canopy and factory sealed seams combine to help prevent water getting inside the tent. I stayed in it during a downpour and it kept us completely dry.
How many doors are there?
The tent has one large double door, whilst windows offer extra ventilation.
Does the tent come with a bag?
Yes. The tent comes with a convenient carry bag.