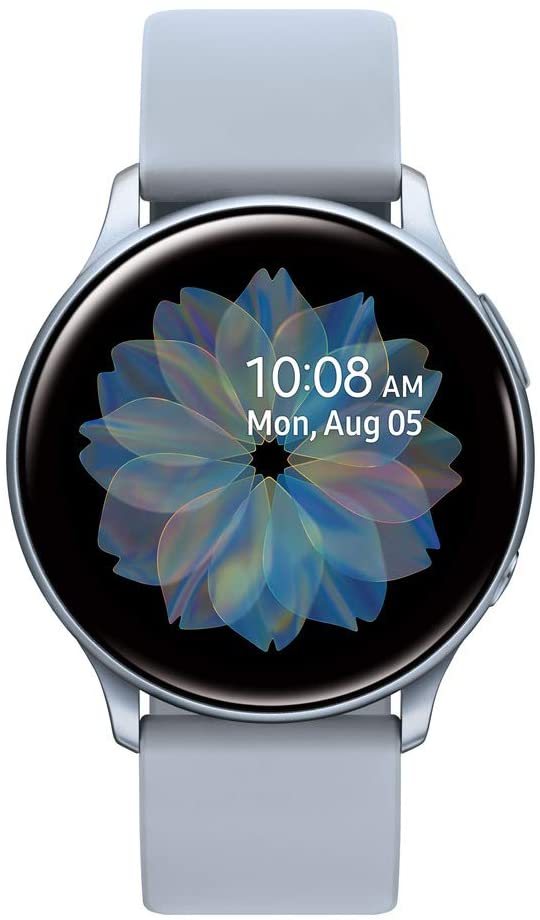 There's no doubt that smartwatches and GPS watches have taken the world by storm over the past few years. However, with ever-developing technologies, these watches change and improve at a fast rate, making it difficult for certain companies to keep up with the trend.
With the Samsung Galaxy Watch Active 2, Samsung has proven itself to be a serious contender in the smartwatch game. Slimmer and sleeker than the original Samsung Galaxy Watch, Samsung has listened to their customers about what they expect from their smartwatch, at least style-wise. As a result, the watch is a lot less bulky than its predecessor but thankfully does not sacrifice quality in any way. 
All of the great things that you can expect from a Samsung Galaxy Watch you can expect to find on your Active 2, including heart rate and blood oxygen monitors, GPS, Bluetooth, as well as Bixby and water resistance.
More About The Samsung Galaxy Watch Active 2
Samsung's Active devices are the smaller and slimmer versions of their Samsung Galaxy Watch. The idea is that being slimmer is more beneficial for certain physical activities and better looking for some people! In order to make it thinner, Samsung took away the tactile bezel with which you can control the watch. In its place, they created a digital version of the bezel that works on the touchscreen.
However, other than in look, the Samsung Galaxy Active 2 resembles the Samsung Galaxy Watch a great deal. It's better suited to GPS tracking and fitness, certainly.
However, both are ideal workout and fitness tools and offer an array of different benefits. Let's crunch some of the statistics and see if they appeal to you.
Specifications and Essential Facts
Manufacturer: Samsung
Weight: 2.2oz
Dimensions: 1.57 inches x 1.57 inches x 0.43 inches
Added Features: Water resistance, full GPS, Bluetooth, up to 60 hours' battery life
What are the Best Features / Main Selling Points of the Samsung Galaxy Watch Active 2?
Samsung presented the Galaxy Active 2 watch as the sleeker version of the Samsung Galaxy Watch and as an improved version of the original Active watch. 
The beauty of this product is its simplicity. From the physical design to the use of the technology, it is classically beautiful and incredibly easy to use. It is ideal for tracking one's exercises and physical health as well as just being a daily tool. 
It offers simple GPS tracking that makes fitness data crunching incredibly easy. It's also water resistant, which of course means you can take it in the shower as well as for a swim. That's a massive bonus!
It boasts a voice command feature in the form of Samsung's landmark assistant, Bixby – which will read your texts to you, make a phone call and turn up the music! 
The Galaxy Watch Active 2 even offers advanced features such as heartbeat and blood oxygen level monitoring.
What are the Benefits of Using the Samsung Galaxy Watch Active 2?
It easily sits on the wrist and will quickly become your go-to accessory in the morning, maybe even more so than your phone! Of course, one of the drawbacks of these smartwatches is that, although the prices aren't that different, they cannot replace smartphones.
You need your smartphone to connect to your Samsung Galaxy Active 2 Watch, although you do not absolutely need a Samsung phone. In fact, Samsung has gone an extra mile further than their competitors by making the Active 2 accessible by Android and iOS devices, as well as Samsung. 
The smooth edges and classic face make it an exciting watch for stylish people! Even the most expensive smartwatches out there have modern and different looks which, although they have a certain appeal, nothing beats a classic face with a classic wristband.
This GPS smartwatch is arguably the longest-lasting in terms of usage right now. According to Samsung, this watch will easily go on for up to 5 days, meaning that you can wear it all day and all night without having to recharge it.
You can also get a brand new Active 2 for quite a bit cheaper than you can get a Galaxy Watch or any other smartwatch on the market. That makes it brilliant value – and as we all know, watches of this nature don't always come so cheaply nowadays!
Does the Samsung Galaxy Watch Active 2 Have Any Drawbacks?
Few as they may be, it is essential to know the drawbacks of the Samsung Galaxy Active 2 before buying one. I personally feel the Active 2 is one of the best Samsung watches on the market right now, but as you can imagine, perfection is never too easy to come by. Consider my points here carefully!
Although Samsung boasts that this smartwatch can easily last up to five days, many have found that using the workout apps and health trackers significantly reduce the battery life, meaning that it needs charging more frequently than one might initially think. Take this with a pinch of salt, as always.
Do also consider the voice commands carefully, too. Although it is an excellent feature, Bixby does not always appear to be as responsive and helpful as you might hope, making it a feature that leaves something to be desired.
Although you can definitely store music on your Samsung Galaxy Active 2, you cannot hold more than 4GB worth of music. This leaves a lot to be desired, especially compared to the Apple Watch, which can have approximately 32GB of songs.
However, these are only minor issues – and may not flash up on your own radar depending on what you're looking for from a GPS smartwatch. Consider your specific needs and if any of the above concerns clash!
Conclusion – Should I Buy The Samsung Galaxy Watch Active 2?
The Samsung Galaxy Watch Active 2 has proven itself to be a smartwatch definitely worth considering. Its price alone makes it worthy of your attention, but its undeniably valuable features are what make it a true contender in the GPS market. 
It is a fantastic piece of equipment for anyone interested in their daily health, improving their exercise regimen, keeping track of their daily activities, and who generally wants a more leisurely life! 
Its simple and beautiful style is not to be ignored, as it is eye-catching enough while remaining completely classic. You can choose a regular watch face to cover the screen throughout your day unless you wish to use one of the many apps, at which point you need only use the hidden bezel in digital form on the touch screen. 
Although its price definitely isn't low, it is very competitive and should be seen as a worthy investment by anyone who wants to better and/or maintain their health as well as their daily lives. 
If anything, the Samsung Galaxy Active 2 proves that you do not have to fork out an incredible amount to be a part of the growing smartwatch and GPS watch trend. You will be able to reap all of the most significant benefits that smartwatches have to bring while remaining on the cheaper side of the expensive market.