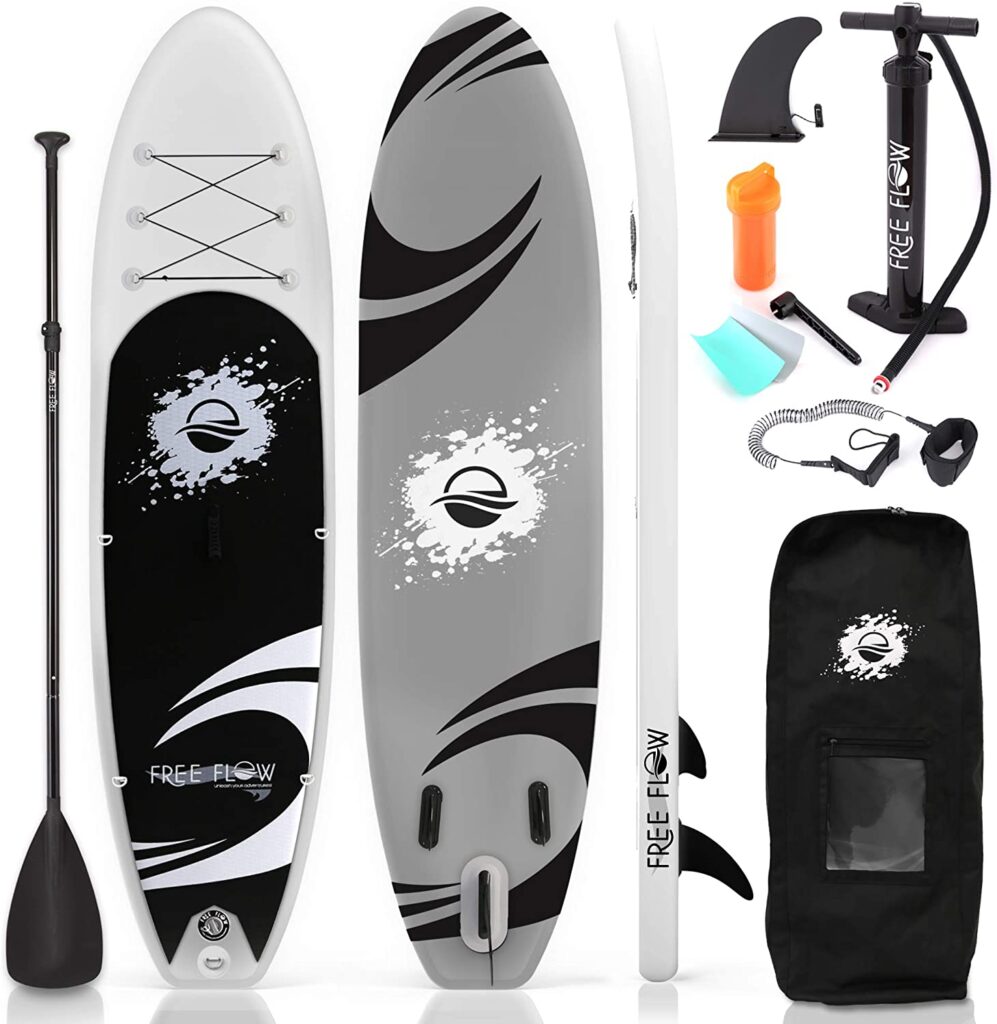 If you are looking for a paddle board that's a great fit for kids as well as adults, this Serenelife board appears to bridge the gap. It's quickly picking up speed online as one of the best-priced anti-slip paddle boards of its kind.
However, as we all know, there's more to a great paddle board than just the grip. Therefore, it's always a good idea to dig a little deeper.
The Serenlife store is full of great options for paddle and surf, but I thought I'd take a look at this option as it seems to be one of the bigger sellers, and certainly one of the best rated of its line.
What is it that makes the Serenelife stand up paddle board worth buying, and how does it compare?
This is a great paddle board for novices or experienced boarders. Launched in 2019 on January 4th, it has been rated so far by 11,123 users. The result was an overall award of 4.5 stars out 5.
It is noteworthy that a whopping 82% of those reviewing this craft, awarded it 5 stars! That represents a lot of truly satisfied customers. Let's take a look below and we might discover why!
Specifications
Manufacturer: Serenelife
Construction: Reinforced PVC
Weight: 19lbs
Supports: Up to 275lbs
Dimensions: 10 feet 6 inches x 32 inches x 6 inches
Paddles: 1
Other features: Bottom paddling fin, aluminum paddle, safety leash, non-slip, patch repair, carry bag
More about the Serenelife Stand Up Paddle Board
From the off, the non-slip coating is likely to be the biggest selling point for this paddle board. It's already picked up a lot of interest over the past two years based on its safety features, as well as its compact nature – it's reportedly one of the easiest boards to take with you and inflate on the go. Ideal, then, for anyone who's likely to go exploring some of the wildest locations and the bravest surfs.
What's also notable about this board is the fact that it comes with quite a few different flavors and accessories, meaning you're never investing in a boring board. The colour of board I used for the review was grey/silver – which sounds boring on the surface, but which is actually pretty sleek in that modern, neutral way.
However, what is it that other people and other verified buyers are saying – how does this inflatable Serenelife paddle board actually hold up in practice?
Launched in 2019, it has been rated so far by more than 11,000 via Amazon, to the tune of an impressive 4.5 stars out 5. It is noteworthy that a whopping 82% of those reviewing this craft gave it 5 stars! That represents a lot of truly satisfied customers – however, as with any products you see on Amazon, always make sure to look beyond the star ratings, and check out what individual reviewers, verified buyers, have to say.
Let's take a closer look at what I feel to be the best features this paddle board has to offer.
What are the best features of the Serenelife Inflatable Stand Up Paddle Board?
This is a board that's designed and tweaked with safety in mind, it has been upgraded to include a soft top. This is a good design feature – as you never really know when you're going to take a tumble.
A sport or leisure activity such as paddle boarding is inevitably physically demanding and, sometimes, falls occur. With this in mind, the design team has ensured the standing surface is soft and takes some of the impact! This makes a more comfortable encounter in that situation and overall a more pleasant feel underfoot (or underknees)!
Add this to the fantastic non-slip, added grip surface build, and you have a paddle board that's going to keep you upright for longer than many other boards in the same price range or category. However, just because this paddle board is safe, doesn't make it boring – far from it.
The Serenelife board lives up to its name in other ways, too. Everything you need to get started is right here in the package. If you have never had experience on a paddle board and want to give it a try, there are few options out there that give you quite the same leg-up.  You'll benefit from a paddle, extra safety features and added compactibility as standard.
Once you have decided on where to get on the water, this board is pretty much ready to go! The ankle coil and leash ensure it won't be lost or drift away. The lightweight paddle is easy to handle, even for smaller people – and the handy carry bag is good for accessories. Of course, carrying the board is not difficult, either – it only weighs 19 pounds!
This is also a board that has a good reputation for being very easy to control, partly due to the underside and fin arrangement. However, you've also got to take into account weight, skill, and weather – it won't work miracles for you on its own! As this model is lightweight, it requires less effort to move it – another plus point.
The 'triple bottom panel' is a super design feature. It means this board responds quickly to the boarder – the experience is that little bit more intuitive. This model has also been noted to 'glide easily over water'. Certainly try that out for yourself, and read up on the verified buyer reviews to see what other people think.
Are there any drawbacks with this paddle board?
Impressively, there are actually very few problems to report with this paddle board. Some users feel that the pump could be better – and that it needs a little bit of oversight to really work to your advantage. However, as any inflatable paddle board users will know generally, this isn't completely unheard of. To that end, if you're an experienced boarder, you probably won't find things too infuriating.
There is the matter of price, too – it is very well-priced for the standards it represents, meaning that some may be worried it is a bit cheap and nasty. I can vouch in favor of Serenelife here – what you're getting is great value. As with all paddle boards, you're going to need to take a little time to get used to this model, but few offer you the fantastic safety and stability here off the bat.
That said, as this board is so safe – and so sturdy – some experienced boarders who prefer things a little riskier may find it a bit of a 'training wheel' option. If you're a novice, it's a great pick – and if you really know how to make the most out of boarding with the safest of tools, then it's still likely to be a great purchase.
Again, reviews may vary. I find it hard to pick holes in this paddle board and its plus points, so as always, compare what buyers have to say, and make your own opinion before you take it out to the waves.
Should I buy this paddle board?
Whether you are an experienced paddle boarder looking for a safer board to try choppier waters on, or if you are a novice who wants to take their time on a reliable, steady board, then this is likely to be a great choice for you. Financially, it's not going to break the bank, either.
In activities such as paddle boarding, anyone can experience a tumble. Even expert paddle boarders sometimes get caught out. An advantage with this board is that it has a soft anti-slip deck and a surface that cushions a fall. This means that although you may not be able to prevent the fall, it won't feel too bad! Of course, even with a cushioned landing, no one chooses to slip. In this sporty leisure activity, falls happen regularly! Sometimes they are spectacular. The leash will ensure you stay attached to the board.
Therefore, it's instantly one of the safest boards I've reviewed, and certainly one of the safest on the wider market right now. There may be concerns that 'too safe' means 'no fun' – but Serenelife really does prove this wrong. You can easily use this board for still reflection and yoga, or you can push it to its limits and take on the biggest waves in town – you choose!
Inflatable paddle boards are not everyone's cup of tea, but this Serenelife model does a lot to really push for the best aspects of a compact system. There's a lot to like here – and whether you are just starting or want to get back into boarding gently, I dare say this is going to be a pretty wise purchase.
Why not take a look at my other paddle board reviews, too – and see if this is the best pick for you?
.