It can be difficult to believe some of the remarkable capabilities of technology in this day and age. GPS trackers that can locate you to the nearest meter yet comfortably fit in your pocket. Snowboard helmets that can connect to your Bluetooth system and play your favorite tunes as you hurtle down the mountainside.
Cameras that not only take professional standard images and fit within the palm of your hand but can also withstand incredible amounts of pressure and abrasion.
Just 20 years ago all of the above and more existed only in people's imaginations, or perhaps in the latest spy film, yet here we are with all of these fantastic gadgets at our disposal and available for a very reasonable price. This extends to the world of diving.
It is incredible that engineers have managed to create everyday accessories that are capable of withstanding long hours underwater as well as the pressure that scuba diving causes. Top of the list of scuba diving accessories are watches.
These vary from stylish time pieces that can take on everything that a scuba diver endures when he delves deep into the ocean to technological masterpieces that act more like a guide that you wear on your wrist than a watch. Depending on what you are after personally, there is sure to be a scuba diving watch out there to match your needs and you don't have to break the bank to buy one.
What to look for in an Automatic Scuba Diving Watch
Much like purchasing a regular watch, a lot of what makes a scuba watch right for you is down to personal preference. Whether or not it suits you in terms of style or functionality depends entirely on what you are after, so there isn't really a right or wrong answer in this circumstance. However, there are some factors to take into consideration before you make your final decision.
At the end of the day all of the watches listed below both look good and function in deep water, however these factors do vary in severity between models. Some are built with style at the forefront of their minds – classic analog style face, stainless-steel chain link band, crystal clear display – whilst others prioritize functionality – water resistant to great depths, luminous hands, abrasion-resistant casing.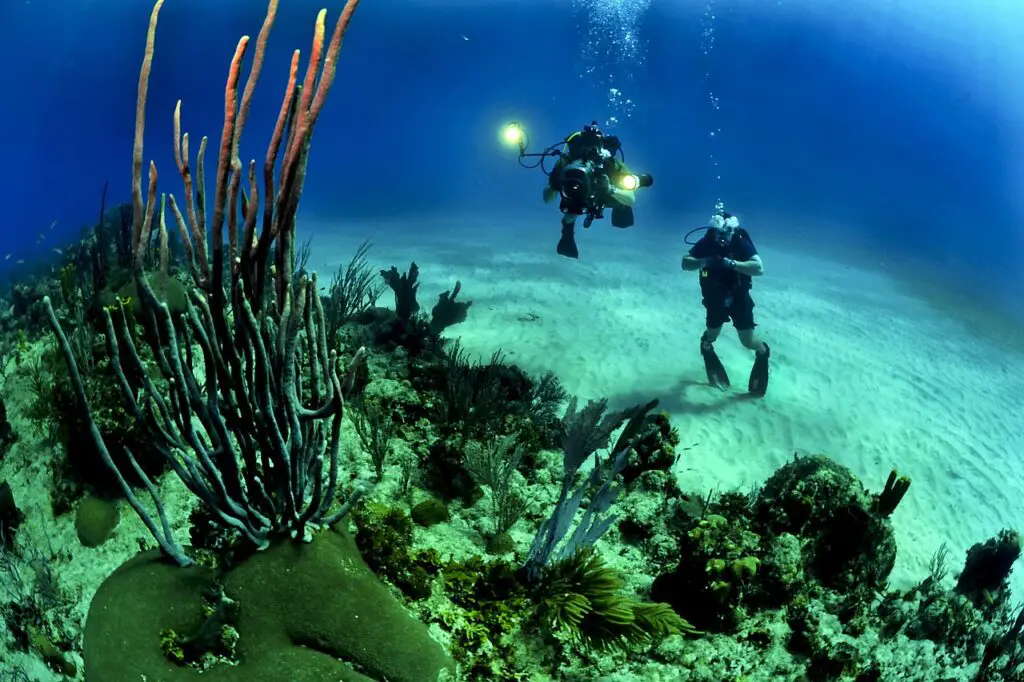 Whatever your preference may be, here are the factors that you should take into consideration when looking to purchase a scuba diving watch:
Durability – Given that these watches are specifically designed to function for hours in deep water, it goes without saying that they are built to last.
However, not only are there those that possess greater water resistance than others but there are also models that can resist damage in other ways. Scratch resistance, reinforced bands and robust cases to name a few. These attributes can prove helpful both in and out of the water.
Design – As with any watch, looking good with it on is of the upmost importance. However, what looks good is entirely up to personal preference. Whether you are looking to buy a classic style watch, a watch with a modern design or one that manages to gracefully combine the two, there is sure to be a model to suit your preferences.
Water resistant depth – An essential feature in any scuba diving watch and ultimately what separates them from regular designs. The incredible ability to go to great depths without losing any functionality is what makes these watches to incredible but there are those that can go deeper underwater than the competition.
This may be something to consider when contemplating both how frequently you will be diving and the depths that you will be reaching when doing so.
Battery life – There is nothing more frustrating than buying a watch that keeps having to have its battery replaced. Rest assured that none of the watches below fall into this category, however battery lives do vary from one watch to another and it can make all the difference for particular buyers.
Due to this longevity of battery life is seen as key by designers and engineers, yet some brands, like Citizen, have taken the next step and created watches that recharge themselves as they go, negating the need for battery replacement.
Extra features – These are the little things that don't particularly affect the functionality of a watch but are simply there to make them stand out amongst the crowd – the little tweaks and additional attributes that are sure to impress your friends. The additional features are what changes a scuba watch into a full-blown gadget.
The Best Automatic Scuba Diving Watches Under $500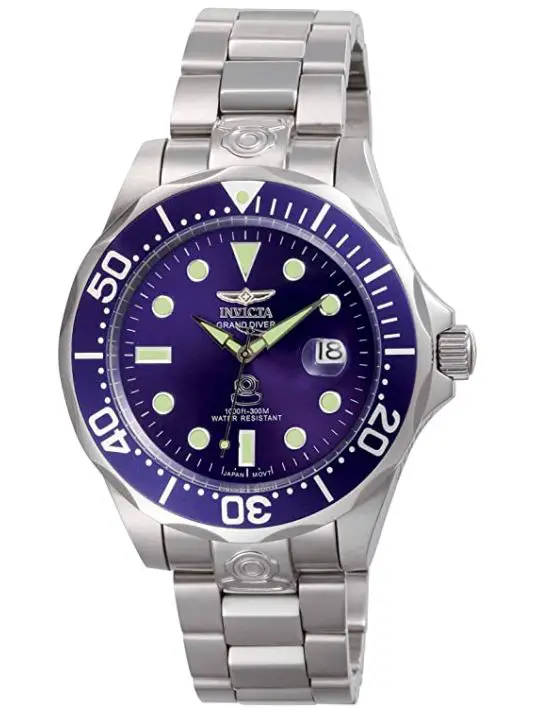 The Invicta Men's 3045 Pro-Diver Collection Grand Diver Stainless Steel Automatic Watch with Link Bracelet is a truly classy model. The combining classic styling in the form of its analog face and stainless-steel band with the incredible water resistance to 300m is a symbol of this watch's merging of classic and modern watch features. The mineral dial window and magnified date window ensure clarity, whilst the exhibition case on the back, allowing you to see the mechanism, adds a sleek touch.
✅ Pros:
Classy design and mechanism exhibition case.
Very reasonable price point given its capabilities.
Water resistant to an incredible 300m.
➖ Cons:
Doesn't have some of the flashy features featured elsewhere on this list.
Key features:
Weight: 19 ounces
Water resistance: 300m
💡 This is a watch that does all the standard things well and looks seriously good whilst doing them. A great merging of old and new, it is incredible value given its capabilities. The Invicta Men's 3045 Pro-Diver Collection Grand Diver Stainless Steel Automatic Watch with Link Bracelet is a brilliant option for someone seeking a good all-round scuba diving watch without having to spend too much.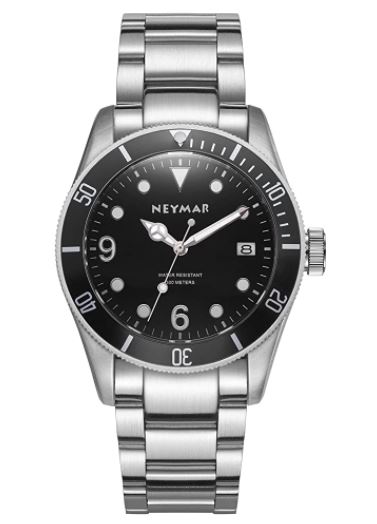 Chinese watch maker Neymar prides itself on creating watches with a vintage appearance but supreme functionality and robustness. The NEYMAR 41.5mm Men's Automatic Watch 300m Diver Watch 200m Stainless Steel Watch is exactly that. The analog display and date window at three o'clock give the watch a retro feel, yet the addition of luminous hands and a professional helium valve let you know that this watch is far more than a vintage-looking model.
✅ Pros:
Vintage design and feel.
Professional helium valve protects the watch during immersion.
Water resistant at 300m
➖ Cons:
 Slightly heavier than some models
Key features:
Weight: 21 ounces
Water resistance: 300m
💡 A vintage style watch that packs a punch, the NEYMAR 41.5mm Men's Automatic Watch 300m Diver Watch 200m Stainless Steel Watch is an excellent piece of engineering that is sure to last you dive after dive. It doesn't look like it could last in a pond, let alone the deep sea, but that is what makes this watch so special. A great choice for someone looking to buy an understated yet durable scuba diving watch.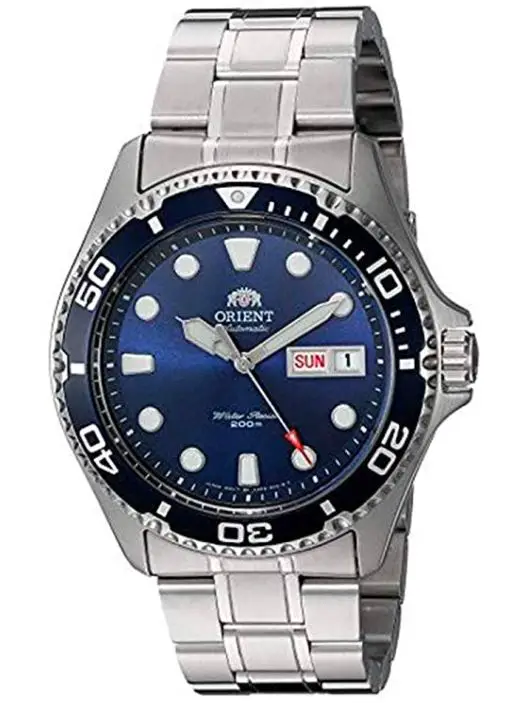 Orient has been crafting beautiful mechanical watches for over 65 years, which eventually lead them to branch out into the field of scuba diving watches. The Orient Men's Japanese Automatic / Hand-Winding Stainless Steel 200 Meter Diving Watch is a testament to the brand's ever-classy style and incredible functionality. Perceived as a classy watch capable of withstanding diving conditions rather than a diving-specific timepiece, this watch is as classy as it is functional.
✅ Pros:
Classy design and stainless-steel build.
Unbeatable clarity thanks to the dark blue dial and bright hour markers.
Extremely lightweight.
➖ Cons:
Crown can sometimes prove difficult to unscrew.
Key features:
Weight:  6 ounces
Water resistance: 200m
💡 To summarize, rather than a diving specific design, this is a brilliant watch that is also capable of resisting water at 200m. The lightweight build and fantastic price point make this an excellent option for someone looking to buy quality at a reasonable price.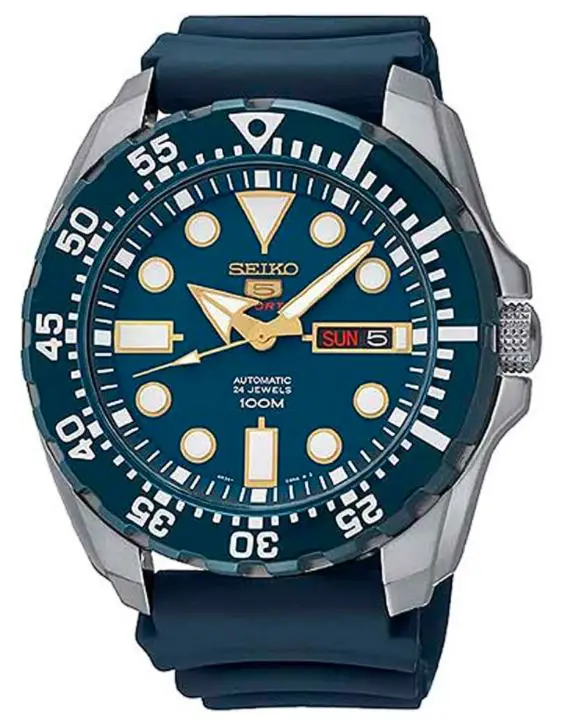 This Seiko Men's Diver Automatic SRP605K2 Blue Rubber Automatic Fashion Watch was designed by Seiko to suit the needs of an active individual. The watch is robust, incredibly lightweight and extremely comfortable to wear. The rubber strap adds an extra level of grip and the luminous face makes for fantastic clarity, even when underwater.
✅ Pros:
Extremely lightweight, yet sturdy.
Rubber band for extra comfort and grip.
Excellent dial clarity.
➖ Cons:
Water resistance not as good as some other models.
Key features:
Weight:  4 ounces
Water resistance: 100m
💡 Combining a fashionable look with a functional design, this watch is brilliant for people who are looking for a watch that can go anywhere with them. Fantastic clarity both above and below the water surface is a brilliant feature of this watch and it is so light that you often can't even feel it on your wrist.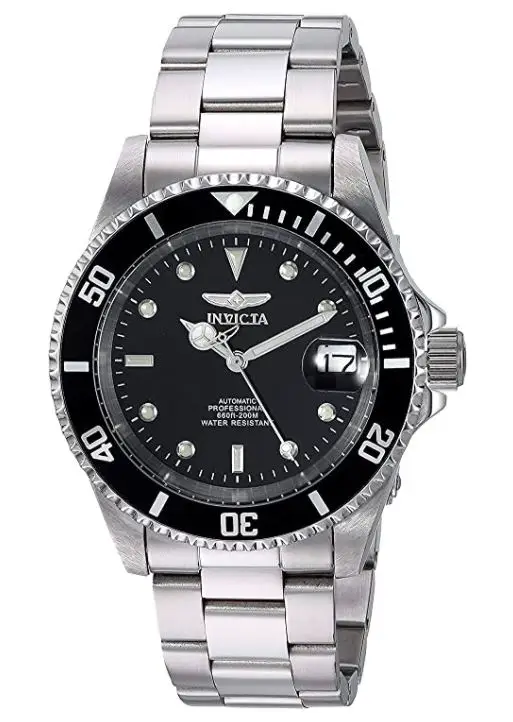 Invicta have managed to create a fantastic diving watch at a ludicrously low price. The ­Invicta Men's 8926OB Pro Diver Stainless Steel Automatic Watch with Link Bracelet has a simplistic, yet stylish black face combined with luminous hour markers and hands, giving it a brilliant clarity in all conditions. The exhibition case back is a nice touch, allowing you to see the inner workings of the machinery.
✅ Pros:
Very good value for money.
Fantastic clarity, including a magnified date window at 3 o'clock.
Classy exhibition case back.
➖ Cons:
Watch face is smaller than some models.
Key features:
Weight:  5.3 ounces
Water resistance: 200m
💡 The Invicta Men's 8926OB Pro Diver Stainless Steel Automatic Watch with Link Bracelet is the watch to choose for those in the market for an affordable, yet effective diving watch. It combines a sleek look with excellent functionality in a manner that far surpasses its miniscule price point. An excellent affordable option.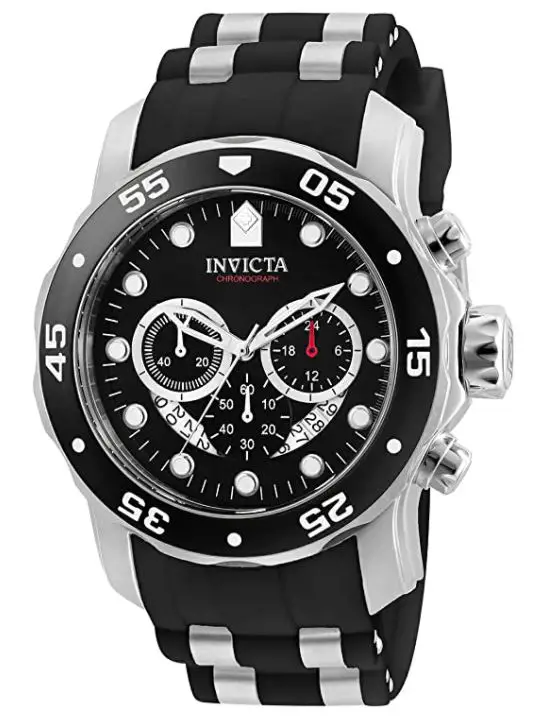 One of the more distinctive watches on this list, the Invicta Men's 6977 Pro Diver Collection Stainless Steel Watch is a fantastic timepiece built to wow all who use it. The face is home to a triple chronograph as well as an eye-catching rotating date display. The polyurethane wrist band ensures that the watch stays secure when diving and luminous hands mean that you can tell the time in any conditions.
✅ Pros:
Classy, multifunctional triple chronograph display.
Unique rotating date display on the fact.
Extra security thanks to the polyurethane wrist band.
➖ Cons:
Water resistance lower than some other models on this list.
Key features:
Weight:  8.8 ounces
Water resistance: 100m
💡 This watch by Invicta has a very technological feel to it, with multiple displays on the watch face and technical feel and function of the polyurethane band. It is an excellent companion both in the water and out of it, with the chronograph windows allowing for more accurate time keeping when on the move.
Conclusion
There is no right or wrong choice when it comes to purchasing an automatic dive watch. There are those that will be more suited to your personal position and those that catch your eye, whether well suited or not.
It is a wise choice to pick a model that accommodates for your needs, whether it be the amount of time that you spend underwater or how frequently you will be looking to wear it.
At the end of the day, it all comes down to personal preference and that is why all of the factors above must be considered before making your purchase.
This is a long-term investment that will be with you on your adventure for years, or even decades, to come so it is important that you research the matter and don't buy an automatic dive watch without browsing the options beforehand.