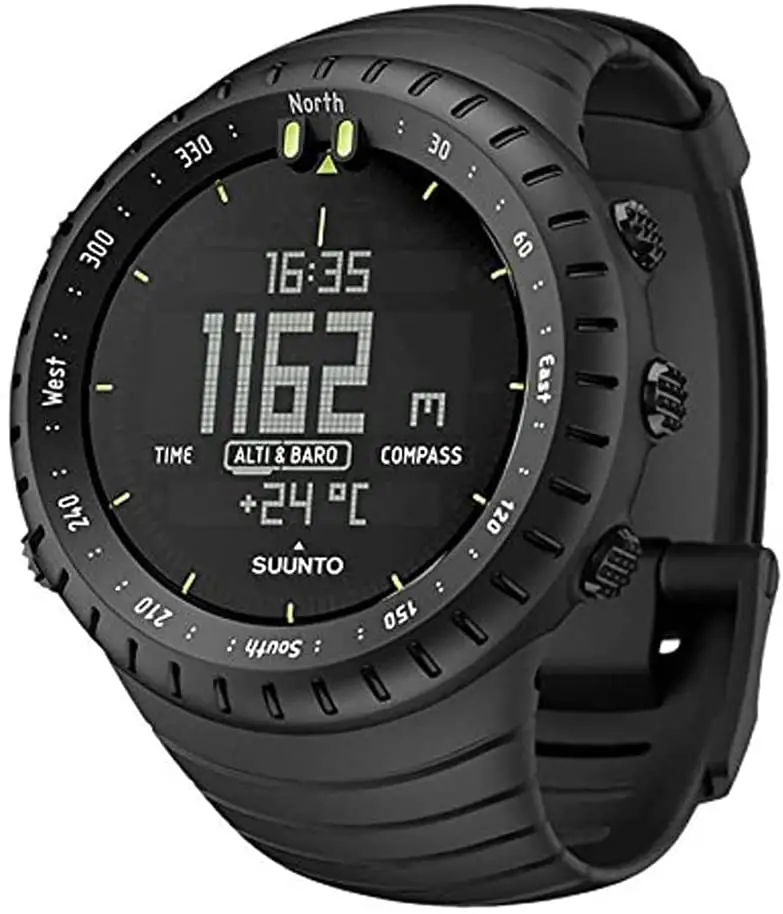 Looking for a smart, responsive and robust diving watch that won't break the bank? Suunto may well have the answer for you right here.
Wrist computers and diving watches are becoming more affordable and more accessible in many different ways, and for that reason, it's not always the done thing to immediately check out the premium end of the market.
This Suunto Core model is a sleek looking beast that arrives at a sheer fraction of the cost of some of the biggest sellers online. However, I was seriously impressed by the positive reviews this all-around sports watch appears to be getting, so I thought I'd take a closer look.
More About The Suunto Core Outdoor Sports Watch
This is a watch that you could describe as 'all singing, all dancing' – it does it all, more or less. It has a number of great features, all wrapped up in a classical, stylish wrist watch. This one is robust enough to be used on all terrain, as well as handsome enough for you to wear when you go out to dinner! 
This watch was only launched onto the market in March 2021 and has already had some very favorable reviews. Suunto has a history of designing and constructing timepieces going beyond 80 years.
Their name is synonymous with great quality products, including compasses, products for diving and, of course, they continue to produce on-trend, great-looking functional watches. Let's look at the specifications below so that you can decide if this is a watch worth considering for what you have in mind.
Specifications and Essential Facts
Manufacturer: Suunto
Weight: 64.9g / 2.26oz
Water Resistance: 30m
Build: Stainless steel or composite
Watch Style: Digital
Colour: Black with white / grey accents
Added Features: Dual timing, altimeter, record keeping, 30ft depth meter, compass, storm alarm, sunrise and sunset, battery power, barometer
What are the Best Features / Main Selling Points of the Suunto Core Outdoor Sports Watch?
Firstly, the visuals here are fantastic – this is a Suunto watch that just looks the part. By having an overall look of a robust reliability coupled with it being referred to as a wrist computer, it has a logical layout and businesslike appearance. It appears as though it could handle just about anything, anywhere, with class!
It really is an all terrain operator! At home, on the water, up a mountain, driving through a desert or ploughing through snow! The easy-to-read displays can be checked quickly during intensive activity, making it one of the easiest diving watches at this price tag you can rely on.
It comes fitted with a variety of great measurement tools, such as a barometer, a compass and an altimeter. It's therefore certainly built for various outdoor adventures as the name suggests.
The compass will direct you away from a storm or assist you in finding shelter, whilst the barometer can signal the quelling of a storm. This scenario may be rare, but wearing this watch could ensure wearers have the ability to get away to safety as soon as possible.
Dual time functionality is a nice touch – and there alarms you can set to either zone on route. This is also an impressively robust watch, very clear in its design intentions – and that's always a must when you're taking a diving watch into the drink.
What are the Benefits of Using the Suunto Core Outdoor Sports Watch?
The Suunto Core is one of the easiest diving watches you'll ever hope to read. The display is marvelously large and simple to understand, making it an absolute must for anyone who may be just getting started in the world of diving.
It's also crammed full of great features – it's a dual compass, alarm and barometer, making it something of a multi-tool that you can just strap to your wrist and get going with. The fact you have Suunto's years of experience tied up in one little package is also a major selling point.
I also like the fact that this isn't a watch that will break the budget. It's one of the most affordable diving and outdoors watches of its kind, meaning that if you are really unsure about whether or not to go for this type of timepiece, it might work well as a nice introduction. I dare say give it a try, but not before considering some of the potential drawbacks listed below.
Does the Suunto Core Outdoor Sports Watch Have Any Drawbacks?
Some potential customers may dislike the somber coloring and formal detailing of this watch. This is a matter of how you feel about the visual appeal, of course – and is a matter of personal taste. The simple, classy appearance of this model will complement anyone wearing sportswear, any style of outdoor clothing, smart casual wear and perhaps even a suit – it's versatile, but maybe not for everyone.
Personally, I think the monotone appearance of the face and wristband gives the watch a more subtle classy appearance, rather than the dramatic, more attention grabbing styles of some competitors!
For customers with little or no experience of using a watch capable of many different functions, this watch may take some getting used to. The display is nice and large, and that's obviously a great thing – but things can get a little muddled if you're unsure of how to manage a barometer and a compass at the same time.
Another potential issue that may face buyers here is the fact that this watch has a fairly low depth capability. That's likely as a result of the price tag – but if you are getting used to diving with a watch on for the first time, you're probably unlikely to want to go that deep down initially. It's a good training watch, truth be told.
Finally, keep an eye out for the endurance of this watch. While it's built to last in and of itself, it is powered by battery. That means it's not necessarily going to be as dependable when out and about as, say, a solar powered option. The battery will likely last for around a year, top, and you will need to switch it out. Again, for beginners, I really don't see that as being much of an issue.
Conclusion – Should I Buy The Suunto Core Outdoor Sports Watch?
I think the Suunto Core is a great watch that's ideal for anyone who may be new to diving with a timepiece for the first time. It doesn't go as deep as some of the competition, but it does offer a raft of great features that I think are pretty rare for the price tag. Of course, some experienced divers may see the pricing and think it is cheap and nasty – this is far from the case.
If you are really unsure about what you want from a diving watch, then I would highly recommend the Suunto Core purely for the fact it's superb at entry level. It won't take you too far deep, but what it will do is help you get used to all kinds of functionality. Give it a try – it's not that big an investment – just remember to switch out the battery.